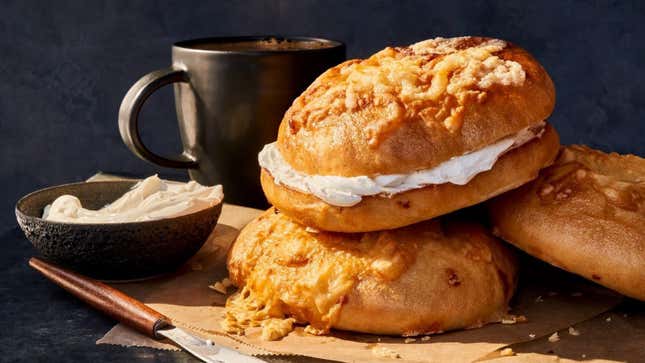 Everyone loves free stuff, right? It's why people stand in line for hours just to score a sandwich or a cookie or taco. In keeping with our wild modern times, many major brands and restaurant chains are encouraging patrons to get vaccinated against COVID-19, and as a carrot (or hot dog) on a stick, there are freebies to be had once you get that sweet, sweet, jab. The latest offering is from Panera:

McDonald's Shrinks Its Restaurant for the Digital Age
Panera Bread
Panera has announced via press release that, just like Anheuser-Busch, it has found its own unique way to support the White House's initiative to get 70% of Americans vaccinated by July 4. And what better incentive is there than a fresh bagel? From July 2 to July 4, customers who have received the COVID-19 vaccine are eligible to receive a free bagel at participating Panera locations. You can choose from any type of bagel, so you don't have to settle for plain! No purchase necessary. Vaccinated patrons can stop in for one free bagel daily during this promotion, so you could snag up to three free bagels of any flavor.
Budweiser
In a new Clydesdale- and puppy-strewn commercial spot called "Reunited With Buds," Budweiser has unveiled ABeerOnBud.com, a site where users can upload proof of vaccination in exchange for $5 in beer money. Delish notes that the proof of vaccination can take the form of "a selfie with your sticker, photo of your band-aid, or image of you at the vaccination site."
Krispy Kreme
You don't live in New York? Well, that's okay, because how about a doughnut? If you bring your vaccination card to any location you can get a free doughnut, one per day, either in-store or in the drive-thru. Doctors aren't too happy about this one, though.
Office Depot and Staples
Okay, no food here. But this is still useful. Both chains will allow you to laminate your cards for free so you don't get mustard all over them when you redeem your free hot dog. For Office Depot and Office Max, you can use the coupon 52516714 through July 25. For Staples, use code 81540 until May 1. The CDC suggests you take a photo of your card for a backup too. I'm also hearing that a plastic sleeve for your vaccination card might also be a good idea in case you need to, say, update the original card with a booster stamp later.