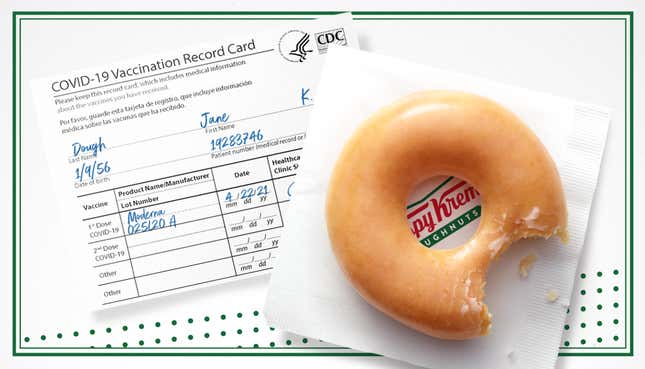 Update: August 25, 2021: Back in March, Krispy Kreme announced that every single person who gets vaccinated could have one free glazed doughnut every single day until the end of 2021, and yet somehow, millions of my fellow Americans have failed to take advantage of this offer. Looking back on it, we probably should have realized the dream of a #HotVaxxSummer never stood a chance, because who says no to free doughnuts?
Does This Dr. Pepper Really Taste Like Bourbon?
As it stands, each of the near 70 million unvaccinated adults in this country have missed out on 156 free Krispy Kreme doughnuts. And now, on the heels of the FDA's long-awaited approval of the Pfizer vaccine, Krispy Kreme has announced that it is doubling down on the number of free doughnuts it will present to vaccinated customers.
Between August 30 and September 5, any person who rolls into Krispy Kreme with proof of at least one jab in the arm will get no one, but TWO free doughnuts: one being the iconic Original Glazed® Doughnut, and the second a Glazed Heart Doughnut, which is just like the original doughnut, but heart-shaped.
Come September 6, things at Krispy Kreme go back to the "new normal" of one free doughnut a day, meaning the vaccinated can grab another 116 free doughnuts from now until year's end. As much as we all love free doughnuts, let's pray Krispy Kreme doesn't have to keep this promo going well into 2022.
G/O Media may get a commission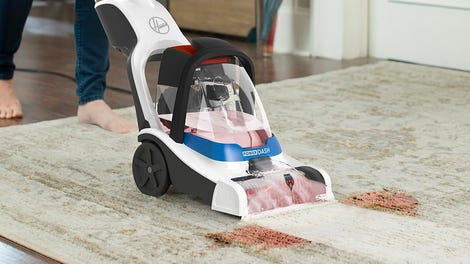 26% Off
Hoover PowerDash Pet Compact Carpet Cleaner
Update, March 24, 2021: After we wrote about Krispy Kreme's too-good-to-be-true doughnut-a-day promotion—and confirmed that, yes, you can receive a free glazed doughnut every single day through the end of 2021 by presenting your vaccination card at the register—the internet started to daydream about all the tantalizing possibilities. Why, that's 280+ doughnuts, completely free! But not everyone was elated to hear this. One doctor took to Twitter to share her concerns.
Dr. Leana Wen, M.D., is CNN's medical analyst, a Washington Post columnist, a professor, a published author, a practicing physician, a Twitter user with 156,000 followers—in short, an incredibly accomplished medical professional and a prominent source of detailed public health information throughout the pandemic. But that doesn't mean Twitter was ready to hear her thoughts about Krispy Kreme's COVID-related giveaway.
"Hey @krispykreme," she tweeted Tuesday, "I love that you want to thank people for getting the #covid19 #vaccine! Every incentive helps & free donuts may help move the needle. However, donuts are a treat that's not good for health if eaten every day. Here's my suggestion for what to do instead:"
In a follow-up tweet, Wen continues, "First, if someone indeed eats an Original Glazed #KrispyKreme donut every day as your offer provides, and changed no other aspects of their diet/exercise, they'd gain approximately 15 pounds by the end of 2021. I'm sure that's not your intention." Wait, I thought she was going to present alternatives for how Krispy Kreme can incentivize vaccination?
"Why not give vaccinated people a box of donuts to give to an organization of their choice instead?" Wen goes on to suggest in a third tweet. "They can bring it to their office, donate it to charity, share with their friends, or eat it all themselves if they really want. Do it as a one-time offer of appreciation." In fact, Krispy Kreme has announced a promotion nearly identical to the one Wen is proposing. In a press release sent to The Takeout, Krispy Kreme highlights a deep doughnut discount specifically designed to share the love with friends and family:
Be Sweet Weekends: an extension of 2020's "Be Sweet Saturdays," guests who purchase any dozen can get a second $1 dozen that includes 11 Original Glazed doughnuts and one special smiley-face doughnut, March 26 through May 23, perfect for a friend, family member or another who has helped them in the past year.
A virtually free dozen—and you don't even need to be vaccinated to take advantage of that offer!
"As a public health expert, I can't endorse a diet of daily donuts," Wen continues. This feels a bit disingenuous, since promotions like the one Krispy Kreme is offering hinge upon the assumption that most people won't make it a daily thing in the first place. The incentive is technically not 280 doughnuts straight up; it's the idea that 280 doughnuts are within reach, should you choose to head to your local Krispy Kreme that day. How many Americans are even within convenient daily driving distance of a Krispy Kreme, anyway?
Wen concludes her thread with, "Still, I appreciate @krispykreme's out-of-the-box thinking & hope that other companies will join in to incentivize #vaccines. Vaccines protect all of us, and it takes all of us to end the #covid19 pandemic!" I, in turn, appreciate this turn toward a more positive outlook at the end of a hotly debated Twitter thread. I get why a public health expert might not sing the praises of a brand that has offered to treat each and every one of us to 53,200 calories' worth of pastry. But by saying "I hope other companies will join in to incentivize #vaccines" in the same breath that she condemns a doughnut chain's understandably doughnut-based incentive structure, Wen has given us all a powerful example of why sometimes it's best not to post anything at all.
Original post, March 22, 2021: As the various COVID-19 vaccines continues to be rolled out across the United States, everyone is being encouraged to get the jab as soon as they can, and businesses are stepping up to assist in this effort. And what better incentive than offering free food as motivation to get a shot? Krispy Kreme announced today that it will offer a free glazed doughnut to anyone who presents their COVID-19 vaccination card at the register.

This is an even better deal than you might think: according to a press release sent to The Takeout, the brand has clarified that the vaccine card can be presented for a free Original Glazed doughnut "anytime, any day, even every day – through the remainder of 2021." This means that if you present your card each day, you will get a doughnut each and every day. We're talking months' worth of free breakfasts, people. (Granted, you'll have to purchase the coffee to go with it.)
It's all part of Krispy Kreme's vaccine-related outreach, which also includes sending free doughnuts to select vaccination centers in support of health care workers and offering up to four hours of PTO to employees to "encourage and enable" those workers to make vaccination appointments.
"We all want to get COVID-19 behind us as fast as possible," said Krispy Kreme CMO Dave Skena in the press release, "and we want to support everyone doing their part to make the country safe by getting vaccinated as soon as the vaccine is available to them."
Here's an FAQ page explaining the finer points of the offer. But if you're not in line to get the vaccine for several more weeks, there are still free doughnuts with your name on 'em. The chain is launching a weekly Monday giveaway from March 29 through May 24: one free medium coffee and a free Original Glazed doughnut, no purchase necessary. Sounds like Krispy Kreme is determined to remind us, as life returns to relative normalcy, just which chain has the best weekday commuter breakfast.