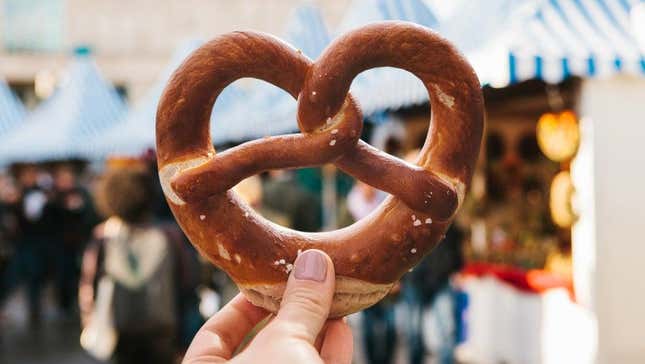 There are certain foods that we only start craving when we're on the premises of a shopping center. Whether it's a slice of Sbarro pizza or a refreshing Orange Julius, some foods just belong at the mall. But one popular snack is breaking free from the food court to stand on its own: Pretzels are having a moment, as they well deserve.
Dr. Pepper Strawberries & Cream Is Tearing Us Apart
QSR Magazine reports that Wetzel's Pretzels will be opening a new storefront called Twisted by Wetzel's. The new concept, which will open in Southern California's Orange County this spring, is the first location in the company's plan to "unlock a powerful new pathway for expansion," as explained in a statement by Wetzel's. Once the first Twisted location is open, the company will seek other 1,200-square-foot sites with strong street visibility to build more locations catering to both dine-in and off-premises occasions.
"We've shown our ability to adapt to a variety of flexible formats … Adding storefront locations to our portfolio allows us to bring pretzels to the people, wherever they are," said Jon Fischer, chief development officer for Wetzel's Pretzels, in a statement to QSR Magazine.
The new Twisted concept will have bright, open kitchens to show off food preparation and (hopefully) bring in a younger customer base. The updated menu is also meant to entice the Gen Z and millennial crowd. Here's what it includes, per QSR:
Twistz: Twisted and braided pretzel dough stuffed with cheese and sprinkled with toppings. Options feature the Pizza Bomb, Wetz Coast Club or Triple Grilled Cheese.

Dogz: Options include the Baja Boardwalk, complete with jalapeños, green onion, slaw and Cilantro Baja Sauce atop a spiral bun, as well as Wetz Coast Classic, Sriracha Soul and Everything Bacon.

Loaded Bitz: Wetzel's riff on loaded fries. Sweet and savory pretzel bites drizzled and finished with inventive toppings. One being the S'mores Bitz, a classic Bitz, smothered in chocolate fudge, mini marshmallows, graham cracker crunch and chocolate chips. Other options include Bacon Ranch and Baja Elote.

Topped Pretz: Wetzel's traditional full-sized pretzels topped with new flavors. Options include the Nashville Heat, covered in Wetz Cheese Sauce and dusted with Nashville spice, and the Maple Bacon, with a maple glaze and crispy bacon bits, among others.

Pretzel Chimney Cakes: The brand's pretzel dough, rolled in sugar crystals and filled with soft serve. Available in Cookies & Cream, Chocolate Brownie, and more.

House-Made Drinks: Lemonades, floats, and more, like the sweet and tangy Mangonada, made with real mango frozen lemonade, chili lime seasoning, and sipped through a tamarind straw.
Other formats explored by Wetzel's in recent years include a fleet of food trucks and units inside Walmarts and Macy's stores. Despite these innovations, at the moment, 75% of its footprint remains in malls. Although the primary aim of the standalone storefront is to attract millennial and Gen Z customers, it also demonstrates how the soft pretzel is shedding its mall food court associations.
Auntie Anne's, another well-known mall-based pretzel chain, opened its first drive-thru location in 2021. It's a 1,200-square-foot location in Wylie, Texas that the brand shares with its sister company, Jamba. (Both are owned by parent company Focus Brands.)
"Auntie Anne's has become synonymous with malls and airports," said a representative for Focus Brands in a press release at the time, "but for some time we've been looking for opportunities to grow outside of those traditional locations to give our guests greater access to a brand they love."
After the opening of this co-branded drive-thru, Focus Brands signed a 10-unit deal in 2022 to develop 10 co-branded Auntie Anne's/Cinnabon locations in New York City. Brian Krause, chief development officer with Focus Brands, told Restaurant Business at the time that Auntie Anne's customer base had been asking for more ways to access the brand's food outside of malls.
Similar to the Wetzel's strategy, the sites for these storefronts are selected with easy street access and heavy foot traffic in mind. Several of the 10 locations are already open in Manhattan; one location in the Bronx features a mix of Auntie Anne's, Cinnabon, and Carvel.
If the major brands continue this push, then soft pretzels will soon be a lot easier to find in local retail centers—a game changer for our everyday snacking. Pretzels are fairly easy to eat on the go, and now that Americans are returning to pre-pandemic routines, factors like convenience and portability are once again highly important. Just wait and see—pretzels could become the next frozen yogurt.