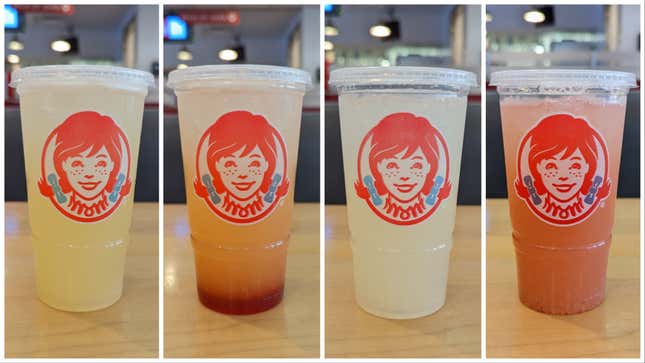 When it comes to fast food, the beverage that accompanies my meal is often an afterthought. I mean, each fast food joint pretty much promises Coke or Pepsi products, right? But one chain in particular makes a big deal of serving up a classic refresher alongside your burger and fries, and that's Wendy's. Is its menu of lemonades worth tacking onto your order?

Wendy's sells four flavors of lemonade: All-Natural (the regular stuff), Strawberry, Pineapple Mango, and Sunburst Melon. Pretty appealing, given that I can drink a Coke just about anywhere else. Sipping on a blend of lemon juice, sweetener, and water while taking down a spicy (and salty) chicken sandwich sounds pretty okay, if you ask me. Yet somehow, I've never ordered any of the four lemonades on the menu.
I visited my local Wendy's to taste each and every flavor, and it turns out that one stood out high above the rest. (Spoiler alert: It wasn't the regular stuff.)
4th place: Wendy's Pineapple Mango Lemonade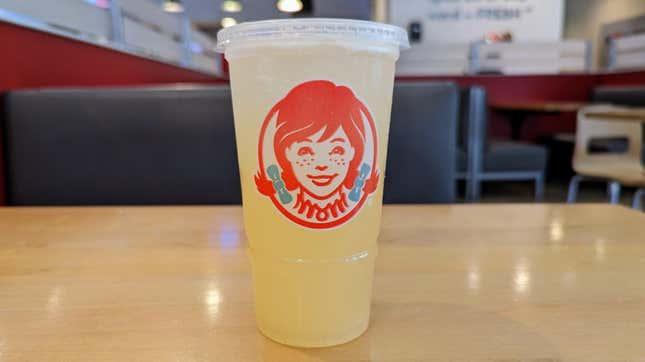 I'm actually a little surprised the Pineapple Mango lemonade came in dead last, since I'm generally a big fan of those fruit flavors. But I should have seen this coming, since mass-produced pineapple juice generally tastes pallid in comparison to the fresh stuff. Most of its vibrancy disappears when it's shipped in a can or a bottle, so there was no way this would fare any better in a fast food setting. The mango flavor is present, but neither the pineapple nor mango flavor is strong enough to give this lemonade a lively pop.
G/O Media may get a commission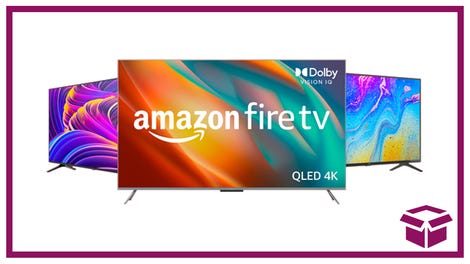 Ooh. stunning.
New Amazon Fire TVs
3rd place: Wendy's All-Natural Lemonade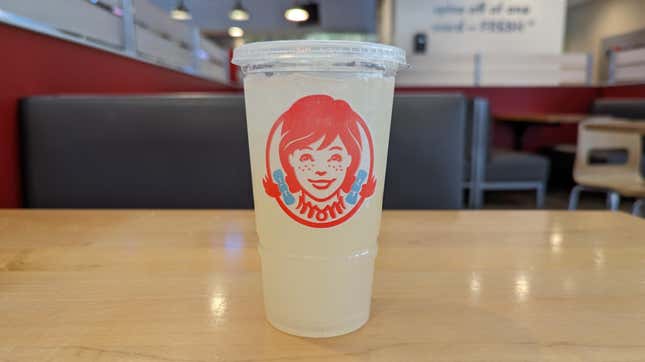 I've been waffling on this a bunch, but I have to place this third out of four. The classic lemonade without bells and whistles, which Wendy's calls All-Natural, is, in a word, okay. Uncompelling. It doesn't have what I'd call a clean, crisp, lemony flavor to it, which is the secret to a really delicious lemonade—the tartness has to cut through the sweetness. This stuff is a little on the dull side. That's not to say it's bad; it's just pretty plain.
2nd place: Wendy's Sunburst Melon Lemonade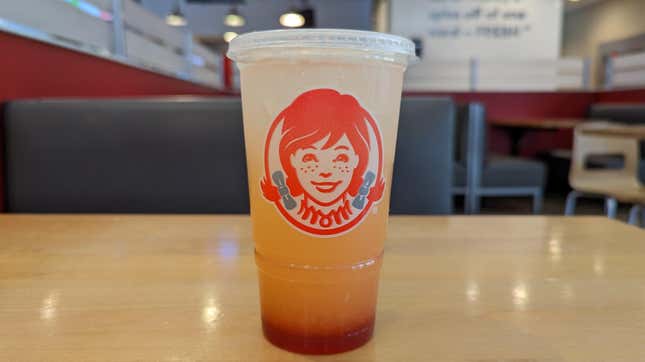 "Sunburst Melon" doesn't mean a whole lot to me. Like, what does a sunburst exactly taste like? But this Wendy's lemonade (introduced last year) is admittedly kind of pretty, with a blush layer at the bottom reminiscent of the grenadine in a tequila sunrise. The ingredient list includes strawberries, watermelon juice concentrate, kiwi juice concentrate, melon puree concentrate, and cucumber juice, none of which you can taste distinctly. It's more of an all-purpose in-your-face fruit drink. Reach for this if you favor strongly flavored beverages, because it's a pretty noisy drink.
Winner: Wendy's Strawberry Lemonade
Wendy's Strawberry Lemonade is by far the best of the bunch. It's more reminiscent of strawberry jam mixed into lemonade than it is, say, a freshly pressed juice, but come on, we're talking about Wendy's here. You can see little bits of fruit puree at the bottom of the clear cup, and it's the only one of these four lemonades I could see myself ordering to sip on a hot summer day. It has the power to cut the salt between bites of Wendy's spicy nuggets or a Baconator, but would also be a worthy order all on its own. Good to know for the warmer days ahead.