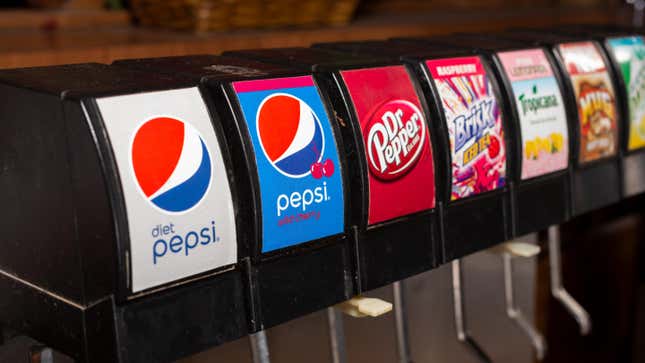 Beloved Midwestern restaurant chain Culver's recently made the switch from Pepsi products to Coca-Cola products, and CNN reports that some customers aren't so happy with this decision. Grouchy backlash was bound to happen; both Coke and Pepsi have their loyal fanbases, and this is a battle with no middle ground. (And boy, do people love their Diet Coke.)
We Try (and Fail) to Guess the MTN DEW Mystery Flavor
But behind the scenes, an entire fast food chain switching allegiances between Coke or Pepsi products can mean big business for the beverage giants. So, which major chains serve Coke, which serve Pepsi, and how do those decisions get made?
Why do restaurants serve only Coke or Pepsi products, not both?
If a restaurant chain signs an exclusivity contract with either Coca-Cola or Pepsi, the restaurant will be awarded a discount on that particular suite of products. Given the thin profit margins of the restaurant business, lowering overhead costs like that is well worth the beverage limitations. It's also a practical matter: Why stock both and have to source your beverages from multiple companies, rather than take care of logistics from one supplier? Moreover, the typical soda fountain only has so many slots, and taking up two of those spaces with Coca-Cola and Pepsi would be a little more redundant than, say, Pepsi and MTN DEW.
The only time you'll see a combination of each company's products at a restaurant is when you're dining at a mom-and-pop establishment or an otherwise independently owned restaurant. These smaller operations pick up their own supplies at a restaurant supply store, meaning the operator can just pick up a case of whatever they choose to mix and match. Take that, corporate giants.
Which soft drinks does the Coca-Cola Company sell?
If you find a fast food restaurant that's exclusive to Coca-Cola, you'll usually see Coca-Cola, Diet Coke, and/or Coke Zero Sugar. Other products within this suite include Sprite, Fanta, Barq's root beer, Minute Maid products (either lemonade or similar fruit drinks), and Hi-C.
Sometimes you'll find fast food restaurants with a Freestyle machine, a high-tech fountain dispenser that allows you to create your own concoctions by adding flavors to the standard Coke product base listed above. Those machines are pretty wild, because who wouldn't want to try making strawberry-flavored Coke?
Which soft drinks does PepsiCo sell?
Pepsi fountains feature a combination of Pepsi (of course), Diet Pepsi, Cherry Pepsi, MTN DEW, Sierra Mist (soon to be replaced with Starry, most likely), Mug Root Beer, Dr. Pepper, Schweppes Ginger Ale, and Tropicana. Dr. Pepper isn't owned by PepsiCo, but the latter does distribute the brand in restaurants.
Pepsi Spire is the analogue to Coke's Freestyle machine. It's a similar touchscreen product that allows you to browse through offerings and customize them with unique flavor combinations.
Which fast food chain restaurants serve Coca-Cola products?
Here's a list of major restaurants that exclusively serve Coke products:
McDonald's
Burger King
Wendy's
Domino's
Subway
Arby's
Chick-fil-A
In-N-Out Burger
Culver's
Five Guys
The Cheesecake Factory
TGI Fridays
Sonic Drive-In
Jimmy John's
Which fast food chain restaurants serve Pepsi products?
The list of major restaurant chains that sell Pepsi products is a little smaller:
Taco Bell
KFC
Pizza Hut
Papa Johns
Buffalo Wild Wings
Hooters
IHOP
Red Lobster
People are always willing to take sides in the Coke vs. Pepsi debate, but does the availability of one soda versus the other influence your choice of which restaurants to visit? Sound off in the comments.