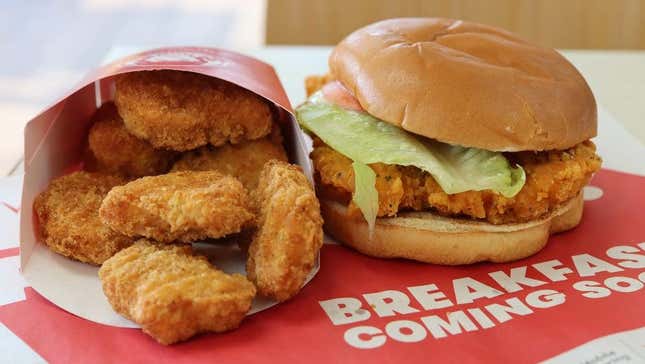 Going to White Castle in daylight almost feels wrong, doesn't it? It seems like a place straightforwardly designed to cater to midnight cravings and post-bar crowds. Yet during the pandemic, we saw steep drop-off in late-night drive-thru runs at every fast food chain—a good thing, given the stay-at-home orders at the time—and the crucial post-dinner daypart was swapped out for a focus on breakfast. Now, however, Wendy's wants to regain a share of the after-dark action. QSR Magazine has the report.
McDonald's Shrinks Its Restaurant for the Digital Age
According to a recent OpenTable report that gathered restaurant reservation data from 55,000 partner restaurants and 10,000 diners, people are shifting their dining habits toward later dinners. In March 2023, OpenTable found, more and more people were willing to book 8 or 9 p.m. reservations at their favorite restaurants. And it's not specific to weekends; there was a particular openness to these time slots on Mondays, Wednesdays, and Thursdays. These are habits that all but disappeared during the pandemic, and their reappearance means the public is eager to get out and enjoy nightlife once more. That's music to the dining industry's ears, especially fast food.
As QSR explains, Wendy's spent 2020 and 2021 introducing and then perfecting a breakfast menu that brought huge success to the brand. It was a winning strategy, but why rest on those laurels?
"We are excited to offer our customers the high-quality late-night experience they deserve and believe there's a ton of opportunity ahead of us," said Todd Pengor, Wendy's CEO, during the company's recent Q1 earnings call. "During this daypart, we continue to expect that executing against our strong and balanced marketing calendar, leaning into under-penetrated dayparts, and continued operational improvements will ladder up to mid-single-digit global same-restaurant sales growth in 2023."
That's a mouthful of CEO-speak, but to put it simply, you're likely to see lots of ads for Wendy's in the coming months that highlight how late its locations stay open. Remember the Wendy's commercials of the early '00s, bragging about how the chain is "open until midnight or later"? It'll be that, but probably embellished with footage of cool young folks ordering through the Wendy's app. Get ready to see more midnight crowds in the drive-thru lane—unless you're like me, in which case you'll be asleep long before those late-night lines have a chance to form.