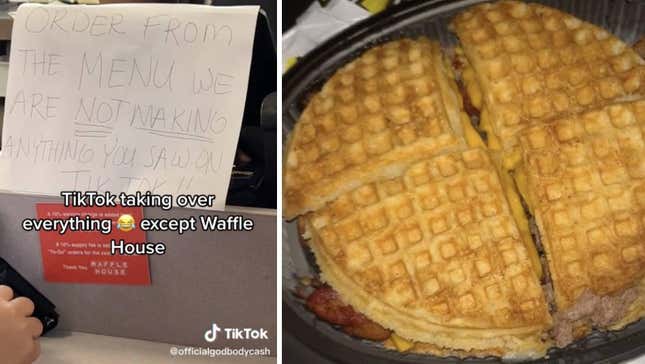 Over the past few years, restaurants have been subject to one of the most destructive forces of the modern world: the TikTok hack. Internet users everywhere are devising and sharing very annoying ways to make minimum-wage-earning fast food workers perform even more labor so that the customer can either save a couple bucks on the sly or taste a custom off-menu creation. And while these hacks might seem harmless, they can have very real consequences. Chipotle disabled taco orders on its mobile app to discourage "hacked" orders. Chick-fil-A fired a worker for posting menu hacks on TikTok. And now Waffle House is trying to stop the hacks in their tracks.

Why Waffle House is putting a stop to TikTok menu hacks
Ironically, it was on TikTok that a sign at an Atlanta-area Waffle House first went viral. The handwritten plea reads: "ORDER FROM THE MENU WE ARE NOT MAKING ANYTHING YOU SAW ON TIKTOK!!"
According to The New York Post, this sign was likely in response to this TikTok, which features a giant bacon cheeseburger with an entire side container full of pickles, all served on a Waffle House waffle. While the original poster doesn't share exactly what she ordered and how she might have modified it, we can only guess that Waffle Houses across the country were overrun with requests for the giant waffle burger.
G/O Media may get a commission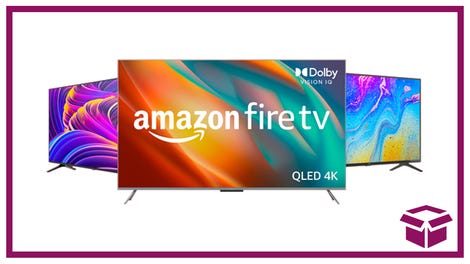 Ooh. stunning.
New Amazon Fire TVs
One commenter on the video even writes, "@WaffleHouse I better not hear an employee say 'WE CAN'T DO THAT' when I show them this video and say make me this." And that is the exact reason why these TikTok hacks need to stop. Workers at the Waffle House certainly don't get paid enough to be faced with hundreds of customers holding up a video on their phone and saying, "make me this."
The right and wrong way to order a TikTok menu hack
We here at The Takeout are all for food experimentation, especially when it comes to chain restaurants. But the best way to build a custom off-menu meal is to take matters literally into your own hands. Unless a restaurant is specifically marketing a new mashup item, you cannot expect workers to be prepared to put together a complicated monstrosity for you. If you want to recreate the waffle bacon cheeseburger, simply order the appropriate on-menu dishes, then construct the item yourself.
McDonald's tried to train us on just such an approach when it released a "hacked" menu boasting items like the Land, Air, and Sea sandwich, which combined a Big Mac, a McChicken, and a Filet-O-Fish. The menu made it clear that the customer would be the one to actually assemble this thing, not a staffer. It was a little misleading on McDonald's part to show images of perfectly constructed mashup burgers that could never be achieved with the same beauty at home. But at least the marketing materials acknowledged that the McDonald's menu is in fact hackable, so long as you hack it yourself.
As a rule, just trust that these restaurants know what they're doing. There are matters of cost, time, skill, popularity, taste, and other logistics that go into crafting a chain restaurant menu, and a giant waffle cheeseburger is mostly likely not the best use of company resources. Confine the hacks to the comfort of your own home, and let Waffle House do what it does best.