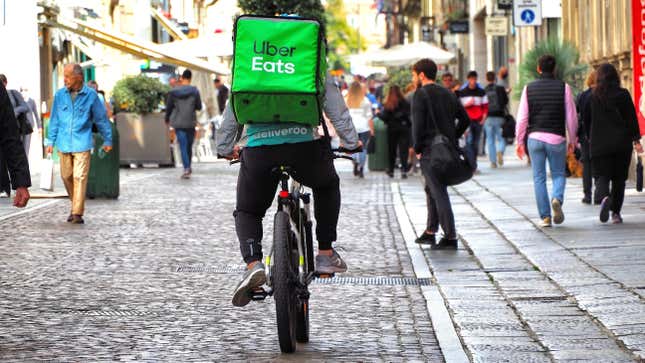 Uber Eats hasn't even been around for a decade, yet the service has seemingly woven itself into our daily lives, especially on nights we don't feel like cooking or leaving the house. If one of your favorite restaurants doesn't have an in-house delivery service, then it's almost a given that it partners with a third-party service like Uber Eats to get food to you. But considering how popular the app is here in the United States, its ubiquity is far from universal. You might be surprised to learn that Uber Eats hasn't succeeded in some other countries, and in some cases has pulled out of international markets completely.
How To Dispose Of Cooking Grease The Easy Way After Frying
Where Uber Eats hasn't done so well
Reuters reports that Uber Eats is shutting down its food delivery services in Italy, and it's fully exiting Israel, both as a delivery app and ride-sharing service. This is part of a strategy in which it aims to be either the largest or second-largest provider of services of its type in certain countries in order to ensure its success in those locations.
An Uber spokesperson told Reuters the changes were "in line with our efforts to focus on markets where we have opportunities for sustainable growth." Apparently Italy and Israel weren't Uber hot spots.
These countries don't have Uber anymore
Uber has historically had difficulty operating in various international markets. It pulled out of China in 2016 after a pricing battle with a competitor, Didi, which resulted in the sale of its Chinese operations to Didi, in exchange for a stake in the company, per Reuters.
In 2018, Uber completely exited the Southeast Asian market in a similar move, selling its operations for a stake in competitor Grab in a cashless transaction. It also sold its business interests in India to rival Zomato in 2022.
Uber Eats announced in 2020 that it would leave the Saudi Arabian market, though it didn't say why in its official announcement. It also left Czech Republic, Egypt, Honduras, Romania, Uruguay, and Ukraine the same year. Its 2019 exit from the South Korean market was due to alleged fierce competition; food delivery is an extremely popular service there, with many already established services.

While Uber isn't as popular in the rest of the world, frankly it's not always popular here, either. While it has ultimately become a part of our everyday lives, its success in the United States might just speak to the fact that there are fewer competitors to muscle past here. If anything, its biggest impediment here is the legal system.