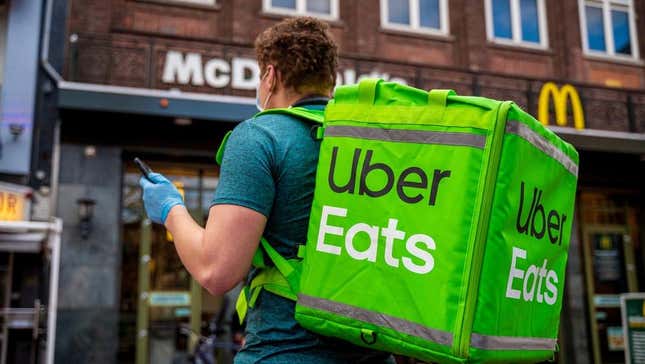 Some residents in the Highland Park neighborhood of Los Angeles have been puzzled over mysterious Uber Eats delivery orders that have arrived on their doorsteps since late February, the Los Angeles Times reports.
All the Best Finds at the Sweets & Snacks Expo
The deliveries have included mostly McDonald's and Starbucks orders, as well as offerings from other fast food chains. The deliveries, which allegedly come at random times of day, have the names of unknown people, names that don't seem to be associated with working phone numbers—but the delivery addresses are real. Some people in the neighborhood have gotten dozens of phantom food orders at this point.
This prank/social experiment/AI gone haywire/whatever it is went from funny to annoying really quickly, and residents still don't have an explanation. In the meantime, the Times reports, residents are leaving the delivery orders at a nearby food donation drop-off site.
Uber Eats has since opened an investigation, and told the Times that the company "has taken action against a number of accounts using the delivery service." No word yet on what that actually means.
Los Angeles isn't the only place where these mystery deliveries are happening, either. CBC News reports that New Westminster, a community in British Columbia, has also been experiencing unwanted Uber Eats deliveries for weeks, some of them including just bottled water or a side of gravy. One unfortunate resident received 30 mystery orders in a week.
In the case of the Canadian deliveries, the orders are paid for, with no specific unit numbers attached to the addresses—just the address for entire townhouses and condo buildings—and they list a less-than-convincing phone number (555-555-5555). These deliveries have since stopped; Uber claims to have banned accounts tied to unsolicited orders, though it's unclear whether that's the reason the mystery drop-offs came to a halt.
Some Redditors blamed credit card fraudsters for the Los Angeles orders. Others on a Canadian message board posited that it might be some sort of scam, but were unable to parse out who exactly would be benefiting and how it might be worth a scammer's efforts. When people receive mystery Amazon deliveries, there's a clear reason: shady Amazon vendors are sending products to random addresses so that they can pose as a "verified customer" and write a glowing review for their own products. But what's the advantage of paying a third-party delivery service to send food to no one?
David Jao, a professor and cybersecurity expert at the University of Waterloo, , told CBC News that he believes the incidents in Los Angeles and New Westminster could be connected, though credit card fraud seems unlikely. If scammers were trying to test out small purchases on a stolen credit card to see if it works, they probably wouldn't be heavy-handed enough to be doing it for weeks (unless they're impossibly bad at scamming).
"If this is coming from stolen money, somebody's going to notice the stolen money, they're going to report it to the credit card agencies," Jao said.
The mystery persists—and also, scammers are welcome to send me McDonald's whenever they want.