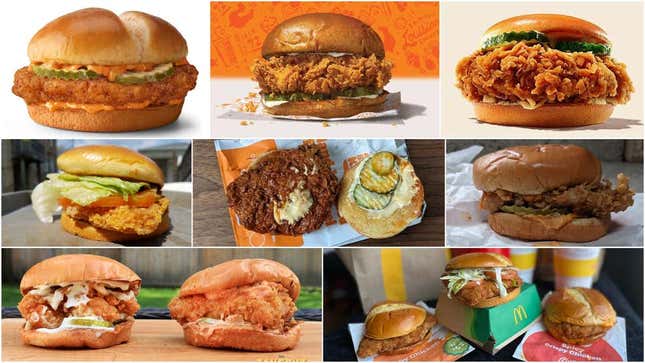 We here at The Takeout have done our best to keep you apprised of all the latest fast food chicken sandwich news. We've faithfully tried them all, from Popeyes to Hardee's, and we've even ranked them for you. But all our tastings have been individual, and by different writers. We've never gathered all the chicken sandwiches in one place and tasted them one by one in a direct comparison. We were, to be honest, daunted by the sheer amounts of fat and sodium. We were afraid the chicken sandwiches would kill us.

How To Dispose Of Cooking Grease The Easy Way After Frying
But now two writers from the L.A. Times have undertaken this great mission for the good of humankind. Food columnist Jenn Harris and restaurant critic Bill Addison spent an afternoon tasting 10 different fast food chicken sandwiches to determine which one is best. It must be noted that their standards are different from ours: Addison claimed that he hadn't eaten fast food since the '80s. (His excuse is that there are so many other foods to try. But what does he eat on road trips?) Still, it's an entertaining watch, especially considering that this is the Friday before a holiday weekend and most of us are already brain-dead anyway.
In case you're wondering about the state of their arteries, rest assured that their palates are such that they can usually judge the quality of a chicken sandwich in a single bite. So I'm pretty sure they're still alive.