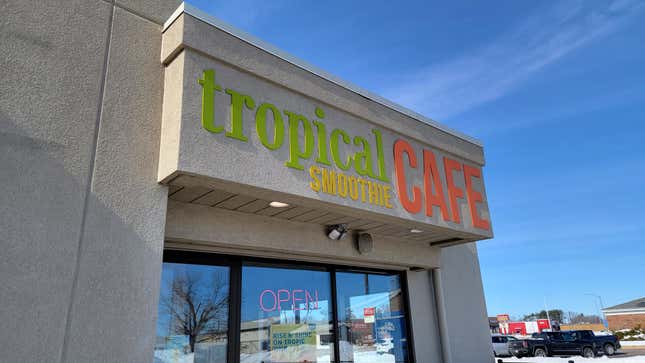 Close your eyes and try to picture the menu at Tropical Smoothie Cafe. What do you see? Probably giant cups of pureed technicolor fruit, maybe some wraps and salads. While these are serviceable options for a catered company function, they're not what I'm craving while on the prowl for a drive-thru lunch.
How To Dispose Of Cooking Grease The Easy Way After Frying
However, it turns out that Tropical Smoothie Cafe offers all-day breakfast, too. And a recent expansion has brought two new flatbreads to its roster of sandwiches and burritos: the Cali Breakfast flatbread (with "grilled chicken, eggs, smoked cheese blend, smashed avocado & chipotle mayo") and the Peanut Butter Banana Crunch flatbread ("peanut butter, banana, granola & honey"). My area is a bit lacking in breakfast options, especially of the fast/healthy type, so these new items might be a game-changer. I visited Tropical Smoothie Cafe to find out if I've been unfair in my assessment of the chain.
How big is Tropical Smoothie Cafe?

It's not just the menu that's growing. Per a recent press release, "With 158 cafe openings and 258 executed franchise agreements in 2022, the brand was able to achieve its 11th consecutive year of positive same-store-sales growth." This included its first ever airport location, at Will Rogers Airport in Oklahoma City.
Even before its impressive 2022, Tropical Smoothie Cafe was the talk of the business world. Around this time last year, multiple news outlets reported that the company was on the verge of filing for an initial public offering. The valuation? In excess of $1 billion, according to Bloomberg.
But the stock market is a tricky place. The ownership group of Levine Leichtman Capital Partners (who purchased the business in 2020) opted to hold onto the reins, and the IPO rumor blender has since gone silent. This didn't bother consumers, who helped propel Tropical Smoothie Cafe to #10 on QSR Magazine's list of the "The 25 Fastest-Growing Fast-Food Chains in America" last September. (Number one? Jersey Mike's.)
Between its industry accolades, new menu options, and commitment to "Inspire Better™", this business sounds like a feel-good slam dunk. So can someone explain to me why my local franchise is deserted at lunchtime, or why Tropical Smoothie Cafe is among the lowest performers on Foursquare's QSR Loyalty Index?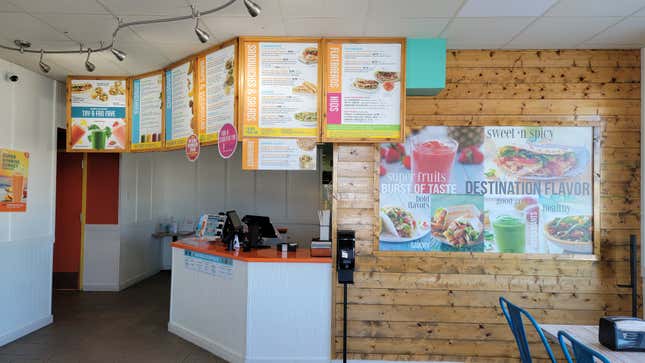 The Tropical Smoothie experience doesn't quite match the hype
Over the past several years, I've lived in a few towns with Tropical Smoothie Cafes. And while a barometer of one is no measure of the fast-casual climate, here's a bit of anecdotal drizzle: Rarely, if ever, have I seen the parking lots look busy.
Maybe this is a local problem. Quite often, Tropical Smoothie Cafes pop up as part of a strip mall; mine is crammed into half of an old Pizza Hut building. There's a drive-thru, sure, but when viewed from the street, the store is awfully easy to miss.
I entered the lobby at noon. There a dozen or so tables, each with thematically distressed metal chairs, with nary a backside to fill them. In fact, over the twenty minutes or so I ordered, ate, and looked around, only two other customers showed up – One in the lobby, and one at the window.
The new Cali Breakfast Flatbread was the impetus for my visit, but one sandwich seemed inadequate for my appetite. I tacked on a Chicken Pesto Flatbread (with a side of Kale Apple Slaw) and a Lean Machine smoothie.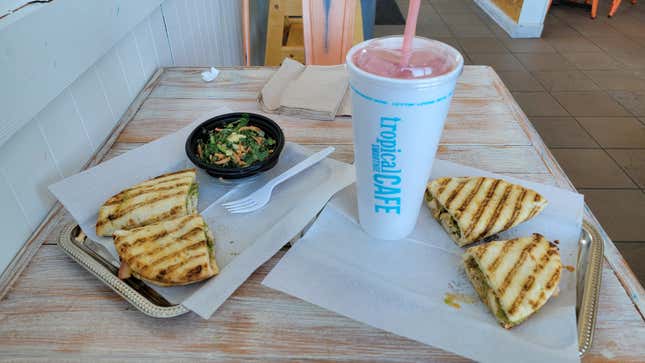 How does Tropical Smoothie's food taste?
I'll keep the tasting notes quick: The Cali Breakfast Flatbread was sound, if a bit bland. Did you read the list of ingredients above? Because it tasted exactly as described, with a save by the chipotle mayo.
The Chicken Pesto, however, was very good, packing a surprising freshness to the sauce. The Apple Kale Slaw was bland and difficult to eat (the strands were too fine for the fork), but the Lean Machine smoothie's strawberry and banana flavors really popped, perhaps thanks to its addition of "fat burner and energizer."
As to the calorie count, well… eating "clean" when it comes to fast food is a relative pursuit. According to company's nutritional chart, the smoothie comes in at 490 calories, the Chicken Pesto at 430, the slaw at 130, and the Cali Breakfast at 570. And for the privilege of ingesting said tallies, I paid $18.33 before tip. That might seem like a bit much, but this was really two meals' worth of food.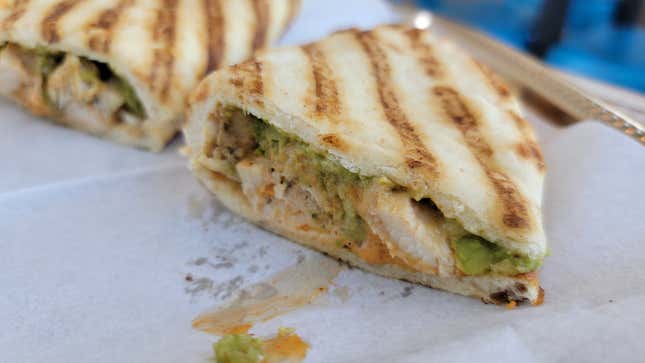 Another quick point: plant-based protein swaps are available, though not widely advertised. In fact, I didn't notice there was an option to go with "Plant Based Chicken Substitute" until well after I'd ordered. When I inquired about this, the worker at the counter flinched.
"We've been out of that for a while," they said. "I haven't seen it in months."
That's a bummer. But frankly, I can see myself returning for the sole purpose of giving the faux chicken a shot.
Is Tropical Smoothie Cafe worth it?
As mentioned, my previous experiences had been more or less underwhelming. But whether it was the vivid green of the pesto or the idea of all-day breakfast, Tropical Smoothie has won me over, if conditionally.
At the same time, I think I understand why the company doesn't inspire the loyalty of the other fastest-growing brands. There's a style here, sure, but nothing that feels like a signature dish—not even the titular smoothies themselves. And when you don't have the charisma of a Crunchwrap Supreme or something like Nashville hot chicken, it's harder to stand out. Tropical's menu offerings are solid overall, but until the chain can land some kind of eye-catching hit, the battle for repeat business might be an uphill fight.