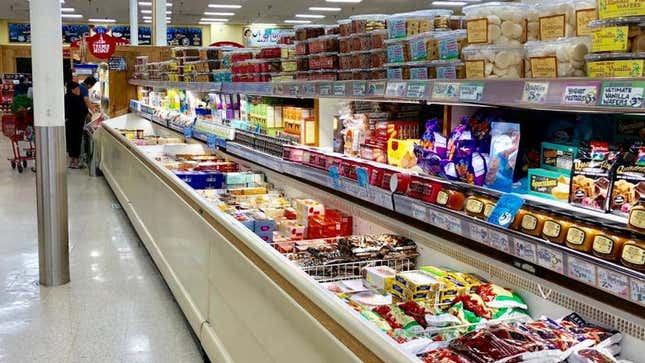 Trader Joe's announced Wednesday morning that it is recalling its Organic Tropical Fruit Blend, which is sold frozen at stores nationwide (and, for what it's worth, sounds like it would make a good smoothie). The fruit blend is being recalled due to its potential contamination with Listeria monocytogenes, a bacterium that can cause Listeriosis, a serious infection that most readily sickens people who are pregnant, people over the age of 65, and people who have weakened immune systems.

How To Dispose Of Cooking Grease The Easy Way After Frying
To be clear, no illnesses have been reported as of yet. The recall is precautionary, and Trader Joe's has already removed the item from stores and destroyed it. It's the stuff that's already purchased and hanging out in your freezer you need to check on.
"If you purchased or received any donations of Organic Tropical Fruit Blend, please do not eat it," Trader Joe's wrote in an email to customers on Wednesday. "We urge you to discard the product or return it to any Trader Joe's for a full refund."
The affected products have a SKU of 51191 and the following "Best By" dates: 
01/30/24
01/31/24
02/01/24
02/02/24
02/03/24
According to the CDC, Listeriosis can infect the body two different ways. The first is intestinal illness, which presents itself about 24 hours after eating contaminated food. Symptoms vary depending on whether a person is pregnant or not. For pregnant people, symptoms include vomiting and diarrhea; for those who are not pregnant, symptoms are usually mild.
The second way Listeriosis can affect the body is through invasive illness, which the CDC defines as when Listeria have spread beyond the gut. This serious infection can happen two weeks after someone ingests the bacteria. For pregnant people, symptoms include a fever and flu-like symptoms, such as muscle aches and fatigue. For others, the symptom list is longer and includes fever; flu-like symptoms, such as muscle aches and fatigue; headache; stiff neck; confusion; loss of balance; and seizures.
Listeriosis can be particularly serious for anyone who's pregnant. According to the CDC, "infection during pregnancy usually leads to miscarriage, stillbirth, premature delivery, or life-threatening infection of the newborn." Listeria is also the reason pregnant people are told to avoid deli meats, as they carry a slight risk of contamination. Indeed, a recent study found that the vast majority of Listeria cases stem from deli meat.
The Trader Joe's recall comes on the heels of another recall of frozen fruit last week. That recall was for fear of Hepatitis A contamination and affected several frozen fruit packages sold at Walmart, H-E-B, and Costco.
If you're having trouble keeping up with all these recalls, you're not alone—it can be dizzying. Check out our guide to the best resources for keeping up with emerging food recalls.