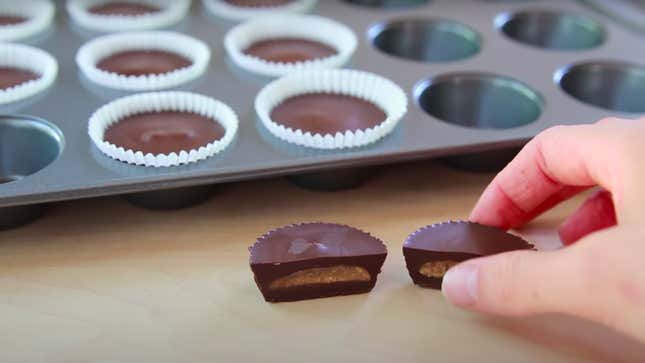 I'm a firm believer in a Little Treat. Wrapped up a tough workday? Have a Little Treat. Did your laundry? Little Treat. Wandered the aisles of Trader Joe's for 1.5 hours? Treat time. Unfortunately, today's news is particularly devastating given my personal Little Treat of choice: Delish reports that Trader Joe's is recalling its cult-favorite dark chocolate almond butter cups due to reported allergic reactions.
Dr. Pepper Strawberries & Cream Is Tearing Us Apart
These are not to be confused with the little dark chocolate peanut butter cups. (Those are the mini cups in gold wrappers available in multi-packs, usually near the checkout stands.) These are the larger almond butter cups, the grab-and-go snacks that come in packs of two. Trader Joe's posted the recall notice on the grocery chain's website, stating: "While the label states that the product 'May contain traces of... peanut,' following reports of allergic reaction, potentially affected product was promptly removed from sale." In other words, the product may contain more than a trace of peanut. Per several illness reports, individuals with severe peanut allergies may be at high risk if they consume the product.
Fortunately, this recall doesn't apply to every package of Trader Joe's dark chocolate almond butter cups. The potentially affected products feature sell by dates of April 5, 2022, April 6, 2022, and April 7, 2022. If you happened to purchase the two-count dark chocolate almond butter cups packs with the aforementioned sell by dates, you can return them to any Trader Joe's location for a full refund.
Even if you don't have peanut allergies, it might be a good idea to err on the safe side, especially if this batch of treats somehow slipped through the company's standard regulatory process. You can also contact Trader Joe's Customer Relations at 626-599-3817 with any questions or concerns. In the meantime, I recommend playing it safe with your Little Treats.