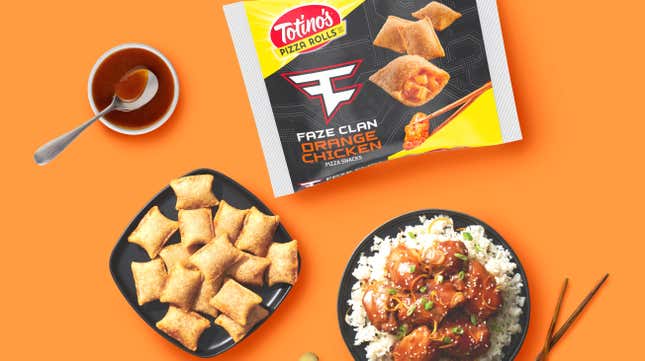 Totino's Pizza Rolls have a long history in the grocery store freezer aisle, and are famous for being, well, pizza rolls. Bite-sized nuggets of pizza. They're synonymous with after school snacking, late night snacking, and meal replacement snacking, and in my mind, I can't separate these pizza flavors from their roll. But the newest Totino's rolls, made in collaboration with esports organization FaZe Clan, make the bold choice to ditch the pizza fillings entirely and embrace a different food category altogether: Chinese takeout.
How To Dispose Of Cooking Grease The Easy Way After Frying
Totino's newest pizza rolls, explained
The new Totino's x FaZe Clan rolls are filled with orange chicken. The official press release describes the product as "chicken in a sweet and spicy orange sauce, all wrapped in the famous golden crust fans know and love." Despite the total lack of pizza-adjacent ingredients, Totino's is still calling the new product Orange Chicken Pizza Rolls.
While I know finger food such as Totino's pizza rolls are favored by gamers since you can pop 'em and play, I never once thought that pizza rolls could or should be mashed up with Chinese American food—but it's an undeniably fun idea, now that I'm thinking about it. I mean, pizza rolls are essentially miniature egg rolls already, albeit filled with tomato sauce, cheese, and diced pizza toppings—there are no rules against putting other non-egg-roll fillings in egg rolls. White Castle makes a cheeseburger equivalent, and though they aren't Totino's brand, they demonstrate how flexible these things can be.
Totino's other products, beyond pizza rolls
There is indeed one other non-pizza-filled roll in the Totino's lineup, released in summer 2022: Buffalo-Style Chicken. It was also made in partnership with FaZe Clan; I guess gamers really love their Totino's (or Totino's is wedging itself into the gamer space). No need to storm the supermarket before your next Call of Duty session, though—both the Buffalo-Style Chicken and Orange Chicken Pizza Rolls are permanent additions to Totino's product line.
Where to buy Totino's Orange Chicken Pizza Rolls
The not-so-pizza-esque pizza rolls are already being rolled out to grocery stores nationwide, so if you haven't seen them yet, you will soon, at a suggested retail price of $5.99 for a 50-count bag. It looks like I now have a use for all of those Chinese takeout hot mustard packets I keep stashed in my cookie jar (other than using them to make this, of course). Gamers, if you do pair these new Totino's rolls with Baldur's Gate 3, let us know if they get the job done. Just remember to let them cool off a bit before popping them in your mouth.