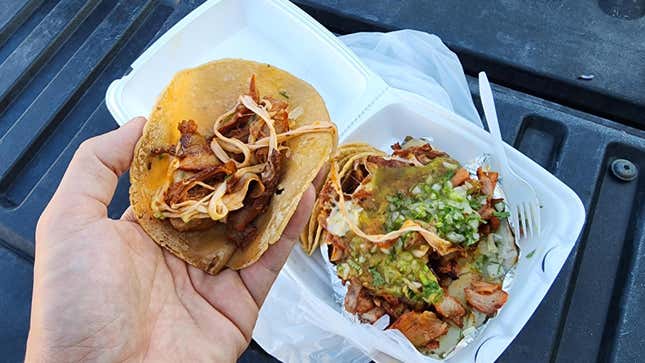 Of all the ways to enjoy al pastor, it never occurred to me to eat it atop a steaming potato served with a side of corn tortillas.

How To Dispose Of Cooking Grease The Easy Way After Frying
But that's exactly what you'll get when you order a loaded baked potato from Angel's Tijuana Tacos in Los Angeles. You may have seen this taco/potato plate on TikTok, where all "you've got to see this shit" food lives. Luckily, I live in Southern California, so I don't have to watch strangers enjoy Angel's. I get to eat it myself.
What is a Tijuana-style loaded potato?
This loaded potato comes in many forms, but the process for assembling one is usually the same. Pull up to a taquería that serves it, and you'll notice pre-baked russet potatoes covered in foil resting near the cooler end of a flattop.
When ordering, the customer selects their grilled meat of choice: al pastor, carne asada, pollo, marinated flank steak, or sometimes even grilled shrimp. At Angel's, a generous handful of shredded Oxacan cheese is added, too, melting over the meat as it cooks on the griddle. Once the cheese melts, the mixture gets dumped onto/stuffed inside one of the pre-cooked potatoes via a pair of metal spatulas, then the whole thing is topped with salsas, onion, and cilantro. In the end, there's no potato in sight, just the neatly wrapped ends of foil and a mound of umpteen toppings.
The best part about this loaded baked potato is that it also comes with a side of homemade corn tortillas—the key element that transforms this papas locas loaded potato from a hefty appetizer into a fully shareable taco plate. With every forkful of spit-grilled pork and pineapple sliced directly from the spinning trompo, you also get bite-sized mounds of deliciously creamy baked potato, adding a velvety richness to each taco. This serving method not only lends a unique texture to the dish, but it also just feeds more folks, too. Meals that are practical, filling, and delicious are always the ones that resonate most.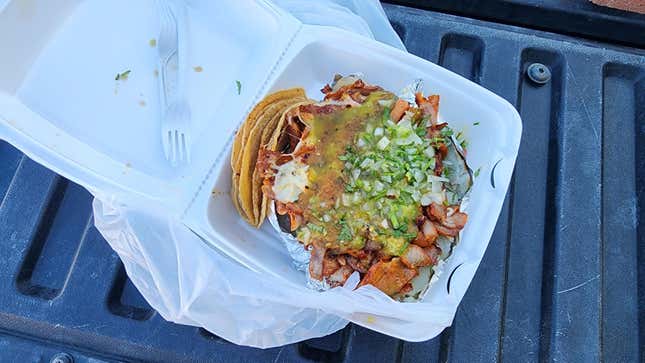 This al pastor loaded baked potato from Angel's costs $16.50, and it could easily feed three hungry people. With all the free radishes, cucumbers, grilled peppers, and onions available at the serving station (love it when taco joints have these), you're going to have more than enough food to stuff between your grilled corn tortillas. It's an incredible deal, and probably my new favorite way to share tacos.
The origins of the Tijuana-style loaded potato 
This over-the-top loaded baked potato is exactly the type of food that prompts the question, "Would you try this?" on TikTok and YouTube Shorts. These questions inevitably get traction online; it looks like Angel's version got traction sometime around 2021. This video at Carlos's Tijuana Tacos in Riverside (part of the Greater Los Angeles Area) was uploaded just last year. After that, there's actually not a whole lot on the Tijuana-style baked potato that predates these two videos. It has only just recently pierced the zeitgeist, but it looks like the constant in all of them around here is the Tijuana-style taquería, where grilled meats and corn tortillas are a constant.

The origins of the loaded baked potato itself are murky. I've heard others call it nontraditional, the type of awesome food that feels "new wave" Mexican due to its resonance with a younger generation. I also haven't seen much reading material out there dedicated to it.
To speculate, perhaps it's the type of thing that got direct influence from steakhouses in America or even from Peru. Lomo Saltado, after all, is a loaded potato in a different form, and many taquerías serve papas locas in the form of french fries.
L.A. Taco editor in chief Javier Cabral mentions a loaded baked potato filled with carne asada, butter, and cheese in this article about Sinaloan-style tacos in Long Beach. However, he admits that the potato isn't an outright Sinaloan tradition; Sinaloa is a Mexican state southeast of Tijuana, but they're 1,500 miles apart.

I asked Cabral where the hell this thing came from exactly, and he seemed to love the question.
"For starters, you can find it all over northern Mexico and Jalisco up, I'm pretty sure," he wrote to me. "All of this stuff is very undocumented."
"All over northern Mexico" resonates with me: The fact that Tijuana is so close to the American border means that this could be a beautiful melding of American steakhouse and Mexican street food culture. The classic loaded potato is said to be a Northern Pacific Railway invention, after all, but who the hell actually knows? Toppings being dumped into a baked potato seems to be a logical conclusion for anybody to draw.
Okay, where can I get one?
Naturally, you're likely to see these things across the border. Other than that, Southern California is your best bet. Tijuana is less than an hour drive away from San Diego, so I'm betting you'll find them there, too. I'd start by searching Tijuana-style taquerias, but even then, there's no guarantee they'll be on the menu. It's not the worst idea in the world to try making a version of it at home.

I once loathed the loaded baked potato, stuffed with bacon, sour cream, chives, cheddar cheese, and whatever the fuck else. Yet somehow, seeing another culture develop a similar dish has softened me to it. The loaded baked potato isn't just an antiquated steakhouse byproduct; it's a versatile dish that invites multicultural experimentation.
Way back when, chef Krem Miskevich, a Polish immigrant, served a Polish loaded baked potato here in L.A. Inspired, I made my own Little Armenia version (my old neighborhood) with labneh, sujuk, Bulgarian feta, and pickled red cabbage. It felt like my own expression of a time and place in Los Angeles.
Seeing others play around with the concept of a loaded baked potato has me convinced that it's not just a vehicle for unique flavor combinations, but for cultural celebration. The potato, as it's always been, is a blank canvas. The loaded part is what tells the story.