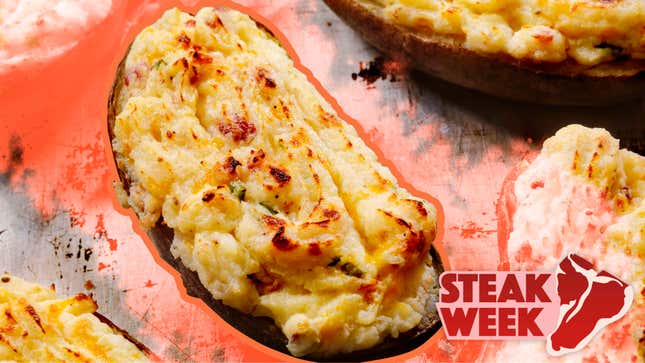 Weren't twice-baked potatoes the highlight of any circa 1990s wedding banquet? I used to think so, going to countless family weddings as a child. I remember watching the cloche lift from my dinner and thinking Sheeeeeeeeeesh is this fancy. Whimsically piped, flecked with chives, the twice-baked potato was a sumptuous golden mound—potato dressed for the occasion. My Laura Ashley dress paled in comparison to what this potato was wearing.

All the Best Finds at the Sweets & Snacks Expo
Through the years my admiration for elegant twice-baked potatoes never flickered, but their taste now seems dull, muted, and chalky. Surely I could do better for this style icon of potatoes.
I set out to up the ante of the twice-baked potato, creating a rich dish that you could swirl even overcooked filet mignon through to make it taste better. The magic ingredient of steak sauce added everything those bland potatoes were missing: zip, salt, and tang. I thought for sure A1 sauce was going to be the front runner. In a side-by-side tasting though, it was Heinz 57 sauce that galloped its way ahead. I loved its savory, almost curry sauce-like flavor against buttery baked potato—like an aloo tikki-meets-hash brown casserole (not a terrible recipe idea, if anyone's game). It's already my favorite sauce for dipping any sort of meat, so its presence in a side dish next to a steak is more than welcome.
If I'm going to stuff something with itself, I'd like some flavor and textural differences, or what's the point? So under its burnished lid of cheese, lies golden soft potatoes, their texture slackened with sour cream and butter, much like my own. Like a good pair of Spanx, a perimeter fence of crispy potato skin keeps everything in its place.

Go ahead and eat that skin too. It spent a lot of time in the oven for you, after all. I oil and salt the skins to make them extra-crackly and delicious. I feel slightly dirty eating an entire potato peel, but also virtuous since they are so good for you.

Piping the potato into the shells may seem frivolous, but I think it's actually neater and faster than spoon-loading them. And perhaps I find squeezing a warm bag of potatoes enjoyable. Perhaps you will too. You won't know until you try. The end result is a twice-baked potato that's delicious from top to tail. Use a fork and knife. It is a fancy potato after all.
---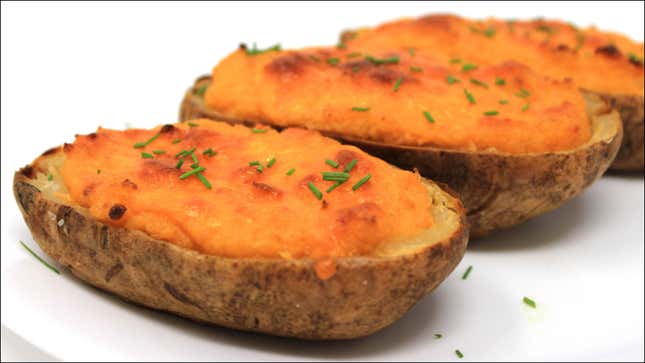 Ultra Deluxe Twice-Baked Potatoes

Serves 4
2 medium russet baking potatoes, preferably organic if you'll eat the skins (do it)

Canola or vegetable oil

Salt

2 Tbsp. sour cream

2 Tbsp. butter, cut into small pieces

2 Tbsp. Heinz 57 Sauce

1 cup of sharp cheddar cheese, grated

Chives for sprinkling, if desired

Special equipment: Plastic Ziploc bag for squeezing out golden waves of potato

Heat the oven to 400 degrees Fahrenheit, set the potatoes on a baking sheet and rub the skins all over with canola oil and a sprinkling of salt. Bake for 45 to 60 minutes depending on the size of your potatoes. It's done when a knife inserted through the skin meets no resistance. Remove potatoes and turn down oven to 350 degrees.

Once cool enough to handle, halve each potato and scrape out the insides into a bowl, leaving a 1/4-inch rim of potato around the edges for structural integrity. Mash the hot potato flesh with butter, sour cream, 1/2 cup of cheddar, and 57 Sauce until smooth. Scoop mashed potato into a sturdy plastic bag, and snip off a small corner. Squeeze into the potato shells in decorative waves, or scallops or cockles or whatever oceanic shape you enjoy. Alternately, just spoon the potato filling back into their respective shells, mounding them high. Use the tines of a fork to create ridges and peaks (these peaks will toast in the oven). Sprinkle remaining cheese over the potato-stuffed potatoes and slide back into the oven on their baking sheet.

Bake for 15-20 minutes until cheese is melted and potato looks crusty and golden. If desired, run it under the broiler briefly to intensify the burnishing.
Garnish with chives and destroy in a ladylike manner.