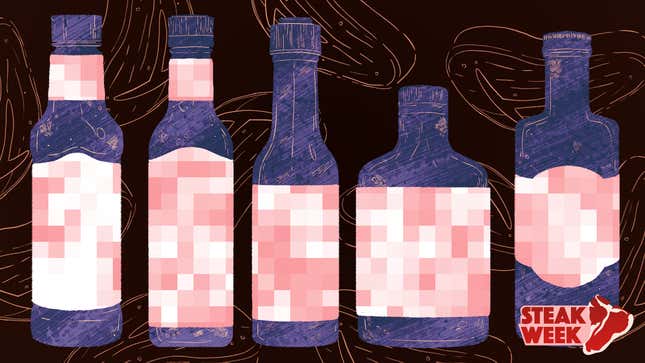 Does a perfect steak sauce exist? Some claim no sauce is necessary—a nicely charred medium-rare ribeye requires no additional accoutrements—but I think a dab of sauce can propel a rich and beefy slice into interesting new directions. (Personally, I think there's no better accompaniment than béarnaise. More on that later this week.)
Still, there exists a robust industry of mass-market bottled steak sauces, good for subtle dabs on well-marbled strip steaks or drowning a London broil. Following our taste tests with ketchup and ranch, we followed the same protocol for these widely available sauces (sorry Peter Luger and St. Elmo Steak House): Each were sampled blind with a ribeye seared to medium-rare in a cast-iron skillet.
Our contenders: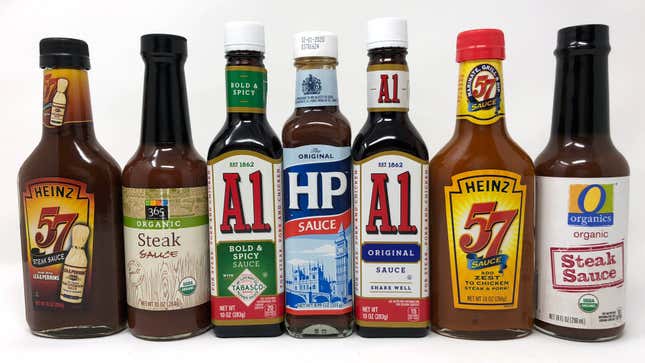 Let's start with what didn't work. We know HP Sauce (a.k.a. brown sauce) is a beloved British condiment lovely with bacon sandwiches or bangers and mash. But it just doesn't mesh with the steak we cooked. The molasses flavor proved overpowering for the brawniness of our ribeye; even though there's malt vinegar among the ingredients, it wasn't enough acid to cut through. Brown sauce has a lot of utility in everyday dishes, but for a fatty steak it's really not the right fit. We also approached A.1. Bold & Spicy Sauce with eager anticipation, but the Tabasco—surprisingly—was not a good dance partner with beef. It's not the vinegar, but the heat that's the distraction. It explains why most steak sauces aren't predominantly spicy.

In the middle is the tier of steak sauces that are just fine. If you were served a steak and the following sauces were available, your steak-consuming experience will be just fine. This category includes venerable steak sauces Heinz 57, which leans on the sweeter spectrum; I always loved the curry and chutney-esque qualities of Heinz 57 (it contains raisins, turmeric, apples, malt vinegar). A.1.'s flagship sauce is also classic, made with raisins and pureed oranges, but with that indelible beefy savoriness and back-of-the-throat black pepper piquancy. O Organics Steak Sauce fits into the A.1. mold: citrusy, a Worcestershire tang, well-balanced on the salt-acid-sweet spectrum.

Two steak sauces stood out. In second place was Heinz 57 Steak Sauce with Lea & Perrins, its flavors self-explanatory: It's Heinz 57 + Worcestershire sauce, which balances out the original sauce's currant-like fruitiness with vinegared sharpness and beefy savor. I find this a pleasing, versatile sauce better suited for beef than its original. But my favorite of the bunch came from Whole Foods. Its 365 Organic Steak Sauce offered something no other sauce did: a prominent flavor of onions. This tomato-based sauce was tangier and chunkier than others, verging on North Carolina barbecue sauce in flavor, with bits of sweet onions that pairs so nicely with a hunk of charred steak. While the other sauces in contention are suitable for most protein, the top two finishers in our blind taste test succeed because they work so specifically well with beef.
G/O Media may get a commission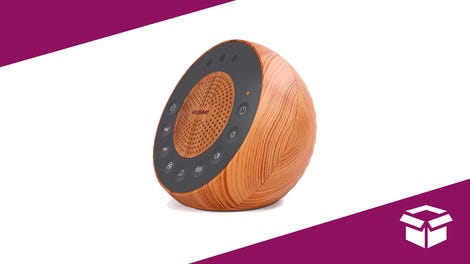 23% off
Housbay White Noise Machine
Winner
Whole Foods' 365 Organic Steak Sauce
Runner-Up
Heinz 57 Steak Sauce with Lea & Perrins