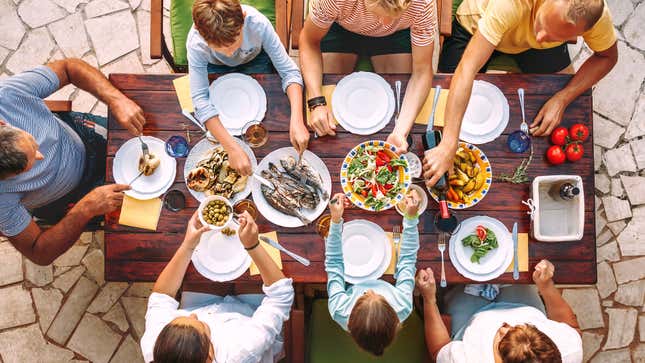 When you build any kind of best-of list from a loose assemblage of publicly sourced data, outliers and inconsistencies are probably inevitable. But even with that in mind, a recent compilation of the most kid-friendly restaurants in America, as determined by a popular restaurant reservations app, has left The Takeout staff with numerous questions this morning.

The list, which is "based on an analysis of 12,000,000+ reviews of more than 30,000 restaurants across the country—all submitted by verified diners," appears to find that the best places to dine with your kids range from tourist-friendly, experience-focused venues (Aquarium Restaurants, Rainforest Cafe) to luxe steakhouses to, uh, Hell's Kitchen inside Caesar's Palace in Las Vegas (this is Gordon Ramsay's replica of the restaurant featured in his FOX cooking competition show). The 50 selected restaurants collectively make for a bizarre assemblage, not least because of how many of the restaurants included seem like they'd be terrible venues for a family night out.
More to the point: These lists are often opaque in their methodology, certainly nothing that carries weight for Nate Silver and his ilk. Let's just call these for what they are: A way for publicity-hungry brands to feed content-hungry media in the guise of a pseudo-scientifically rigorous study. I guess what we're saying is we're every bit as guilty ourselves.
So where does that leave us? Well, The Takeout has decided to issue our own best child-friendly restaurant list, because we too are jonesing for some sweet and delicious publicity. Unlike the study cited above, we'll be completely transparent in our methodology: We surveyed all the Takeout staffers who are parents and assembled their collected responses. And since editor Kevin Pang is the only parent on staff, we are proud to present:
America's Most Kid-Friendly Restaurants, 2019 edition (as determined by Kevin Pang's 3-year-old son) 
Homer's Ice Cream (Wilmette, Illinois)
McDonald's (fries only)
Congratulations to all the winners! Please cite The Takeout in your coverage and kindly link back.