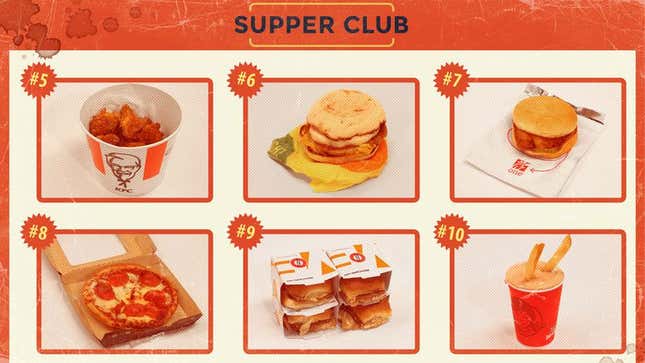 America is fast food. In those two words we have synthesized our collective dietary philosophy to the core: Food, fast. Nevertheless, we seem to resist admitting that much of it is delicious—or at the least, animalistically pleasurable. Put in front of us a bowl of spring onion vichyssoise or a plate of Jack In The Box two-for-99-cent tacos, and if we're true to ourselves, we'll lunge for the oil-sodden sacrilege to the Mexican culture, every single time. Fast food co-exists in the same accessible corner of the pop-cultural sphere as an episode of Maury: there to be scratched when the itch arises. So what if it's a dirty itch in some unspeakable crevice? Our monkey brain says to keep scratching.
I have eaten professionally for a decade, and even from my critical purview, I know that comparing fast food to more "highborn" food shouldn't be an either/or proposition. On many levels, it can be every bit as satisfying—and let's be honest, sometimes more so. That certainly goes for the following fast-food menu items, whose deliciousness quotient (so types my grease-slicked fingers) ranks so high as to be considered the best bang for your buck in the nation.

Of course, the thing about a cuisine that's as democratic as fast food is that everyone has strong—and highly specialized—opinions about it, even those who might consider fast food beneath them. When I solicited The A.V. Club staff for nominations for this list, there were very few overlaps in favorites among the dozens of replies, which drew from a broad spectrum of franchises and regions. There were also plenty of debates. Some protested the exclusion of Taco Bell (I can't get past the taste of the beef filling). Others questioned why McDonald's received two slots on the list (both are taste leaders in their respective categories). We spent many hours squabbling on our interoffice Slack channel, and some people are probably still mad about their choices getting shut out. You can check out some of their individual nominations and their occasionally vehement defenses here.
The conclusion: Fast food is a highly personal matter. Which means I'm dead right about declaring these the 10 best—but so are you.
10. Wendy's fries + Chocolate Frosty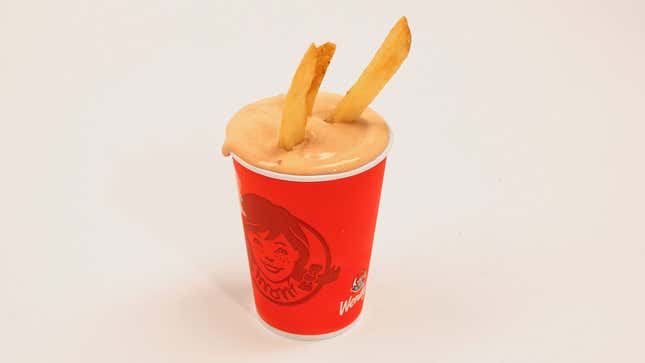 Several years back, Wendy's unveiled its new french fries—skin-on russets seasoned with sea salt—appealing to a more discerning fast-food diner. I wouldn't go out of my way to get these fries. But dipped in Wendy's Chocolate Frosty—a combination long consumed by the in-the-know underground—that salty, starchy marriage achieves a magical alchemy.
9. White Castle's Jalapeño Cheese Slider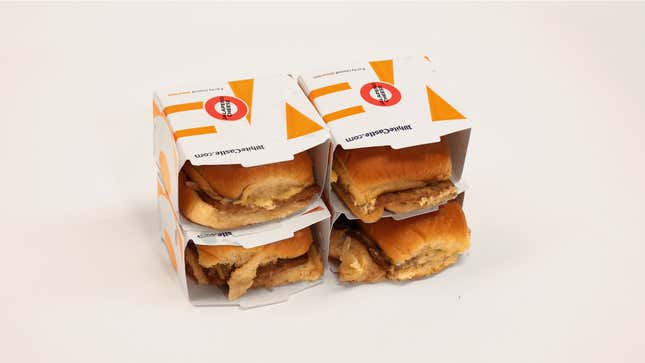 Anything marketed as spicy by a fast-food conglomerate is likely spice-appropriate for the widest possible audience—that is, erring on the side of wimpiness. White Castle's Jalapeño Cheese Slider, however, is unapologetic about its heat levels, with enough zing to disarm even this Southeast Asian man. These are not so much burgers as they are pillowy baos stuffed with hot cheese and the vaguest notion of meat. It's also a food that doesn't require a lot of mental energies to consume, the purest gastronomic embodiment of hangover food.
8. Pizza Hut Original Pan Pizza (crust only)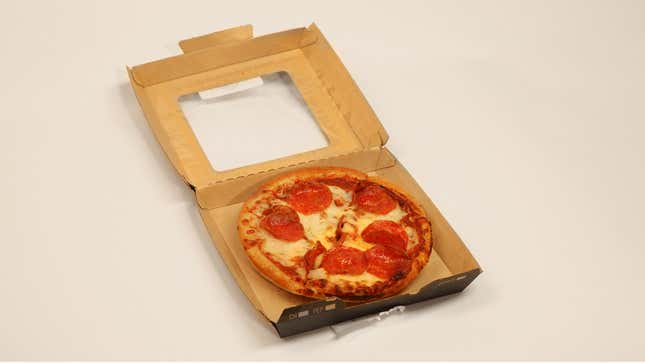 Much like the muffin crown or the chocolate-filled vertex of an ice cream Drumstick, some foods are better consumed in parts rather than whole. Pizza Hut's Original Pan Pizza crust is one of these. Crunchy and golden buttery, like focaccia or an Olive Garden breadstick, it stands on its own. Typically people regard the crust as the expendable end of the pie, but with Pizza Hut, it's the pepperoni-shingled center that plays second fiddle. The O.G. pizza crust, without the rest of the pizza, suffices.
7. Chick-Fil-A's Chicken Sandwich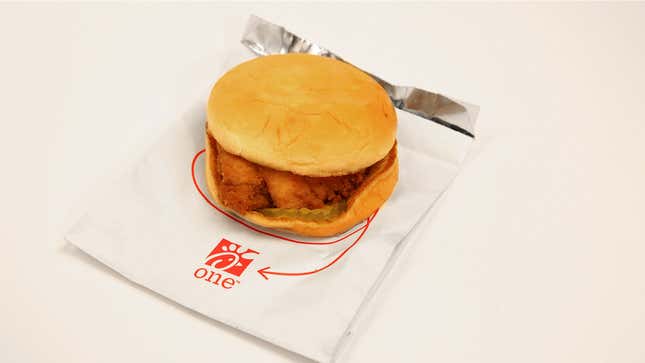 The most copied sandwich of the last half-decade is the breaded chicken on buttered buns with pickle chips. Chick-Fil-A was there first. Its signature item is a deceptively simple sandwich, starring a breast fillet that's eggwash-dipped and fried superbly in peanut oil. That the buns slightly steam inside the foiled paper sleeve adds a certain home comfort to the sandwich that few can replicate, even though many have tried.
6. McDonald's Sausage McMuffin with egg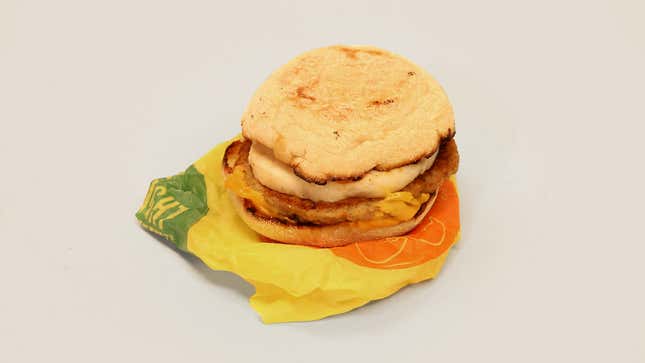 As the company's recent, long-overdue agreement to serve it all day confirms, McDonald's greatest strength lies in its breakfast menu. The hash browns, served in a conveniently handheld brick, are structurally perfect. The coffee holds its own among the coffee cognoscenti. All that's up for debate is which is the superior McMuffin: the original with Canadian bacon, or the one with breakfast sausage. My vote is for the Sausage McMuffin with egg—more rosemary spice in the pork sausage, more substantial in its meatiness—best served when the circumference of the English muffin arrives edging toward burnt.
5. KFC Original Recipe wings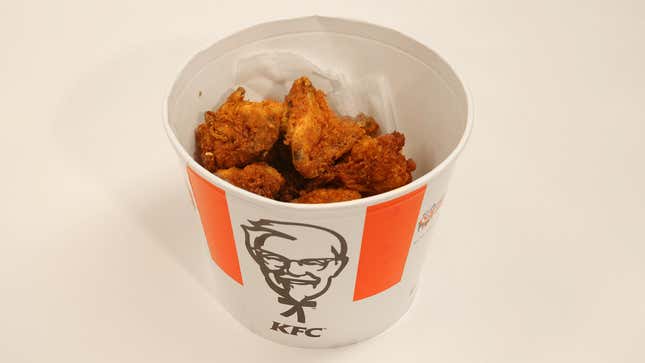 Few would cite KFC as the exemplar of fried chicken. But while there are many that are arguably superior, KFC's is the taste memory that fires between our synapses, with a breading so idiosyncratic and instantly recognizable, you could detect it by a whiff from 20 paces. Of the many renditions available inside its signature bucket, the wing portion has the highest skin-to-meat ratio, which makes it the KFC-iest of all available options.
4. Shake Shack's SmokeShack burger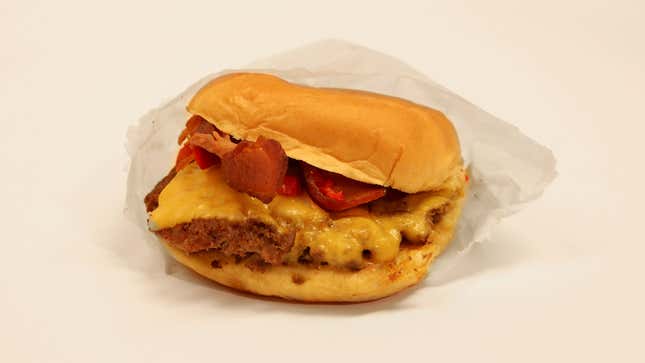 Fast food's finest sandwich resides at Danny Meyer's chain, which in a decade has grown from its namesake shack in Manhattan's Madison Square Park to global bespoke burger domination (it reached Moscow in faster time than McDonald's). If I reverse-engineered everything I sought in an ideal burger, Shake Shack's SmokeShack would check off every box: smashed-crisp beef edges; bacon (of course); cheese so liquified as to be indistinguishable from mayo; cherry-pepper zing; pillowed egg buns; and all without the extraneous frills of lettuce or tomatoes. If not for its growing ubiquity, the SmokeShack might have reached the cult, mythological heights of In-N-Out's Double-Double, but its growing popularity can only mean good things in terms of raising the national bar for fast-food burgers.
3. Popeyes spicy chicken thigh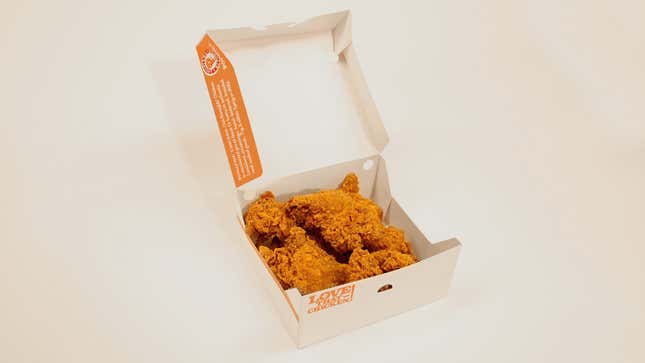 Few cities embrace a hometown chain with as much pride as New Orleans does with Popeyes—and one should never ignore dining suggestions from anyone born in that city of such vibrant food. Forget gumbo, étouffée, or mall Cajun chicken on a toothpick. Popeyes is Louisiana's finest—and most mainstream—culinary export. Fried to a popcorn-ceiling texture and spiced to sinus-tickling levels, the thigh is the ideal chicken quadrant to experience Popeyes. It's so rich, I peel off the bonus flap of crunchy skin along the underside and save it for dessert.
2. Auntie Anne's Pretzel Dog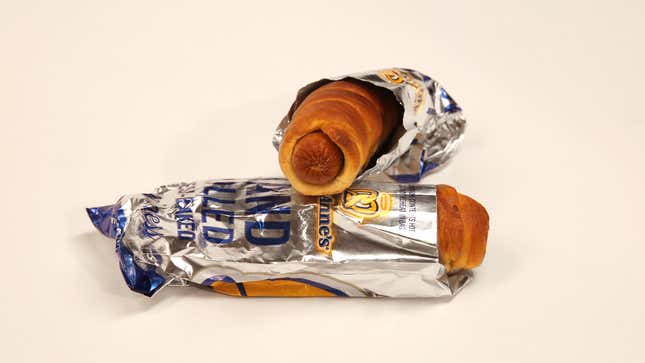 This reliable grab-and-go at airport mainstay Auntie Anne's has two things going for it: It eliminates the pretzel's bready interior while using only the best part—its buttery, crisp outer shell—and that's cocooned around one of the finest hot dogs you'll ever eat. Oh, that hot dog. It's a Nathan's Famous beef frankfurter, which bursts of umami juiciness and is almost soy saucy in its savoriness. (A mini pretzel dog version is also available, but that throws off the bread-to-meat ratio.)
1. McDonald's french fries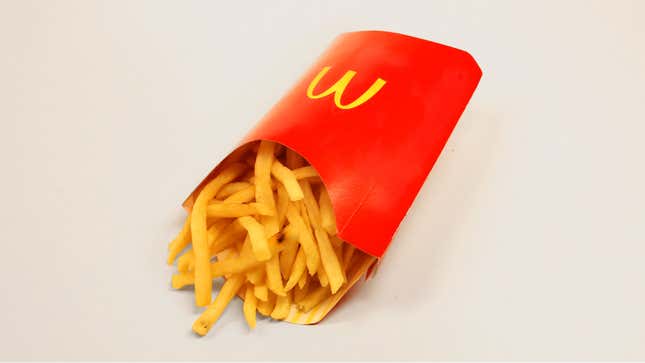 Here they are, the french fries against which all fries will forever be judged. It is the control in a science experiment. The U.S. dollar on the currency market. Everything is either better or worse in relation to a McDonald's fry. When you see your order travel from fryalator to hot tray to cardboard sleeve to paper bag in one almost-continuous motion, you have witnessed the platonic ideal of fries-dom. Others may quibble over their personal favorites, but the McDonald's french fry is American fast food. It is America.