This Month In Overturned Trucks is The Takeout's monthly roundup of overturned trucks spilling shit over public roadways.
---
Beef roasts: South Dakota Highway Patrol responded to an Aug. 28 collision between two semi trailers in Roberts County that resulted in the spillage and eventual destruction of 30,000 pounds of beef roasts. Photographs of the scene show thousands of raw beef roasts loosed from their boxes and strewn about the grass. (Author's note: This accident did occur in August, but was too late to make our August overturned trucks round-up. Plus, I figured you'd want to know about the tragic beef incident either way.)
Bell peppers: A truck transporting red bell peppers spilled its cargo Sept. 7 near Santa Paula, California in an accident local news accounts incorrectly referred to as both "hot" and "spicy." Los Angeles' NBC-4 reports traffic was cut off near Telegraph and Briggs roads as a crane worked to right the vehicle.
Cheese: Boxes of cheese littered the scene off of Interstate-15 near Mesquite, Nevada where a tractor-trailer fell onto its side Sept. 19. As it fell, the truck gashed a tear in its side from which the errant cheese cases spilled; St. George News reports cheese also tumbled from the back of the truck as its doors flung open during the accident. The cheese debris field was described as "large."
G/O Media may get a commission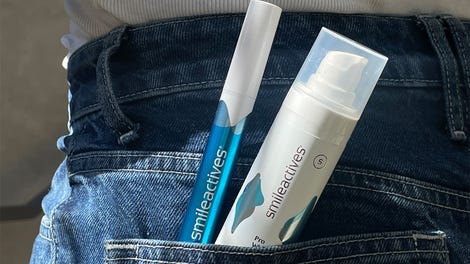 58% off
Whitening Powerhouse Pen & Gel Duo
Dog food, mulch: A semi-truck apparently transporting both dog food and mulch overturned Sept. 24 in Lawrence County, Pennsylvania. Authorities responded to the scene around 4 a.m., according to United Press International, and found dog food and mulch had scattered along the side of Interstate 376.
Dry ice: An 18-wheeler truck carrying dry ice tipped over Sept. 21 on the Brooklyn-Queen Expressway, causing delays in both directions during rush hour. According to WPIX-11, the truck was removed after an hour and a half, but dry ice remained on the roadway for some time. The truck's bold lettering that read Dry Ice Corp. likely helped authorities immediately identify its cargo.
Groceries: A Safeway truck en route to one of its stores overturned Sept. 10 near Colorado Springs, Colorado spilling its contents onto Interstate 25 in the vicinity of the Uintah Street exit. United Press International did not specify the types of groceries dotting the roadway, and photos from KKTV-11 are not sufficiently close to scene to identify the grocery contents.