This Month In Overturned Trucks is The Takeout's monthly roundup of overturned trucks spilling shit over public roadways.
---
August 2018
Bait fish: A section of Route 1 near Newcastle, Maine, was closed for more than 3 hours on August 16 following a crash involving a truck carrying bait fish. The Portland Press Herald reports 35 cases of "smelly fish" spilled from the Purse Line Bait company truck. Authorities say speed and driver inattention are considered factors in the crash.
Barley: A vehicle stopped abruptly at a red light in front of a barley truck near Logan, Utah, on August 13; the truck's driver made a swift turn to avoid hitting the vehicle and instead spilled 15 tons of barley across 1400 North. According to The Herald Journal, the barley belonged to a family of farmers who estimate its value around $10,000. Some of the grain had to be discarded, but the family intended to salvage what it could.
Cattle: No cows were injured following an August 10 accident near Calgary, Canada, in which a truck carrying 15 cattle overturned some time after 3 a.m. on an expressway. Global News Canada reports another vehicle was brought in to transport the animals away from the scene; the debris was eventually cleaned up by approximately 7:30 a.m.
G/O Media may get a commission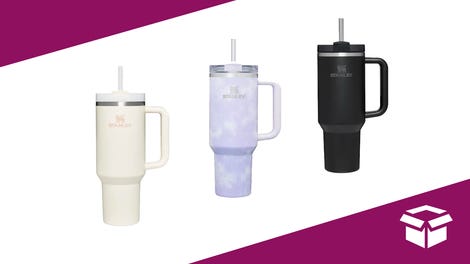 Up to 45% off
Stanley Cup Sale
Coca-Cola: Traffic was still congested 12 hours after a truck spilled 40,000 tons of canned Coke onto the A13 near Essex, England, shortly before midnight on August 6. EssexLive reports the A13 was clogged for 10 miles as a result.
Hershey's products: The driver of a truck traveling along Interstate 470 in Ohio County, West Virginia, lost control of the vehicle and overturned in a ditch, spilling 40,000 pounds of Hershey's products in the process. WTOV-9 reports it took hours to clean up the August 23 accident. Authorities did not specify the types of candy involved.
Lobster: Between 60 and 70 crates of lobster were loosed after a refrigerated box truck belonging to Cozy Harbor Seafood, Inc., overturned on Route 1 near Brunswick, Maine, on August 23. Brunswick police commander Tom Garrepy told The Times Record the crustaceans were no longer fit for human consumption because of the length of time they spent outside of refrigeration.
Meat and produce: A semitrailer hauling 33,000 pounds of meat and produce flipped on a Highway 101 exit ramp near Oxnard, California, on August 7. The Ventura County Star reports the truck hit a tree that then hit a building; no one was injured. The truck blocked the exit ramp for most of the day.
Tomatoes: Drivers were seeing red on August 22 when a tomato truck overturned on State Road 33 near Gaffery Road in Vernalis, California, spilling its contents across the roadway. California Highway Patrol encouraged drivers via Facebook to avoid the area; authorities further stated there was no chance they'd ketchup on paperwork that day.