All this week, The Takeout staff writer Kate Bernot is attempting to turn her favorite dishes into soup.

I can admit when I've fucked up. And taco soup, we all agree, was a fuck up. Eager to rebound from my earlier failure, I needed a guaranteed hit, a soup that was sure to taste wonderful and redeem this entire harebrained soup experiment.
So I went to a trusted source: Smitten Kitchen. Where do I even start with my (no joke) affection for Deb Perelman? Certain recipes of hers have become near-biblical foundations in my house, and I know that when I try out a new one—say, from her recent cookbook (one of The Takeout's favorite cookbooks of 2017)—I won't be led astray. Please Smitten Kitchen, have a soupified hit for me.
And lo, for unto us a savior is born this day, who is Baked Potato Soup. It's adapted from a Cooks Illustrated recipe, which means it's doubly trustworthy.
Plus I really like baked potatoes. Are there people who don't? This soup seemed like the win I needed: creamy, starchy, topped with bits of bacon. I modified the recipe only slightly, because I only had hard-neck garlic that wasn't amenable to the technique SK recommends. Other than that, I cooked it by the book.
G/O Media may get a commission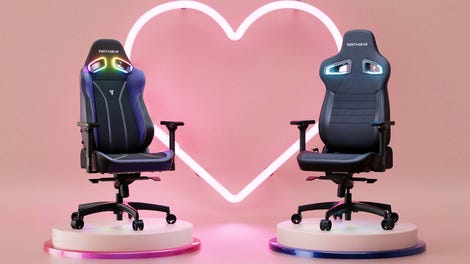 Up to $150 off
Vertagear Gaming Chairs
Baked potato-leek soup
5 big cloves garlic, peeled but not chopped

3 tablespoons unsalted butter

2 medium leeks (white and light green parts), chopped into half-moons*

5 cups chicken broth

2 bay leaves

Table salt

5 russet potatoes, peeled and cut into 1/2-inch cubes

1/3 cup sour cream

Ground black pepper

* I think I might have used more green portions of the leeks than recommended, because my soup turned out lightly pea-colored.
To garnish:

More sour cream

Three strips bacon, crumbled

Shredded cheddar cheese

Chives, chopped

In a Dutch oven, melt the butter over medium heat. Add leeks and cook until soft but not browning. Add garlic cloves, stir for two minutes.
Add broth, bay leaves, and a generous sprinkle of salt. Reduce heat to simmer; cook until garlic heads are soft and easily poked with a fork, about 30 minutes.
Add potatoes, simmer uncovered until they're soft, about another 20 minutes.
Remove the bay leaves and garlic cloves. (I smooshed up two of them and added them back to the soup, but I don't think it requires it.)
Add sour cream and cook another couple minutes. Using an immersion blender, puree soup until it's your desired consistency. Top with garnishes.
Verdict: This soup was as good as I'd hoped, capturing the starchy goodness of a baked potato with some perky freshness courtesy of leeks and garlic. Obviously, it's just potato-leek soup with baked potato toppings, but it tastes too good to argue over semantics.
Besides the memorable thread of garlic, I think the texture is what makes it: I pureed mine until nearly smooth, but leaving chunks of potato would enhance its baked potato factor and contrast nicely with the salty-crunchy bacon bits and smooth sour cream.
My boyfriend liked it; I liked it. Usually I consume approximately three-quarters of a baguette while eating a bowl of soup, but this one was so substantial I didn't need bread, period—though I won't steer anyone away from extra carbs. It was an even bigger success than lasagna soup, and I'll certainly be adding it to the regular winter dinner rotation.
A final question for readers: Do you have secretly amazing yet unconventional baked potato toppings? Please enlighten me so that I can further bedazzle this soup next time around.