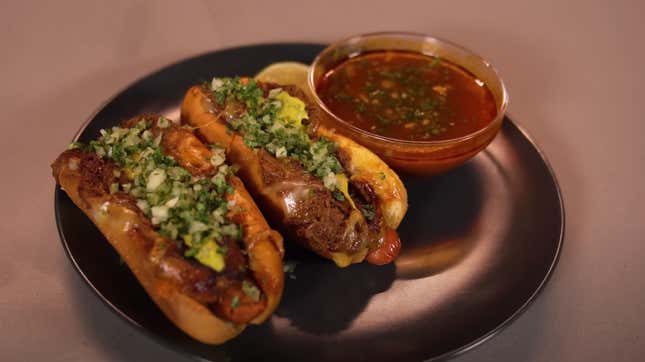 I am always down for a gourmet hot dog, so much so that I don't really care what it costs. I'll gladly overpay by a few bucks to see an overstuffed, oblong, hat-on-a-hat, topping-heavy hot dog. That's usually because I'm in another city on vacation or having a great day or something. Saying yes to a tricked-out, overstuffed hot dog is essentially saying yes to life, the equivalent of ordering a margarita at noon. You kind of shouldn't be doing it, but hey, you only live once—and seeing something as stupid as a hot dog get even stupider, well, it just makes me happy.
Dr. Pepper Strawberries & Cream Is Tearing Us Apart
But not every wild hot dog topping is good. Fruit Loops on a beef frankfurter are an abomination. Mac and cheese makes way more sense on burgers than hot dogs. And seeing something as basic and forced as a Reuben dog doesn't really do much for me. I want thoughtful toppings that are also playful, fantastical, and inspired. Chefs should use that dang imagination to make the flavors work.
I interviewed some chefs and pulled from recently sampled gourmet dogsto bring you this list of the best toppings I've seen this year. All hail the gourmet hot dog.
Chicharrones + Pickled Papaya
Los Angeles loves hot dogs, and I love that about Los Angeles. The bacon-wrapped street hot dog (aka a Danger Dog) is a citywide treasure, popping up just about everywhere at night. I don't really see a lot of ketchup, mustard, or relish hot dogs, and I don't know why you'd get one, either. It's not what we do here.
LA opened my eyes to hot dogs south of the border. Read: Any hot dog with a Latin or South American influence is going to be fire. And at Meea's Hot Dogs in Eagle Rock, the dogs rarely miss. One of my favorites at Meea's is the Eagle Rock, which features pickled papaya, avocado, pork rinds, spicy mayo, and sriracha. The papaya and pork rinds are both so damn crunchy, and they provide a fatty, tangy flavor that really sings. Any sort of chicharrones work great on a hot dog. And for $6.50 (in Los Angeles?), it's not a bad deal, either.

Crawfish Sausage and Crawfish Étouffée

Last time I was in New Orleans, I went to the famous Dat Dog on Magazine Street with a friend and his two-year-old. There, I felt beckoned to try a hot dog made from crawfish sausage and topped with crawfish étouffée. The flavor is rich and meaty, plus has that wonderful gravy flavor which absolutely works on a hot dog (more on that later). The bun is grilled, too, so nothing feels mushy or slips off. I love it when a city takes a hot dog and puts its own local spin on it. A hot dog is a vessel for culture, and don't forget it.
Mashed Potatoes + Gravy
I had a lovely time interviewing chef Michael Walker from Comfy Pup in Los Angeles, who had a lot to say about hot dogs as a whole. Comfy Pup is described as "Midwestern comfort food," but it doesn't just stick to the classics; Walker does rad collabs which produce things like buffalo chicken dip pizza. And although Comfy Pup specializes in classics like Chicago-style hot dogs and pork tenderloin sandwiches, he also has fun playing around with hot dog toppings, including mashed potatoes and gravy.
"Last year for a food4protestLA fundraiser I did mashed potato gravy dogs, which went incredibly well," Walker said. "Although I can't say I invented that. There was a guy called Nowhere Mandrews in Bloomington, Indiana around 2012 who would sell them outside of bars when I went to school there, and ate one like every night, so when i started selling hot dogs Iwas like, welp, I gotta do this at some point."
Walker decided to amp up the original concoction by adding spicy brown mustard underneath the mashed potatoes, "to make it more like a knish experience" in both style and flavor.
I desperately want to try Nowhere Mandrews' mashed potato and gravy hot dog. Until then, I've got to wait for Comfy Pup to serve it up again.
Birria de Res
I have long said that Mythical Kitchen's Josh Scherer is a madman who must be stopped. I had a blast working with the guy, and in one video he engaged in a hot dog contest with his kitchen mates. His hot dog turned out so well that the Mythical Kitchen team sold them for a day over at Smorgasburg in downtown LA. The birria de res hot dog is a hot dog topped with aromatic stewed beef, cheese, pickled jalapeños, cilantro, lime, onions, and mustard, served with consommé. This is basically a chili dog, and it is very fucking good. It doesn't make a lick of sense, much like many of things Scherer does, but it tasted incredible. The man can cook.
Buttermilk Cumin Dressing + Beer Battered Dog
Sixes and Sevens in Houston serves up a Baja-style dog that I absolutely love. It's a beer-battered hot dog served with fresh herb slaw, buttermilk cumin dressing, and habanero sauce. I love fish tacos served in this style, and this hot dog is similarly crunchy, tangy, and creamy. It's $12, but again, I don't live in Houston, so give it to me. Beer-battered fried hot dogs are one of those things that can border on ridiculous and gluttonous, but the way to it right is to add some subtlety, tartness, and brightness to the flavor. The buttermilk cumin dressing cuts through the richness of the fried dog effectively. This ain't fair food.