Below is a list of the fun, unique food festivals and eating opportunities taking place in May 2023. It's part of The Takeout's 2023 Eats Calendar, a rundown of the year's best events. To return to the calendar and check out other months, click here.
Okay, so this isn't a "festival" in the sense of an event that's open to the public for food and fun—but as the premiere business gathering held by the National Confectioners Association each year, the Sweets & Snacks Expo is well worth keeping an eye on, even though you probably aren't invited to attend. This is where the world's leading producers of both candy and snacks come together to preview all the latest culinary trends, months before their new products hit store shelves. Each company is vying for a Most Innovative New Product Award, which in 2022 went to trailblazing treats like Carrot Bacon, Chile Limon Chicharrones, and Butterbeer-flavored Jelly Belly candies. Whatever's unveiled at the Expo will affect snackers everywhere. View our past coverage of the Expo here, here, here, and here.
BottleRock, running May 26-28, is Napa Valley's major three-day music festival; headliners this year include Post Malone, Lizzo, and The Red Hot Chili Peppers. But food doesn't take a back seat to the entertainment—there's also a culinary stage, which according to festival organizers "perfectly pairs world-celebrated culinary talent and top musical performers and celebrities for memorable mash-up moments!" (Last year Twenty One Pilots crafted a gigantic burrito with Chef Aarón Sánchez.) True to its name, the fest is highly drinks-focused, and you can check out a list of the vendors here.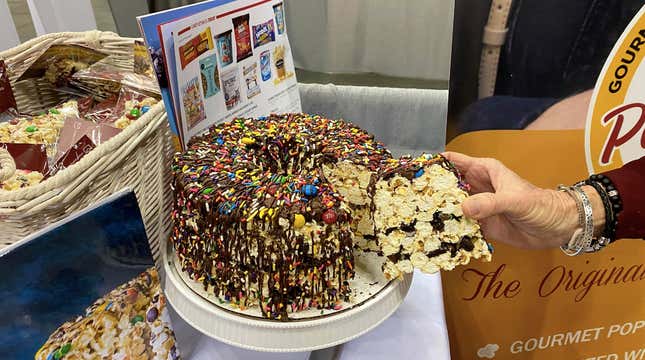 Steak fans, get ready: There's a whole festival dedicated to carne asada in Dallas, Texas. This one-day festival, to be held on May 28 this year, is a rather new undertaking, having been established in 2021. While there are lots of barbecue festivals out there, this event is all about the thin grilled steak (usually chuck, skirt, or flap) that's so beloved across Latin America, and, of course, in the United States as well. More than 25 local food vendors will make an appearance, plus plenty of musical acts and DJ sets.
Mole is a delicious savory-sweet sauce used in Mexican cuisine, and anyone who has ever tasted it would surely agree that it deserves its own festival. Mole de Mayo, running May 26-28, was created over a decade ago to uplift the Pilsen neighborhood of Chicago; it has grown from just a few food stands and local musicians to a blocks-long celebration packed with mole dishes, vendors, merchants, and lucha libre wrestling matches. Don't forget the mole competition, which names one mole recipe the best of the year.
The self-proclaimed world's largest festival dedicated to bratwurst is held each year in—you guessed it—Wisconsin. The state capital of Madison, to be exact. And the menu is nice and tight, so no need to wander the festival grounds trying to decide what to eat: There's brats, hot dogs, corn, ice cream, and plenty of beer to go around. Brat Fest runs throughout Memorial Day weekend, complete with music and entertainment (Tone Loc and Kid 'n Play, anyone?). The only thing that would make this more Wisconsinish would be if you draped the whole thing in a Packers jersey.