Like the National Restaurant Association show, The Takeout approached Sweets & Snacks Expo with 90 percent excitement and 10 percent trepidation. Excitement because—come on!—free samples for miles of the latest candies, chocolates, chips, meat snacks. Trepidation because diabetes.
We Taste Kazbars, the New Hostess Snack Cake With Crunch
And yet! We soldiered on, for you, dear Takeout reader, and returned with what we thought were the most interesting finds from the snacks show. And there was interesting aplenty.
---
From The Ground Up's cauliflower snacks
G/O Media may get a commission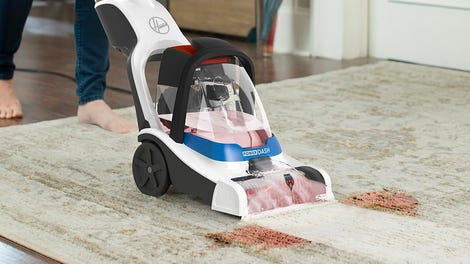 26% Off
Hoover PowerDash Pet Compact Carpet Cleaner
Sometimes when snack companies try to ram nutrition down my throat, it takes away from why I want snacks in the first place: To enjoy them mindlessly. But we're reaching the stage where good-for-you snacks is actually good-to-eat, and From The Ground Up's cauliflower snacks are proof. I was able to try its pretzels, cracker crisps, and cheese crackers, and all managed to integrate cauliflower in a non-cloying, delicious way. Its presence comes in a roasted-cauliflower-drizzled-with-olive-oil type of way. It's a satisfying way to get my serving of vegetables. [Kevin Pang]
---
Mushroom snacks
Every year there's a buzzy savory snack at the Sweets & Snacks Expo: A decade ago it was artisan beef jerky, then came bacon jerky, then chips made from lentils and cassava. This year's winner: mushrooms. Edible snack mushrooms—the non-hallucinogenic kind—was spotted as dehydrated chips, in chewy jerky-like form, even incorporated in a protein bar. As a Chinese person, I say: It's about time! [Kevin Pang]
---
Red Vines' Cinnamon Roll Twistettes
Red Vines primarily focuses on its red and black flavors of licorice, and its latest innovation doesn't bode well for the company swaying from what it does best. Under its "The Bake Shop" imprint, the new Cinnamon Roll Twistettes offer an odd, leathery take on a kind of cinnamon-licorice flavor. I'm not the biggest Red Vines fan, so I drafted some fellow tasters, who called it "super-weird," like "solidified syrup from a dead maple tree." I found the texture a bit waxy, like munching on a Yankee Candle from the autumnal collection. But the considerable creativity is certainly appreciated, so licorice fans longing for a unique taste sensation may want to give these twistettes a try. [Gwen Ihnat]

---
Sweetwood Smokehouse's Blueberry Maple Smoked Meat Stick
It's all about how you frame it. When first I heard smoked meat stick flavored with blueberries and maple, I blanched. But then I tasted Sweetwood Smokehouse's Blueberry Maple Smoked Meat Stick, and thought: This is just sausage and pancakes in stick form. The light switch flipped, and I was sold. [Kevin Pang]
---
Jelly Belly Candy Cones
Jelly Belly was all hopped up about its new ice cream cone product, Jelly Belly Candy Cones. The people at the JB booth were very detailed in their instructions as to how to eat this new product: basically, just like an ice cream cone, with the ice cream part first. The "ice cream" is a creamy version of a Jelly Belly in the color-coordinated flavor, like orange, chocolate, or strawberry. Then the "cone' part is—horror of horrors—like a candy corn, a treat I'm pretty sure no one is that psyched to bring back. So personally, I think the whole thing tastes better when you eat it all at once. But the mini-cone candies are cute and are certainly superior to JB's mint chocolate chip flavor, which tastes like toothpaste in jelly bean form. [Gwen Ihnat]

---
Fisher's Old Bay Seasoned Caramel Popcorn
As I like to say about the food world, just because you can do something, doesn't mean you should do something. Case in point, Fisher's Old Bay Seasoned Caramel Popcorn. Fisher's has some exemplary popcorns available, like a really delightful pumpkin spice at their booth, along with classics like white cheddar and caramel. One of the flavors on their site is caramel dusted with crab spice; along those lines is this caramel and Old Bay flavor combo. The packaging describes it as "a new unique taste that is both sweet and savory with a little heat." It definitely accomplishes that—when's the last time you had caramel popcorn with a spicy aftertaste?—but the flavors contradict, rather than complement each other, so that the overall effect is tasty confusion. Holding out hope that the pumpkin spice flavor will be on their site by October. [Gwen Ihnat]

Counterpoint from Kevin: I found these really, really tasty!