Below is a list of the fun, unique food festivals and eating opportunities taking place in June 2023. It's part of The Takeout's 2023 Eats Calendar, a rundown of the year's best events. To return to the calendar and check out other months, click here.
The Great Wisconsin Cheese Festival, happening June 2-4 in Little Chute (near Appleton), might have the distinction of best festival logo of all time. This event is one big party, with cheese carving demonstrations, curd eating contests, a petting zoo, music, and even a parade. Two attendees will also be crowned King and Queen of the festival, and that's a royal title anyone can get behind.
Entering its second year, the Windy City Hot Dog Fest will be held June 3-4 in Chicago's Portage Park neighborhood from noon to 10 p.m. each day. This isn't just a fest, though, it's a full-on competition to find the best hot dog maker in Chicago—and that's a tall order. Attendees can expect a number of famed hot dog stands doling out their franks as well as live music performances, arts and crafts vendors, and a small parade on Sunday.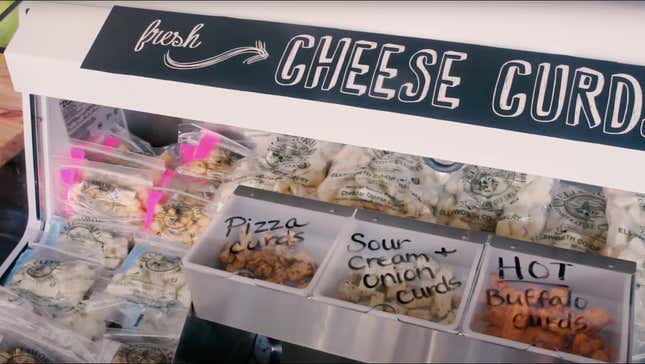 Live too far from the Green Bay area to check out the Great Wisconsin Cheese Festival, but nevertheless highly interested in checking out an event with over 6,000 pounds of cheese curds? That's quite specific, but you're in luck. On June 23-24, you should head to Ellsworth, Wisconsin, right near the Minnesota border, for the annual Cheese Curd Festival to satisfy those particular appetites. Beyond the veritable cheese curd feast available at the event, there will also be live music, a car show, and a vendor marketplace to enjoy. Wisconsin's biggest Curdfluencers should be there, and just about anyone working the festival should be able to explain what makes cheese curds squeak.
Coming back for its fifth year as one of Chicago's only Latino festivals, Miche Fest, running June 24 and 25 in Harrison Park, is a celebration of the beer-based beverage synonymous with Mexico. A michelada features a mix of beer, lime, salt, spices, and usually some blend of worcestershire, tomato, or hot sauce. It makes for a refreshing summer drink, and many vendors will be selling their own spin at Miche Fest—think ceviche toppings, enormous souvenir cups, etc. Major Latino artists like Prince Royce and Gerardo Ortiz will be performing this year.
A sweet and tangy summertime gathering, the Key Lime Festival runs from June 30 to July 4 in Key West, Florida. Key lime pie making classes, a rum tasting, lime cocktails, a pie eating contest, and even a chef-led experience showcasing the many uses for key lime are scattered across the schedule of events. If that's not enough, there's also a firework display and, naturally, plenty of pies to take home. We can't think of another festival that'll smell as good as this one.