Below is a list of the fun, unique food festivals and eating opportunities taking place in December 2023. It's part of The Takeout's 2023 Eats Calendar, a rundown of the year's best events. To return to the calendar and check out other months, click here.
The Indio International Tamale Festival in Indio, Californiacelebrates its 30th anniversary this year on December 1-3. The event is free and open to all ages; come for the tamales, stay for the carnival rides, a night market, mariachi bands, roller skating, and the world's biggest bounce house. (Actually, scratch that—we'd suggest you dip into the tamales after you take a few jumps in the bounce house.) This festival, on top of sounding like a great time, prioritizes ADA compliance and is proud to be a fully accessible event for the public.
For a park already bursting with food and drink options, EPCOT at Walt Disney World has so many annual food festivals it's hard to keep track of them—but the International Festival of the Holidays (running through December) is a draw because it's a way to take in all the best parts of winter markets from around the world with experiencing any frigid temperatures. This festival adds 16 "holiday kitchens" to EPCOT, which are largely Christmas-oriented, though Hanukkah, Japanese New Year, and other highlights of the season are incorporated into the festivities. Click here to read all about the gorgeous food you can eat at EPCOT in December.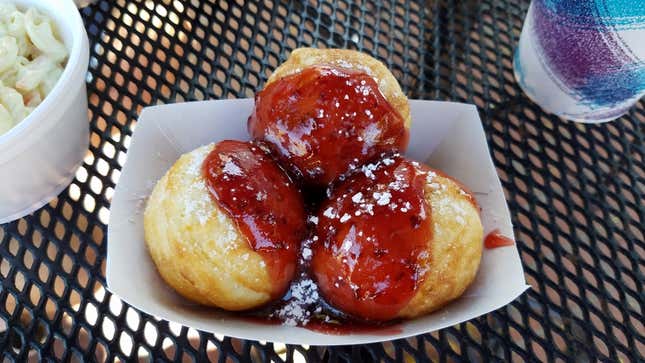 Throughout the month of December, the California city of Solvang, a place full of Danish cultural influences and 24/7/365 yuletide cheer, celebrates Julefest. The holiday theming is thorough in Solvang: Lights adorn every tree, themed Christmas trees punctuate every storefront, horse-drawn carriages and musicians line the streets, and carolers can sip warm drinks and tuck into a serving of aebleskiver, a sort of pan-fried cake ball covered in powdered sugar and jam. There are many holiday festivals out there across the nation, but this one might be the most hygge of them all. Learn more about Solvang, Julefest, and aebleskiver here.