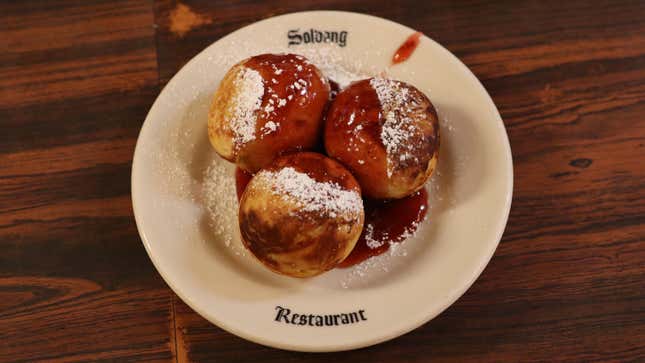 There's a tiny village on California's Central Coast where it's Christmas all year round.
How To Dispose Of Cooking Grease The Easy Way After Frying
The picturesque hamlet of Solvang (population 6,048), in Santa Barbara wine country, was founded by Danish settlers in 1911. They brought with them their architecture, their food, their delightful hygge sensibility. More than 100 years later, Solvang is still filled with Danish renaissance architecture and windmills rising up against the mountains in the distance.
It's so cozy and convivial that Lifetime Movie Network even made a movie about Solvang, A Very Charming Christmas Town, in 2020. Shops line streets with names like Copenhagen Drive and Atterdag Road, selling Christmas ornaments and festive decorations twelve months out of the year.
The yuletide feeling also emanates from the bakeries, many of which are run by descendants of the town's original settlers. There are so many bakeries in Solvang's 2.43 square miles that the whole place smells a little bit sweet. They sell Danish butter cookies and fresh pastries and warm bread, and people line up out the door to buy them. But the food that truly makes it Christmas every day in Solvang is the aebleskiver.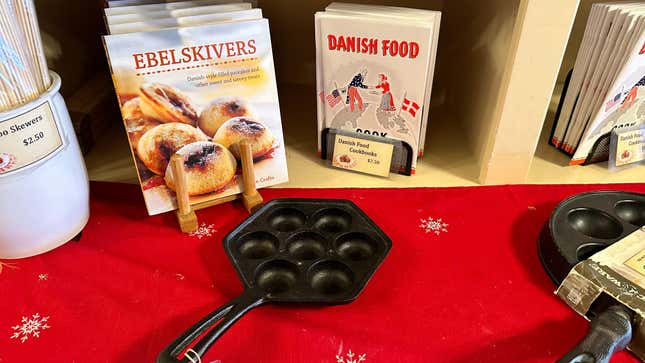 What are aebleskiver?
A traditional Danish treat, aebleskiver are only ever eaten during the holidays in Denmark, but they're available every day in the quirky town of Solvang. At first glance, the ball of beige dough isn't much to look at—but on first taste, you're probably going to realize that there's something special going on there.
An aebleskiver (pronounced able-skeever, at least in California; I can't vouch for Denmark) is a Danish pancake ball about the size of a tangerine, topped with raspberry jam and a sprinkle of powdered sugar. Lightly sweet with a pillowy texture, aebleskiver come three to an order. You might think you can get one order and split them with someone you care about. You would be wrong.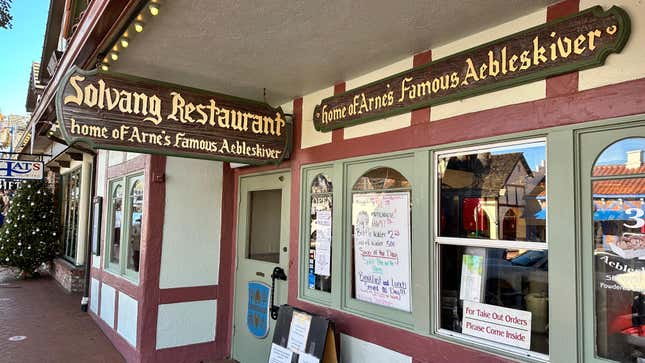 Solvang Restaurant is so famous for its aebleskiver that it has a walk-up window on Copenhagen Drive and a separate section on the menu for the specialty. You can order your aebleskiver with ice cream if you're feeling desserty, or with a side of Danish sausage if you're feeling more breakfasty.
"How do you explain it?" wrote Arne Hansen, former owner of the restaurant, in a local magazine in 1977 (the article is reprinted on the menu to this day). "There are hundreds of explanations and I dare say, none of them correct, including mine." He went on to explain that there are endless variations on aebleskiver, including some versions filled with fruit. Hansen's favorite theory about the treat's origin is that the Vikings used their dented armor as makeshift pans, resulting in round pancakes.
They're made in cast-iron pans with half-circle divots in them, kind of like escargot dishes. The aebleskiver are cooked on a stovetop and turned with utensils that look a little bit like chopsticks and a little bit like knitting needles. (If you watched The Big Brunch on HBO Max this season, you saw Danielle make birthday cake aebleskiver and turn them into a mountainous croquembouche with torched marshmallow on top.)
"At 'Danish Days' here in Solvang, which is often referred to as 'Aebleskiver Days,' it has been a tradition for local people to set up their giant size pans in the streets and serve them up to people from all over, who come and help us celebrate these days," Hansen wrote.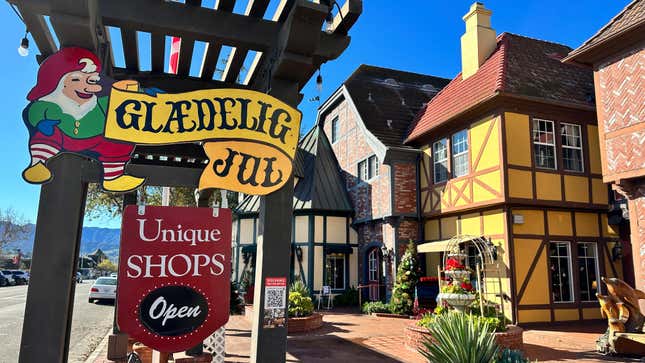 But it's not just during that September festival that people drive to the town for aebleskiver. Earlier this month, I made the two-hour drive up to Solvang just to get a glimpse of its annual Jule Fest holiday celebration. This time of year, the town is positively dripping with festivity: lights adorn the trees and hang over the walkways, businesses decorate themed Christmas trees outside their front doors, horse-drawn carriages and musicians line the streets, and revelers gather for a nightly light show, complete with Christmas carols, in Hans Christian Andersen Park.
After I was done walking around taking in the sights, I wanted to warm up, and I knew exactly where to go: the lunch counter at Solvang Restaurant for a hot cup of coffee and an order of the town's signature treat.