Below is a list of the fun, unique food festivals and eating opportunities taking place in April 2023. It's part of The Takeout's 2023 Eats Calendar, a rundown of the year's best events. To return to the calendar and check out other months, click here.
The Great American Foodie Fest, held from April 28-30, is an epic tribute to food-lovers everywhere. With sponsors like The Food Network, the Cooking Channel, MGM Resorts International, White Castle, Pepsi Co., and other big players in the food space, there's no chance you'll run out of dining options at this festival. (Sometimes the biggest brands make for the most generous freebies.) If you need a respectable reason for a trip to Las Vegas, this is a good one.
What can you expect from the SoCal Taco Fest? We hope we don't even have to clarify this, but: tacos, and lots of them. On April 29, attendees of the San Diego event can expect a long list of taco vendors showcasing their menus as well as Lucha Libre wrestling matches, chihuahua races, a chihuahua beauty pageant, and plenty of margaritas.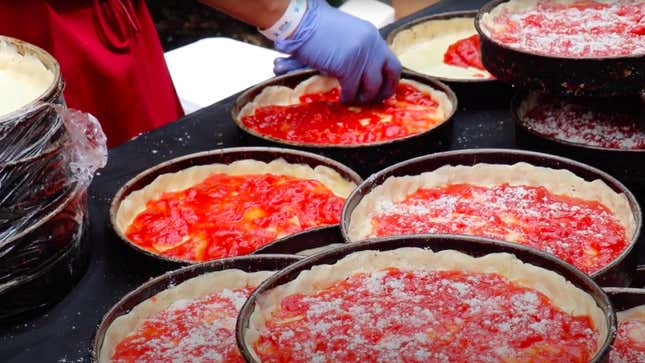 The Pizza City Fest is a dual-action pie extravaganza. On April 29 and 30 a diverse lineup of pizza makers in Los Angeles will be showcasing their slices, and then later in the year, on August 26 and 27, another set of 40 pizza makers will be doing the same in Chicago. Both fests are meant to celebrate the diversity of the pizza community in both regions, a project we applaud.
A longstanding celebration, the Vidalia Onion Festival has been held in Vidalia, Georgia since 1977, and reportedly had its highest turnout ever in 2022 with more than 30,000 attendees. This year, the fest will take place April 20-23 and will feature a carnival, live music acts, and plenty of onion-focused activities, including art events and a recipe contest. Vidalia's Onion Festival is nationally recognized, having been featured on The Food Network and MSNBC.
The Waikiki Spam Jam is touted as a cultural tradition in Hawaii and exists to celebrate our collective love of the world's most iconic canned meat. Restaurants participating in the festival serve unique Spam-based dishes, and if anyone can innovate with the product, they can: Hawaiians eat more Spam per capita than any other U.S. state. This year's festival is a one-day affair, taking place on April 29.