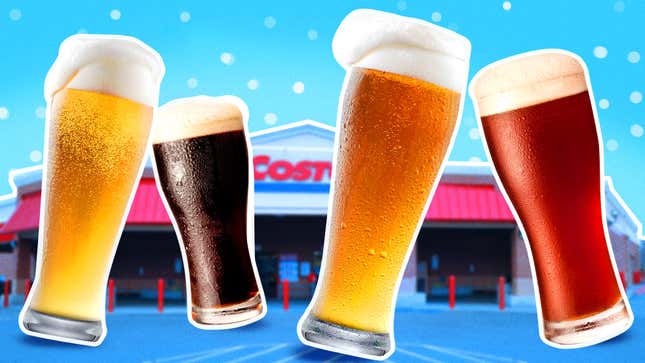 With the recent demise of Kirkland Signature Light beer, Kirkland Signature variety pack is now Costco's only store-brand beer option. The "Variety Crate" box of 24 beers includes six each of four ales: stout, brown ale, pale ale, and IPA., which I procured for the entirely reasonable price of $19.99.

We Taste Kazbars, the New Hostess Snack Cake With Crunch
"Craft brewed" is emblazoned boldly on the cardboard exterior, a reference to four classic beer styles that led the American craft beer movement beginning in the 1980s. The Kirkland beers are labeled as brewed by Hopfen Und Malz Brewing Co. is actually Gordon Biersch (San Jose, California) or Matt Brewing (Utica, New York), depending on where in the U.S. your Costco is. Both are craft breweries that contract brew for other brands/labels, too.
I've had the Kirkland pale ale and brown ale before because my hairdresser—hi Lisa!—keeps this variety pack in the fridge for customers at her salon. (That's my kind of stylist.) While I've drank at least two of them before, I can't say I remember them well. I drank them while peroxide chemicals sat in my hair, and obviously they weren't good or awful enough to make a lasting impression. But given these are now Costco's only store-brand beer offerings, it seemed time to give the budget beers my fair beer-judging attention. Like a beer judge would, I evaluated them in terms of appearance, aroma, flavor, and body, then sized up my overall impression of the beer as it compares to the ideal version of each style, eventually giving it a total score out of 100. My tasting notes follow:
---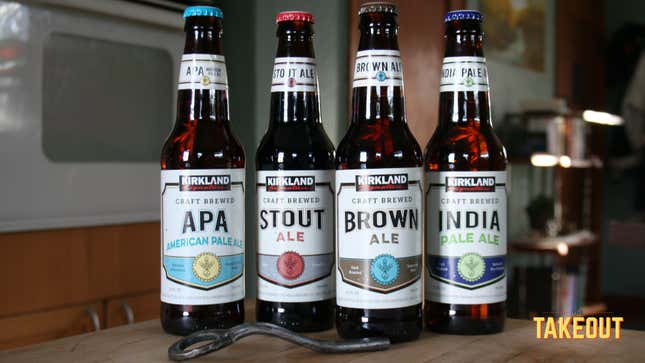 G/O Media may get a commission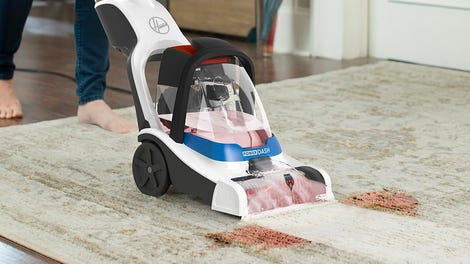 26% Off
Hoover PowerDash Pet Compact Carpet Cleaner
APA (American pale ale)
Appearance: The beer pours a perfectly clear, light golden-orange color with a soapy head of moderate retention (meaning the foam doesn't fizzle right away).
Aroma: Malts contribute a lot of caramel with the hops giving it a light woody-orange skin aroma, with maybe a little spruce in there, too. Very clean.
Flavor: Melba-toast malts underscore the entire sip, with a prickle of woody and earthy hops at the middle that turn slightly resinous and oregano-tinged at the finish, dovetailing with some caramely-honey malts at the close. It's a fine pale ale, but unremarkable in hops or malts. There's nothing especially bright about it, though it tastes very clean and not oxidized. There's no technical problem here; it's just not very exciting.
Mouthfeel: Medium body, just ever-so under-carbonated.
Score: 84, decent
India pale ale (IPA)
Appearance: Pours a perfectly clear, bright orange-gold with a tight, dense head of good retention.
Aroma: The aroma is at first very sweet thanks to substantial honey-scented malts and overripe tangerine hop notes. Further sniffing finds dull caramel and biscuit malts underneath, with more fecund citrus and a bit of juniper hop aroma as it warms.
Flavor: Those same sweet caramel and honey malts from the aroma initiate the sip, then dull tangerine skin hop notes moves in, giving a kind of sugary, old orange-juice quality. It's citrusy sweet but not especially bright, and the hops are just sort of two-note: citrus and wood. The malt is mostly unremarkable, just sweet. Bitterness is moderate, delicately cleaning the palate without being too harsh. Actually, the bitterness is the best executed part of this beer.
Mouthfeel: Clean, smooth, medium body with no astringency.
Score: 85, not bad
Brown ale
Appearance: Pours a dark amber nice light with nice highlights when held to the light, boasting a tight, moussey head of good retention.
Aroma: Musty, earthy hops float over a quietly nutty malt sweetness with light toffee character. A swirl of the glass brings out some raisin-toast notes, but hte overall nose is quiet and sort of musty.
Flavor: I get tons of raisin-cola sweetness up front, with malt depth pretty lacking through the middle, finishing with a bit of cherry, cocoa, and cola sweetness at the swallow. It's very thin in terms of malt flavor, sweet and brown but lacking in any bready, toast depth. I didn't know this was labeled as a brown ale, I'd say it's barely distinguishable from an over-sweet amber. There's no toast or nuttiness at all, just thin sweetness with a blip of earthy and orange hop flavor at the close.
Mouthfeel: A medium-light texture with high, prickly carbonation.
Score: 75, disappointing
Stout ale
Appearance: Pours a mahogany brown with a sand-colored, foamy head of good retention.
Aroma: Hello roast! Bitter chocolate, ash, and just-short-of-acrid peanut shell dominate, with some cola/dark cherry juice and very light piney hops in a supporting role. Overall though, the aroma is muted.
Flavor: As the nose would indicate, bitter chocolate and dry peanut shell are the main tones, without much sweetness to counter those somewhat harsh flavors. The malts finish dry rather than sweet, but I miss any bready depth or toast. It leaves a sort of acrid flavor in the mouth, which that malt sweetness would help counteract. There's not much perceptible hop flavor; the bitterness all seems to come from the roasted malts. The exhale is like stale coffee in a paper cup, giving a bit of an oxidized impression.
Mouthfeel: The medium-bodied sip is creamy, with a bit of bitter astringency on the sides of the tongue.
Score: 76, not very good
---
Bottom line on the variety pack
The Kirkland brand's two hoppy beers are actually well executed. I found nothing major to knock about the pale ale or the IPA, except that they won't wow you. They'd be at home in a brewpub 15 years ago, when brewing a technically solid ale that had any kind of hop flavor was grounds for praise enough. I definitely wouldn't reject the IPA or pale ale if offered, and for the price (less than a dollar per 12-ounce bottle), they're a solid deal. The malt-focused beers, however, leave much more to be desired. They're not undrinkable, but they're not especially enjoyable, either. If you're having a big party where folks won't care what they're drinking, you could do worse than this $20 variety pack. Better yet: Save the brown ale and stout for dumping in your chili or marinating a roast. If you have any beer connoisseurs among your friend group, though, spend your money on some better six-packs.