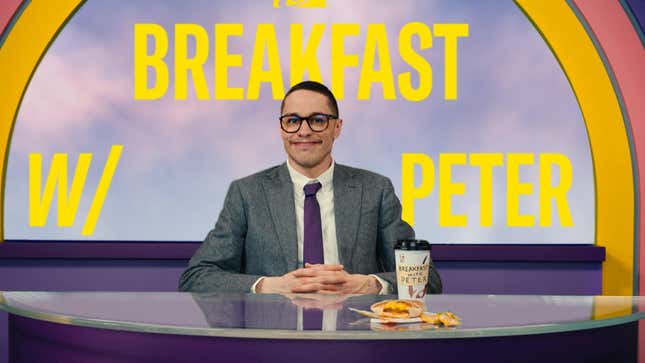 The most important part of a fast food chain's breakfast strategy is the right food celebrity backing. Once again, Taco Bell has chosen Pete Davidson as the face of its breakfast strategy—only the concept has now "evolved" and we're in a new phase of the joke.
Dr. Pepper Strawberries & Cream Is Tearing Us Apart
For its newest campaign, seen in the commercial spot "Breakfast With Peter," Davidson is being referred to as "Peter" rather than Pete, a transformation emblematic of Taco Bell's pared-down approach to breakfast. Instead of a late-night comedian, "Peter" is a morning talk show host.
"Good morning, I'm Peter Davidson," says the comedian in the commercial. "Not Pete, because before 11 a.m., I like to keep it toned down and simple. Just like Taco Bell breakfast." He goes on to list the components of a Breakfast Crunchwrap, describing it as "nothing too wild—just like me."
It's obvious why Taco Bell brought back Davidson for this sequel. In its previous campaign with the former SNL star last October, Taco Bell used the celebrity to apologize for its excessive levels of innovation in the breakfast category, citing more intricate menu items like the Naked Egg Taco, whose shell was a sturdy fried egg, and the Waffle Taco, a tiny folded waffle with sausage and eggs tucked inside. "It was too much," Davidson said of these items.
Instead, he goes on to highlight simpler breakfast items like Taco Bell's Breakfast Crunchwrap. Davidson's widespread appeal combined with the straightforward breakfast menu led to a highly successful fourth quarter in 2022 for the brand. In Q4, sales of Taco Bell's breakfast burritos and breakfast quesadillas increased 9% (well above industry analyst expectations) and the company reported same-store sales growth of 11% across its U.S. stores.
Taco Bell did specifically attribute its breakfast growth in part to Davidson's charm as its spokesperson. So rather than take any chances, the brand is doubling down on what works (in terms of both its food and star power).
"Our refreshed approach to simpler breakfast habits started with Pete and we're thrilled to be continuing our journey with him and his Peter-persona," Taco Bell Chief Global Brand Officer Sean Tresvant said in the announcement. "The engagement and reactions from our fans have demonstrated that this renewed approach is resonating with our audience and we look forward to continuing to deliver delicious and comforting breakfast foods when they spend their mornings with us."