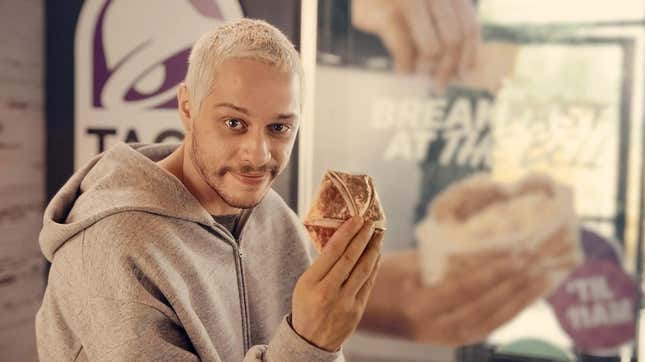 Taco Bell has spent the better part of a year nipping at the heels of other fast food chains that normally dominate the breakfast space. Its new focus on simpler breakfast offerings was the first step toward regaining ground in the morning—and the chain's decision to hire Pete Davidson as its breakfast spokesperson has been seriously paying off, reports CNN.
How To Dispose Of Cooking Grease The Easy Way After Frying
Although we weren't big fans of Taco Bell's new breakfast approach when the Davidson ads rolled out last October, it looks like the comedian's oddly massive appeal overshadowed any complaints from longtime T-Bell fans.
The Pete Davidson Taco Bell campaign, explained
In case you missed the apology-heavy ads, back in October 2o22 Taco Bell aired The Apology, a set of commercials that featured Pete Davidson apologizing for Taco Bell's excessive levels of innovation.
"Taco Bell went a bit crazy with its breakfasts," Davidson explains as footage of past limited-time menu items scroll on screen. "It was too much. What you need in the morning is tasty, simple food."
At the time, Sean Tresvant, chief brand officer of Taco Bell, told CNN, "When you look at today's consumer and the [fast food] breakfast business, it's about familiarity and it's about comfort."
The items that were "too much," as referenced in the ad, include the Naked Egg Taco, whose shell was a sturdy fried egg, and the Waffle Taco, a tiny folded waffle with sausage and eggs tucked inside.
Davidson's voiceover goes on to describe Taco Bell's Breakfast Crunchwrap as falling in line with the notion of "tasty, simple food." Blake Hundley, founder of Taco Bell's largest unofficial online community, Living Más, told The Takeout it was a bit of a stretch for the brand to diss limited-time promotions from as far back as 2014 and 2017 just to prop up its current menu. Moreover, Hundley believes those prior attention-grabbing breakfast items were actually a successful booster of Taco Bell's breakfast menu during an era when fewer brands were focused on their morning offerings.
The success of Taco Bell's Pete Davidson ads
Despite backlash from Taco Bell's most loyal customers (and Naked Egg Taco devotees), Davidson's broad appeal, combined with the appeal of breakfast burritos, translated to a highly successful fourth quarter in 2022.
Yum Brands, parent company of Taco Bell, KFC, and Pizza Hut, noted on its most recent investor call that sales of Taco Bell's breakfast burritos and breakfast quesadillas increased 9% in Q4, well above industry analyst expectations. Taco Bell also reported same-store sales growth of 11% across 2022.
The opportunity in the breakfast category for fast food brands is evident, but Taco Bell has a certain advantage over others with its offerings in this category. The brand can and likely will continue to establish itself as the grab-and-go breakfast option for commuters because of its many handheld items like the Breakfast Crunchwrap, breakfast burritos, and breakfast quesadillas, at a price point between $1.50-$4.
Although Taco Bell did specifically attribute its breakfast growth in part to Davidson's spokesperson prowess, the true sign of success will be how the breakfast menu performs in the next quarter, without the Saturday Night Live alum spouting charming apologies on behalf of the brand.