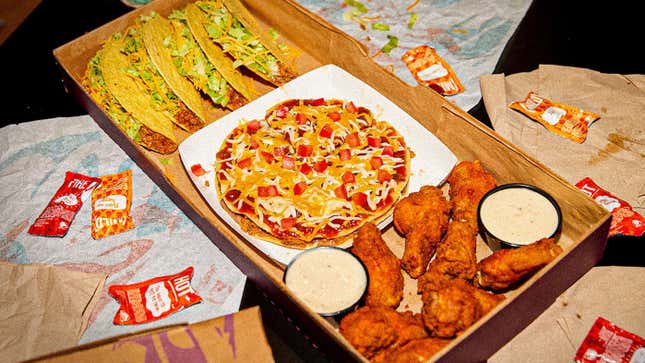 Fast food combo meals are usually a pretty decent deal. Taco Bell, for example, has a particularly screamin' deal called the My Cravings Box, which nets you a specialty item, a classic item, a side, and a drink for $5—one of the best deals in the game. But T-Bell's latest promotion, meant to promote its current limited run of crispy chicken wings, has us scratching our heads.
McDonald's Shrinks Its Restaurant for the Digital Age
What is the newest combo meal from Taco Bell?
Taco Bell's Ultimate GameDay Box contains eight Crispy Chicken Wings, one Mexican Pizza, and four Crunchy Tacos. It retails for $22 at most locations, and at first glance, it's easy to assume that you'd save a decent amount by ordering these items in a promotional bundle. But a post from Reddit made us look a little closer.
The Redditor linked to a TikTok video from a user named @lukefoods, who broke down the price of the box to see how much value it has.
G/O Media may get a commission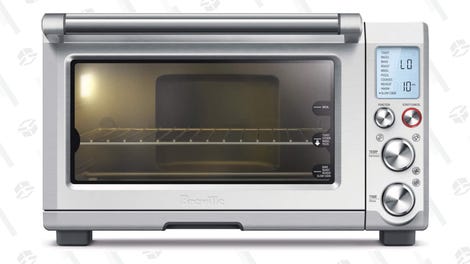 36% Off
Breville Smart Oven
He breaks down the price of each item ($1.70 per taco, $4.50 for the Mexican Taco, and $8 for an order of Crispy Chicken Wings) and concludes this $22 box contains $19.30 worth of food—therefore, it would actually be cheaper to buy each component separately.
Unfortunately, as some Reddit users pointed out, this TikToker's math was just slightly off. He did not take into consideration that more chicken wings are included in the GameDay Box than in a standard a la carte order—the Box has eight pieces and the standard order includes five. Thus, he did not account for the correct per-wing price in the GameDay Box. But even when you make that adjustment to the calculation, is this combo an actual bargain?
Is Taco Bell's Ultimate GameDay Box a good deal?
The Ultimate GameDay Box at the Taco Bell location closest to me is a little more expensive than the standard retail price; our neighborhood spot has historically cost extra than your average Bell (though it doesn't gouge like certain locations do). The GameDay Box costs $22.99 for us. A standard order of Crispy Chicken Wings costs $7.99 for a five-piece at this location, which breaks down to a per-wing cost of roughly $1.60.
So let's do the math and add everything up at a la carte menu price:
8 wings (at $1.60 each) = $12.80
4 crispy tacos (at $1.69 each) = $6.76
1 Mexican Pizza = $5.19
Total = $24.75
The total comes out to $24.75. This means that the $22.99 price tag on the GameDay Box isn't exactly a stellar deal, with a mere savings of $1.76. If the box had come with the standard five-piece order of wings, it'd actually be more expensive than the sum of its parts (which would come out to $19.99). The three extra wings included in the box are doing a lot of heavy lifting to make this combo meal feel like a deal. Ultimately Taco Bell's $5 My Cravings Box is the better deal, and that's available for order every day, not just for football season.
Another thing that's odd about the Ultimate GameDay Box is the timing of its release. According to a press release sent to The Takeout, the dates of this promotion are January 26 through February 9. Though "GameDay" suggests that this will be available for the Super Bowl, the promotion window only seems to accommodate this weekend's NFL playoffs, not the final championship game.
"Taco Bell won't be playing in the Big Game this year," the brand noted to The Takeout, but hinted that more exciting reveals are coming soon.
If you're wondering about Taco Bell's wings, well, they're decent. But as for any game day sustenance, I'd recommend ordering two My Cravings Boxes for $5 each, which will include drinks and provide hefty savings, especially considering current inflation and increased prices everywhere. Then you can add an order of wings just to try them, if you're curious—and if you order delivery, Taco Bell has a promotion for a free Mexican Pizza with any order of $15 or more. More food? For less money? This is service journalism at its best, and I'll accept any award you give me right now.