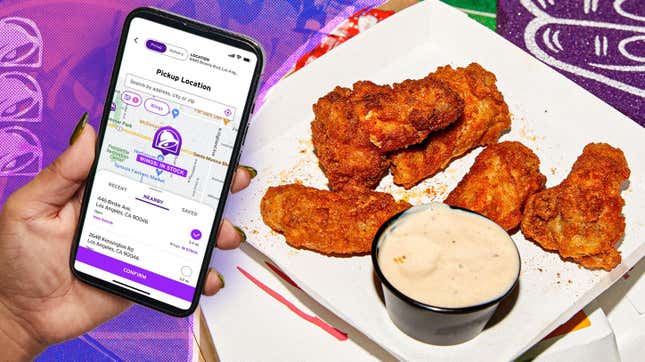 Remember that time Taco Bell decided to sell bone-in crispy chicken wings? No? That's okay, because it was a blink-and-you'll-miss-it promotion; the wings were only available for a single week at the beginning of last year. I was so intrigued by them that I grabbed some on my day off, and I happened to be the first person to order them at our neighborhood Taco Bell location. Those "Mexican Queso" seasoned flappers were pretty good, and I'm happy to say they're making a (brief) return to the menu this year.

How To Dispose Of Cooking Grease The Easy Way After Frying
When are Taco Bell chicken wings coming back?
These bone-in wings, an unusual offering from Taco Bell, will be back pretty soon at participating locations, according to a press release, and they will stick around for twice as long as last year's run—maybe. They'll officially be available from January 26 through February 9, or until they sell out.
Assuming the recipe remains unchanged from their debut, you can expect some relatively small but very crisp wings. It's not often that Taco Bell's food comes with bones in it, and considering that, the chain handles this menu item well, achieving a product similar to convenience store chicken wings—a snack that hits the spot when you need it to.
Each order will come with a side of spicy ranch for dipping, too. Hey, it might not be the classic wing pairing of blue cheese dressing (I can't picture Taco Bell serving blue cheese), but at least you dip fans will have something besides Diablo Sauce to douse your wings in.
How much do Taco Bell's chicken wings cost?
An a la carte order of Taco Bell's bone-in chicken wings, which includes eight pieces, costs $6.99. However, if you're hanging out with some friends watching sports, you can order the Ultimate GameDay Box, which comes with a Mexican Pizza, four crunchy tacos, and eight of the limited-time chicken wings for $22. I hate to say it, but I'd probably be able to crush most of that in one sitting. Not that I should.
Since last year's window to get the chicken wings was so short, this extended two-week run means you'll be more likely to nab some in case you missed out in 2022. And if you want to be absolutely certain that your nearest Taco Bell is serving them, you can check the "wing filter" in the mobile app's store locator. Or just make sure you have a solid plan B if the wings run out.