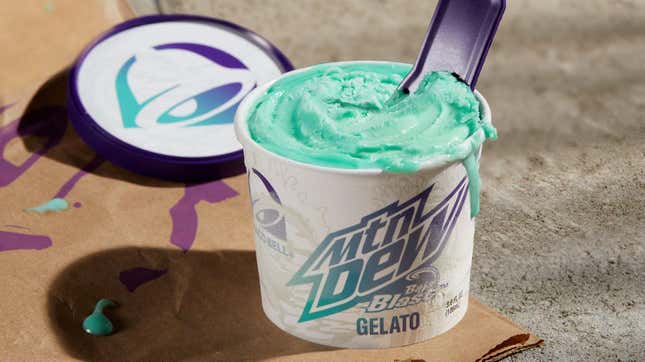 Gelato seems to be all the rage these days. Ice cream? I don't know her. Cher recently launched Cherlato, her line of artisanal gelato, making a splash that displaces other recent celebrity dessert contenders like Tyra Banks' SMiZE & Dream ice cream. Now, an even more unlikely entity is entering the gelato race: Taco Bell. And its inaugural flavor is, of course, Baja Blast.
How To Dispose Of Cooking Grease The Easy Way After Frying
Taco Bell seems hell-bent on commodifying the fuck out of its exclusive MTN DEW flavor. Earlier this year, it launched a Baja Blast-flavored hot sauce available exclusively through a sweepstakes. (In our taste test, we found it to be pleasantly mild.) Now, Taco Bell has debuted a limited run of Baja Blast-flavored gelato—and we do mean limited. Per the announcement, the curious concoction is only available at one location in Irvine, California, and only while supplies last (the brand is estimating two weeks). Sadly, I live on the other side of the country and likely won't make it to Irvine in time. But thanks to the modern internet, we can hear firsthand from on-site sources what Baja Blast gelato tastes like.
One TikToker walks viewers through the process of opening the cup—which, they note, is smaller than expected—and taking the spoon out from under the lid. After an initially tepid reaction of "not bad," the TikTok user takes a moment to savor the gelato, then upgrades the review to "Honestly, it's really good." The serving size is "perfect," at 70 calories and 14 carbs.
It's true that the serving is tiny, just 3.6 fluid ounces; one TikToker holds the entire cup between their thumb and forefinger. As expected, the dessert is the same signature shade of bright blue as its namesake soda, though to me it looks a bit more like water ice than gelato. It doesn't look creamy the way gelato should, which honestly might be for the best. I can't imagine putting milk in a Baja Blast.
A reviewer on Reddit agreed with me, giving the limited-time product a rating of 2 out of 5. The poster notes that "it's a little strange that there's milk in it." The main gripe, though, was that the Baja Blast gelato was lacking in Baja Blast taste. "Sure, it's there, but it's like a La Croix fruit-whisper," they write.
While most of these early reviewers seemed to generally like the product, none of them answered the crucial question for me: What does it really taste like? Is it like a Baja Blast float, or more like Haagen-Dazs mango ice cream? We may just have to hope for a nationwide launch to find out.