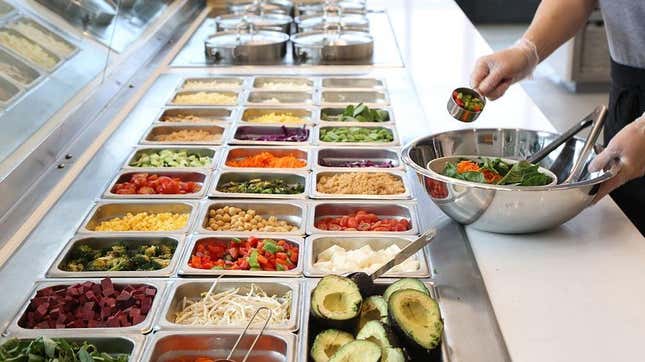 Sweetgreen, whose long-standing focus has been on optimizing lunch for urban professionals, seems to be moving away from the big city and setting its sights on the quiet suburban life. At a recent investor conference, Sweetgreen CEO Jonathan Neman explained the chain's shifting strategy, and it's sure to be unwelcome news for yuppies everywhere.

How To Dispose Of Cooking Grease The Easy Way After Frying
Some early indications that the salad-forward brand might do well to get out of the city came along post-pandemic, when revenue did not match projections and the company was forced to enact a number of cost-cutting measures like downsizing office space. At the time, Sweetgreen executives partially attributed the low revenue to a slow return to daily office life throughout the country. Now, it's looking at things a bit differently.
Sweetgreen as a whole has had an interesting journey, not only over the past few years but also throughout its history. The company has not been profitable in any of its 16 years, though its leadership remains optimistic in a distinctly Silicon Valley kind of way. Sweetgreen's revenue for the first quarter of 2023 was $125.1 million, a 22% increase from the previous year, but the chain also suffered an overall net loss of $33.7 million.
Despite the lack of profit and mixed performance numbers, Sweetgreen cites the launch of its loyalty program, Sweetpass, and the expansion of its fully automated Infinite Kitchens as advancements toward profitability. Neman told investors that Sweetgreen plans to automate all of its new restaurants over the next five years and eventually renovate existing locations with the new technology as well.
Although most might associate Sweetgreen with a downtown office worker's go-to lunch, the chain's success in the suburbs says otherwise. It had already begun to get itself comfortable with being a high-tech brand on the outskirts of the city by the time it launched its very first drive-thru concept in a Chicago suburb last year. Neman acknowledged this success during the recent presentation and noted that many of the brand's current suburban restaurants are outperforming its older, urban locations.
"Today, our suburban stores have actually... slightly exceeded our urban stores," he said. "Over 50% of the stores are suburban and most of the pipeline going forward is also suburban."
With workday lunches declining, it makes sense that Sweetgreen's new suburban locations might fare better than its original city-focused strategy. More people are working from home, and when they do, they surely want something convenient for lunch, available by car or via delivery.
Sweetgreen can still be the lunch of working professionals. It's just that more of those professionals might now be dressed in athleisure instead of business attire.