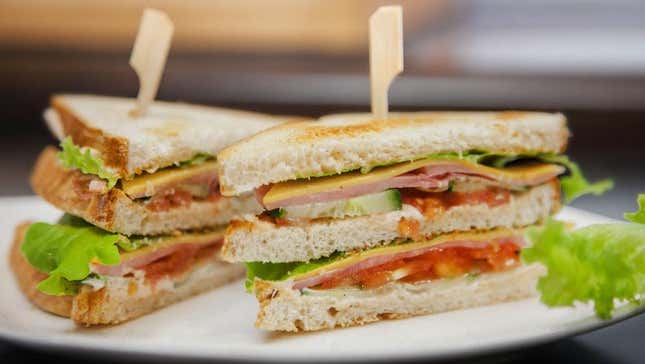 With fast food focused on breakfast and dinner at home becoming slowly more affordable, weekday lunches—the ones taken in the middle of the 9-5 workday—are becoming something of a no-man's-land. Fewer people are buying lunch these days, but whenever they do, they're spending more on those meals, per recent data from Toast, the restaurant software company.
How To Dispose Of Cooking Grease The Easy Way After Frying
In its most recent Restaurant Trends Report, Toast tracked transactions at its 85,000 partner restaurants in Q1 2023. In looking at the average number of same-store weekday transactions between 11 a.m. and 3 p.m. (local time), Toast found that weekday lunch transactions in 19 of the biggest U.S. cities were down in the first quarter of 2023 compared to 2019. In Chicago and New York City, lunch traffic was down 23%, and in Los Angeles traffic was down by 16%.
However, whenever people did spend money on lunch in Q1 2023, they were spending more than they had before. Weekday lunch checks were up 46% compared to the same period in 2019. That includes a 49% increase in dine-in checks and a 42% rise in to-go totals.
That doesn't necessarily mean people are scarfing bigger, more elaborate lunches. That increase could be partially attributed to the fact that menu prices are higher than they were in 2019, requiring customers to spend more money on the same old favorites. Toast data indicated that dine-in lunch prices have risen from an average of $20 per transaction in 2019 to $31 in in 2023, a 53% increase.
Pizza Hut, for one, seems to have spotted this lunch downfall rather quickly, and it designed a menu item to fit the needs of those who want to grab a convenient midweek lunch for a reasonable price. The pizza chain introduced its new category, Melts, toward the end of 2022, and by the first month of 2023 they were already proving to be a key part of Pizza Hut's strategy. Pizza Hut's Melts are two slices of sauceless pizza folded over onto each other, baked, and served as a handheld. The Melts come two to an order, and are intended as an individual entree—unlike regular pizzas, which are larger, more expensive, and must be shared among multiple people, often leaving diners to contend with leftovers.
By heavily emphasizing the fact that the Melts are meant for individual consumption, Pizza Hut has positioned itself as an everyday lunch option for the younger generation. It certainly seems as though the Hut has noted the growing gap between breakfast and dinner occasions: The CEO has stressed that the brand should move away from being considered only a family-focused, special-occasion dining option.
Given lunch's fall from grace, it seems that more chains should seize this neglected day part and, like Pizza Hut, champion lunch for $7 or less. Otherwise, we might be entering an era of two square meals per day, with only snacks to fill in the gaps.