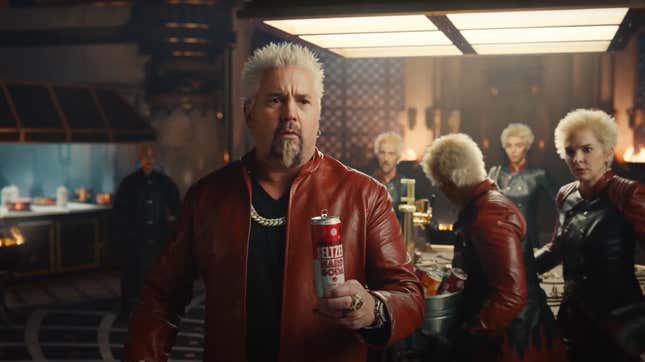 In 2022, Super Bowl LVI had us drowning in crypto ads, and, well, we all know how that turned out. This year, however, we can clink our glasses to the fact that alcohol, not FTX, will likely dominate commercial airtime during Super Bowl LVII. The Associated Press explains why.

How To Dispose Of Cooking Grease The Easy Way After Frying
For The Takeout, and for many other I'm-just-here-for-the-snacks Super Bowl watchers, the ads are half the reason we tune in (the other half is the halftime show). To my dismay, last year's lineup was a crypto-bro's dream, but thanks to some contractural reshuffling in 2023, food and drink are about to take center stage again.
Why we'll see lots of alcohol ads during Super Bowl LVII
CNN notes that since 1989, Anheuser-Busch, the beverage company that owns Budweiser, Michelob, Stella Artois, and many other brands, has had exclusive rights to advertise alcoholic beverages during the Super Bowl broadcast. This means that for decades, other major brands, including Heineken and Molson Coors, had no chance of getting in front of the Super Bowl's audience of almost 100 million viewers. Although Anheuser-Busch has held these exclusive rights for 33 years, it chose to relinquish those rights this year.
While Anheuser-Busch will still be able to advertise during the broadcast, other brands will be able to do so alongside the beverage giant. Considering that Gen Z and others are trending toward alcohol-free lifestyles, AB might have made the right call releasing its stranglehold on the Super Bowl. At the same time, Heineken may have just snagged the perfect platform upon which to showcase, of all things, its zero-ABV product.
"We were really excited to hear that category opened up, and almost immediately we thought, you know, what a great way to really blow out Heineken 0.0 momentum…" Jonnie Cahill, chief marketing officer for Heineken, told the AP.
Alongside a mix of alcohol brands such as Remy Martin and Diageo (owner of Johnnie Walker, Guinness, Tanqueray, and others), we'll see advertisements from all the usual snack giants like Doritos and M&M's. In fact, FOX recently announced that it sold out all its commercial airtime for the game, confirming to the AP that most ad spots sold for between $6 million and $7 million.
To my personal delight, crypto is an industry that won't see any airtime at all this year. A FOX executive said that while some crypto brands had been planning ads to run during Super Bowl LVII, all of them pulled out after the spectacular collapse of FTX. Cheers to that.