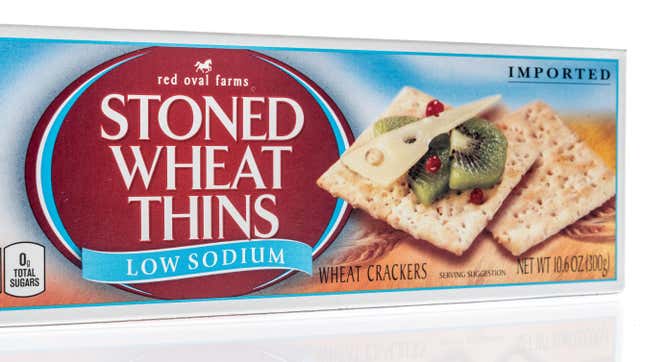 The grocery store saw so many unexpected changes during the pandemic, from toilet paper shortages to eye-popping inflation. A lot of us don't even grocery shop the same way anymore. Sadly, we also lost a major player on the cheese and charcuterie board of life: Red Oval Farms Stoned Wheat Thins, which Nabisco confirmed last year are no more. The cracker aisle will never be the same.
How To Dispose Of Cooking Grease The Easy Way After Frying
In the early days, before the rise of artisanal flatbreads and organic crisps, Stoned Wheat Thins were the kings of '70s and '80s special occasions. Spread out in a basket next to some sliced grocery store cheddar, a port wine cheese ball, and a carafe of Riunite, they were the height of entertainment snackery. Later, as more gourmet products took over the market, Stoned Wheat Thins still held their own as a solid everyday cracker. They had more substance than a saltine and a little less fiber and flavor than a Triscuit, with a wheat-y, mild taste and crisp texture that was the perfect blank slate for crushing a wedge of cheap brie on a weeknight.
Rather than announce the departure of the beloved squares, Nabisco quietly let them fade away through 2021 and 2022, leaving fans to take to Reddit in search of answers and eBay in search of the last boxes before the company finally confirmed on Twitter in November 2022 that they were discontinued. While Nabisco (which is owned by Mondelēz International) didn't provide any specific reasons, many have speculated that it might have something to do with lower demand, supply chain issues, and possibly even a (since dismissed) 2021 class action lawsuit alleging that the term "stoned wheat" was deceptive.
The crackers might be gone, but all is not entirely lost. You can find imported boxes of Christie Stoned Wheat Thins, a Canadian brand under Mondelēz, for around $25 on eBay. There's no need to spend that much, however. While cracker lovers can't reach for the comfort of the big red oval anymore, you can eat the sad feelings away with a couple of solid American store-brand substitutes:
Whole Foods 365 Cracked Wheat Crackers ($3.79)
Whole Foods is the clear winner in this lineup for a few reasons. For starters, the chain is everywhere, and you can also order its products through Amazon and Amazon Fresh, making them extremely accessible. Second, way before anyone even considered the demise of Stoned Wheat Thins, San Francisco Chronicle readers rated the 365 cracker higher than the original in taste tests. These also look identical to the originals.
O Organics Stone Ground Wheat Crackers ($3.49)
These USDA certified organic crackers can be found at the Albertsons umbrella of stores (Star, Safeway, Shaw's, Vons, Carrs, Randalls, Jewel, and more), and also look identical to original Stoned Wheat Thins. While it's hard to say if they taste exactly the same to the originals, they're certainly close enough.
Wellington Stoned Wheat Crackers ($7.20)
Available from Amazon and Walmart, these crackers come from World Finer Foods in Bloomington, New Jersey, and they certainly look and feel like the real thing. They are significantly more expensive, but if you buy them by the case the price is more reasonable.
Wegmans Cracked Wheat Crackers ($3.49)
If you're willing to think outside the traditional square shape of Stoned Wheat Thins, Wegmans cracked wheat circles are a solid dupe. Aside from their look, the texture and flavor is nearly identical to the OG—plus they're made in Canada, where Red Oval Farms once came from, so perhaps the recipe is closer than you think.