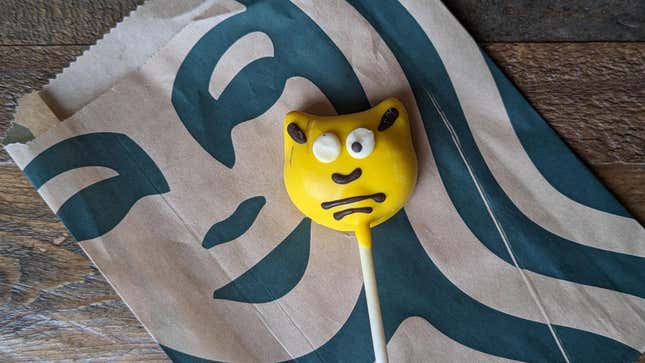 Nostalgia is a powerful force, especially when it comes to our food. It's what led to the explosion of McDonald's adult happy meals (and Boo Buckets), it had a hand in creating the world's best Twitter account, and it has made millions for entrepreneurial collectors over on eBay. Nostalgia is also what Starbucks' new Summer 2023 Menu is designed to evoke, with a Chocolate Java Mint Frappuccino and a playful Bumblebee Cake Pop meant to recall our fondest summer memories. Yes, eagle-eyed readers, I said Bumblebee Cake Pop. Meaning the cake pop in the photo above is supposed to depict a bumblebee.
Dr. Pepper Strawberries & Cream Is Tearing Us Apart
The limited-edition Bumblebee Cake Pop arrived at Starbucks stores nationwide last week, featuring "vanilla cake dipped in yellow chocolaty icing and a fun bumblebee design for the perfect bite-sized treat to spark joy this summer." It's been generating some confusion among customers ever since, mostly because, as can be seen in the above photo, it really only resembles a bumblebee in color. Otherwise, it looks for all the world like a cat—one that is perhaps grimacing, depending on how you read the brown stripes at the bottom.
The cake pop isn't usually missing a pupil on its cartoon eyeball; that might have been user error as I transported it from my nearest Starbucks. According to the press release, it's supposed to look more like this: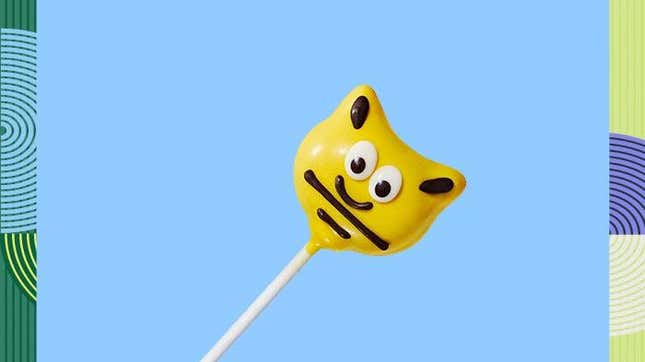 This more photogenic cake pop is, of course, no closer to resembling a bumblebee. And the internet has been quick to point this out, comparing the cake pop to everything from a stressed-out cat to every member of the Belcher family from Bob's Burgers.
"I saw this cake pop at Starbucks today and I can't stop laughing," one Twitter user wrote.
"Do bumblebees have ears? Either way really cute!!" wrote one decidedly less cynical Starbucks customer.
"Starbucks will spend millions on random shit nobody cares about (ie olive oil drink) but they can't get another cake pop mold that's too far," one user posted, along with four images depicting other Starbucks cake pops that have previously made use of the cat-shaped mold: a reindeer, a fox, a unicorn, and an owl.
Reddit has been having fun with the new cake pops, too, noting how the placement of the pupils can make this "bumblebee" look inadvertently suspicious, like it's hiding something. In a way, the cake pop has become the internet's Rorschach test, and comparing notes about what we all see when we look at it makes being online fun again, if only fleetingly.
No one seems to be divided on the fact that it tastes good, however, as Starbucks cake pops tend to be moist and generously frosted. And the level of detail required of such a whimsical design helps justify the price somewhat: My cake pop was $3.63 after tax and before tip. The Bumblebee Cake Pop at my location starts at $3.25, versus the plain spherical ones, which start at $2.95. It's not a price I'd pay every day, or even every month, but as a once in a while thing, it's no more egregious than anything else on the menu (I'll stick to the breakfast sandwich).
When I placed my order, I asked for the yellow cake pop. "The bumble?" my friendly barista asked, in a tone that might have suggested many customers have required such clarification over the past week since the new dessert's debut.

The failings of this cake pop are actually its greatest strength: Everyone's talking about the bumblebee. Each cake pop seems to have some funny, infinitesimal variation that makes it all the more irresistibly ridiculous, and I know I'll keep an eye out for how they look the next time I'm near the Starbucks pastry case. While I certainly don't blame Starbucks for the missing eye on my own "bumblebee," it's quite literally the icing on the cake.