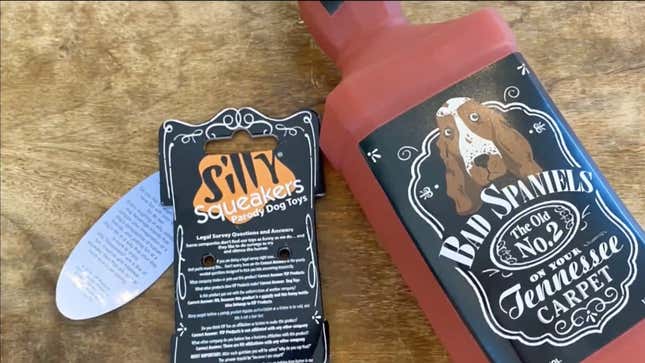 Jack Daniel's Tennessee Whiskey does not want to be equated with dog turds. For years, the company has been embroiled in a trademark case against VIP Products, which manufactures a line of dog toys called Silly Squeakers; though the beverage brand has sought to escalate the case to the Supreme Court since late 2020, the actual dispute goes all the way back to 2014. And lord, this fight over a cheeky poop-themed dog toy shaped like a Jack Daniel's bottle is still going strong. Here's the latest.
How To Dispose Of Cooking Grease The Easy Way After Frying
Jack Daniel's vs. Silly Squeakers, explained
In March of this year, Jack Daniel's argued before the Supreme Court that the dog toy's resemblance to a Jack Daniel's whiskey bottle constituted trademark infringement.
The toy in question has the label "Bad Spaniels" and is shaped like a square Jack Daniel's bottle. The label mimics the font of a real whiskey bottle, and while Jack Daniel's label specifies "40% alcohol by volume, the Silly Squeakers toy reads "43% poo" and "100% smelly." Heh. Poo.
As you might imagine, a major beverage producer doesn't want a dog toy shaped like its product equating itself to canine caca in any way. Jack Daniel's lawyers said the toy profits "from Jack Daniel's hard-earned goodwill" and associates its "whiskey with excrement."

Now, SCOTUS has come to a decision in the matter—and the decision is unanimous. The Associated Press reports that the Court has concluded a lower court approached the case incorrectly when it initially sided with the dog toy maker. The lower court had decided that it was less of a trademark issue and more of an issue of "expressive work," but Supreme Court Justice Elena Kagan said this judgment was incorrect, saying the case is really about federal trademark law.

"The only question in this case going forward is whether the Bad Spaniels marks are likely to cause confusion," Kagan said.
What's next for Jack Daniel's?
Now that the Supreme Court has weighed in on the way the case was initially handled, Jack Daniel's has another chance to win the trademark dispute against VIP Products. Will this case hit the 10-year mark? It's looking increasingly likely that it will. I can't wait to update you on the next installment of the Jack Daniel's dog poo saga as it stumbles toward its stunning conclusion.