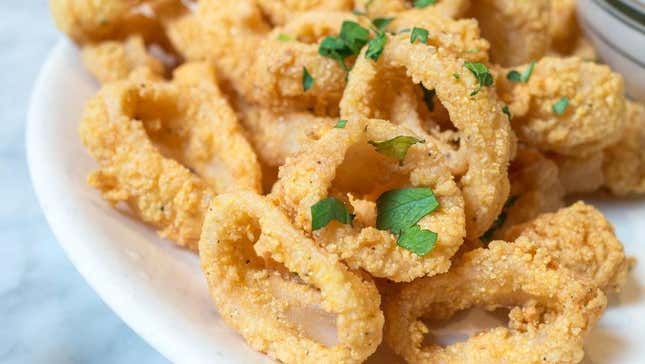 Cornells in Little Italy, an Italian restaurant in Schenectady, New York, offers a priceless menu item that I will happily dub genius: free childcare for parents dining during the restaurant's weekly date night. It's a marketing tactic so clever it's made headlines.
All the Best Finds at the Sweets & Snacks Expo
The date night, which happens on Thursday nights, features a six-course prix fixe menu at a cost of $75 per head. Children's meals can be added for an extra cost, but the child care itself is complimentary with the purchase of the adults' meals.
As noted on the restaurant's Facebook page, the complimentary childcare is offered between 4 p.m. and 8 p.m.—perfect dining hours for parents of young kids—and offers "screen free" activities in the restaurant's dedicated child care room. On Facebook, someone asked whether there's an age limit to the child care, and the restaurant said that if the child is in diapers, the staff might ask the parents to come help with diapers during their time there.
"If your child is a teen, we may just go ahead and have them fill out an application for their first restaurant job as a busser," they wrote, along with some laughing emojis to indicate they're joking (maybe).
In an era where kids are being banned from restaurants and half of Twitter would like children to never board an airplane, it's nice to see a restaurant that is holding space—literally—for both child-free dining and the reality that, yes, some people do have kids and would still like to enjoy a restaurant once in a while.
As a parent of young children, I've found that learning how to comfortably dine out, whether for fun or necessity, is something that must be constantly reevaluated, and it's a project I approach with curiosity. Until I heard about this deal at Cornells, I wouldn't have even entertained the idea of eating a six-course prix fixe meal unless my kids were with a sitter, which for any number of reasons can sometimes be impossible to arrange. And, like most parents, if I were to hire a sitter, I'd need to factor the cost of that sitter into the overall cost of the night out, which also has the potential to take a $75 per person meal off the table.
The fact that the restaurant's childcare is complimentary opens up the potential dining budget, which is a win for both the restaurant and the diners. Plus, we can assume that the child-friendly activities on offer are fun and stimulating, meaning that the kids are getting treated to a night out, too. What could be better?