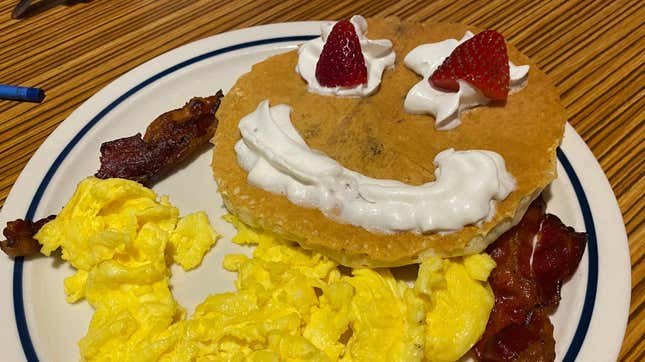 Although Denny's and IHOP are not strictly "road food," I sometimes think of them as travel stops. They're often near a highway exit, they're just about everywhere, and their twin lineups of pancakes and breakfast platters both offer unmistakable consistency and value. However, just how kid-friendly are their respective menus? As a parent of two, I wanted to find out whether IHOP or Denny's is the more family-oriented restaurant.

Dr. Pepper Strawberries & Cream Is Tearing Us Apart
Road trip meals need to satisfy two needs: One is nourishment, of course, and the other is some quality time out of the car. By the time you decide to make a stop, the collective mood inside the vehicle has long since soured. A square meal, you hope, will boost everyone's spirits and renew your resolve to spend even more time in the car. That's why my family will often opt for a restaurant like Denny's or IHOP rather than a fast food joint where we'll be in and out. We need time for a reset to take shape.
The methodology
My kids, both girls, are two and a half and seven years old. I scheduled our trips to Denny's and IHOP to occur on a Sunday, because it's a popular day to eat breakfast out, it's a high travel day, and they didn't have school. I thought of these trips as brunch, but also as amorphous meals that could serve as anything a road-tripping family might need them to be.
The IHOP we visited was indeed right off a highway, and the Denny's was right off a different highway, tucked into a parking lot it shared with a hotel.
In the end, each restaurant had qualities that were kid-friendly, but one was a clear winner.
IHOP's kids menu is surprisingly un-childlike
It's worth pointing out that IHOP has an expansive menu for grown-ups, which includes a large pancake lineup that makes me feel like a kid again. Like many restaurants of its ilk, its regular menu is festooned with appetizing pictures of brunchy delights.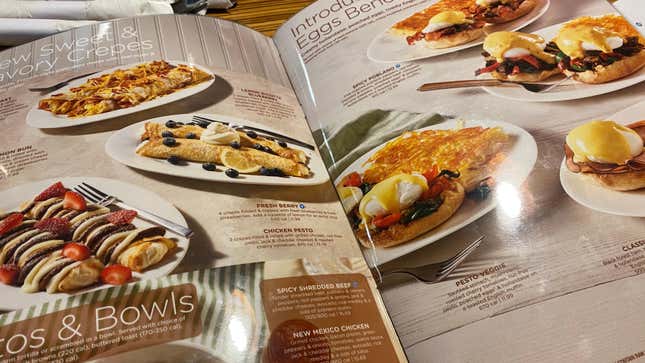 My kids were given coloring pages, but not their own menus; usually at such restaurants, these coloring pages double as the menu itself, but not in this case. I flipped through my expansive booklet of a menu to find the kids' food first. I couldn't spot it. I went through the whole menu again, multiple times, looking for the telltale graphics of sprinkles and anthropomorphic pancakes. Eventually, I realized that, unlike the pleasantly pictorial listings of the adult food, the kids menu was a simple, typed insert with no photos to be found. It was downright regal compared to the rest of the menu.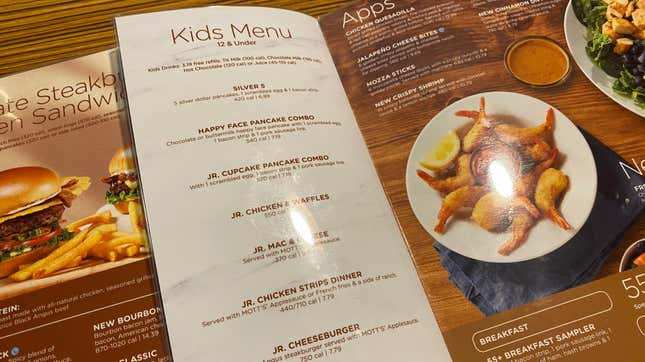 Due to the lack of pictures, I didn't know what the "Happy Face" pancake was, but I ordered it for my youngest. Indeed, it had a face made out of whipped cream and strawberries. Meanwhile, my seven-year-old picked chicken tenders and waffles, which she thought embodied the true spirit of brunch since it had both lunch and breakfast food. I can't disagree, and as a parent I was excited she could get both—it gave us a better chance of her actually eating something.

Denny's kids menu is highly customizable
Things at Denny's were a little more standard: the kids were given pieces of paper that doubled as coloring pages and a menu, and the menu had bright, bold pictures of the food. What both and my seven-year-old and I loved about this menu is that you get to choose both an entree and a side, and one of the sides is pancakes. Seeking a true brunch once again, she picked chicken tenders as her main and pancakes as her side. Brilliant.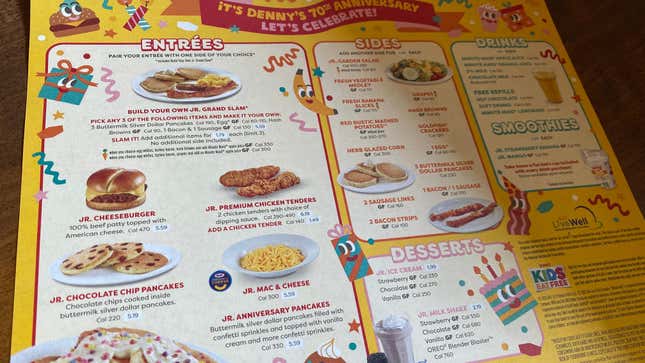 My little one saw a picture of mac and cheese and insisted upon ordering it. I'd gone in thinking we'd compare brunch to brunch and that I'd get her a pancake with sprinkles in it, but she had mac and cheese on the brain, and if we'd been on a road trip, or even just going out for brunch, I would've let her get it, so I said sure.

How IHOP and Denny's compare for my kids
IHOP had a fresher look to it, with patterned wallpaper and smiley logo. It was also—and this is pure happenstance—more crowded and bustling than the Denny's we visited. When you're dining with kids, a semi-loud, bustling atmosphere is welcome, because it means whatever noise your kids make won't necessarily turn heads.
While we were at Denny's, my seven-year-old said she preferred IHOP. Since the food hadn't even come yet, and Denny's had given her a colorful, picture-laden menu to draw on, I was surprised, and asked why. She shrugged and said, "The vibes." Can't really argue with that.
The speed of service at IHOP and Denny's
We didn't wait long for our food at IHOP, and the kids were served first. Their drinks were also brought to the table first. In general, the staff at IHOP seemed to be aware that kids, for better or worse, don't always have large stores of patience, and parents who are dining with hungry, tired, or otherwise impatient kids generally become unhappy. To that end, the kids were served first, and we were all pretty happy campers.
Unfortunately, at Denny's, once our meals arrived, the aforementioned mac and cheese did not. Our server told us it would be out in just a minute, but ten minutes passed before a piping hot bowl of Kraft mac and cheese was brought out. In the meantime, the rest of us had eaten our meals, and my youngest had already stolen and fully consumed one of her sister's pancakes.
There are a number of things that could have happened behind the scenes to result in this snafu, and I'm not here to imply that it's any indication of Denny's approach to its youngest diners. It's admittedly an unfortunate coincidence that I was there for the sole purpose of writing about the experience of dining there with kids. But I also can't pretend it didn't happen, and I do think it indicates that at the very least, the Denny's that day wasn't necessarily aware that young diners tend to be the most eager and, frankly, fragile. If we had been on my imaginary road trip and my kid had been stretched thinner—or, worse, if I had been stretched thinner—the very delayed mac and cheese could lay the foundation for a very unpleasant experience.
Restaurants that make kids happy make parents happy
Once upon a time, I worked at Walt Disney World, where I picked up many bits of wisdom. One was that a guest who has a good experience will come back forever, and a guest who has a bad experience won't, and the latter group will tell all their friends about it. The missing mac and cheese at Denny's didn't rise to the level of me never going to Denny's again. But, given the choice, I will choose IHOP, and unfortunately for Denny's, I'm telling a lot of people about it by way of this writing.
For what it's worth, my two-year-old wolfed down her mac and cheese, so it was indeed kid-approved (it's Kraft, after all). My seven-year-old said she liked IHOP's chicken tenders better, but said Denny's pancakes were better than IHOP's waffles. In other words, comparing the food was kid of a wash.
That the food wasn't the most important part of the equation is perhaps key to understanding what's important about dining out with kids: It's largely about the mood over the food. The mood of the dining room, sure—vibes!—but even more so, the mood of the kids. I can promise you, any eatery that focuses on the kids' needs is going to wow those kids' parents. And since it's the adults who do the driving, the buying, and the tipping, that's worth keeping in mind.