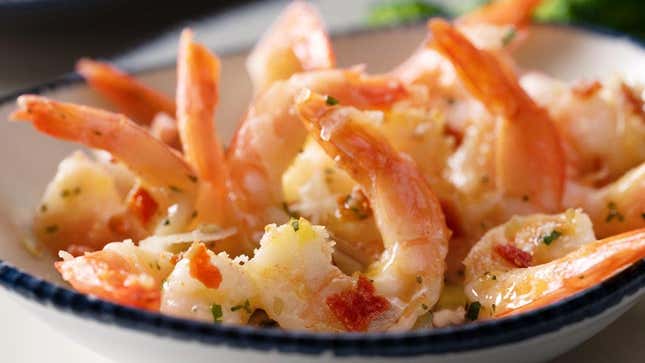 If you've known me for more than five minutes, you already know that I love Red Lobster. The siren call of those Cheddar Bay biscuits constantly pulls at my heartstrings (and arteries). But there's one menu item I go for above all else, and that's Red Lobster's yearly celebration of Endless Shrimp, where you pay a flat fee to rejoice in all-you-can-eat shrimp in its many glorious forms. I've even written a guide on how to get the most out of the Endless Shrimp promotion.
How To Dispose Of Cooking Grease The Easy Way After Frying
Given my love of this menu special, it tickles me to no end to tell you that Red Lobster has declared every day a national holiday: Endless Shrimp is now a permanent fixture on Red Lobster's menu for $20.
Endless Shrimp is the best deal on Red Lobster's menu
Price, of course, is one of the most important considerations for most people when they're dining out. Endless Shrimp is priced at $20, which is easily the best deal on Red Lobster's menu.
Take, for example, the two-entree combo platter, which comes with two sides. If you order two types of shrimp as your entrees, the cost already comes out to $25.79 at my nearest Red Lobster. See, that's only two servings of shrimp, and you're locked out of additional helpings. (This platter also goes up in price by as much as $6.50 if you opt for a premium side such as Creamy Lobster Mashed Potatoes.)
With Endless Shrimp, of course, you're free to keep ordering more shrimp, one dish at a time—and the meal includes your choice of side. If you're really on a roll, your server will usually ask you what you want next before you're finished with your current helping, so they can preemptively place a new order with the kitchen and you never get thrown off your shrimp-eating rhythm.
Which shrimp options are available for Red Lobster's Endless Shrimp?
Obviously this deal is no fun if you're only allowed a crappy array of choices, but everyday Endless Shrimp allows you to order most of Red Lobster's greatest shrimp hits. This includes:
Garlic Shrimp Scampi: Shrimp broiled in garlic butter (psst, try this)
Coconut Shrimp: Fried shrimp crusted in coconut, served with piña colada sauce
Shrimp Linguini Alfredo: Linguini Alfredo with shrimp
Walt's Favorite Shrimp: Classic breaded and fried shrimp with cocktail sauce
Garlic Grilled Shrimp Skewer: Grilled shrimp skewer glazed with garlic butter over rice
Notably, popcorn shrimp is not available for daily Endless Shrimp, but that's the only exclusion. Red Lobster's popcorn shrimp is pretty much just a mini version of Walt's Favorite (aka the regular fried shrimp), so I can already tell you that you're not missing out on anything.
How Red Lobster will keep Endless Shrimp exciting
Part of what made Endless Shrimp's previous iteration so much fun was that it was only available for a limited time, usually in the fall. But what always kept it lively were the limited-time-only shrimp dishes that were included with the deal, such as its Nashville Hot Shrimp or the Parmesan-Bacon Shrimp Scampi (pictured above).
While this hasn't been confirmed by the company, seasonal releases will likely still be part of the promotion to keep things fresh. Patty Trevino, chief marketing officer at Red Lobster, teased in the press release that this isn't the last Endless Shrimp news we'll be hearing this year.
In the meantime, a $20 all-you-can-eat deal remains one of the best chain restaurant options out there. Let's just hope that someday Red Lobster figures out how to do Endless Lobster, because damn, I'd be the first in line for that one, too.