Back when I wrote How To Conquer Red Lobster's Endless Shrimp, I tackled strategies for handling vulgar amounts of food. But there was one particular comment that caught my eye:

Shrimp scampi? Papa John's garlic sauce? I had to make this. Thanks, commenters. I owe you one.

As I've mentioned more than a few times, I'm a pizza maker by trade; I make wood-fired pizza and Detroit-style pizza for a living. For someone who makes very nice pizza, you might think my taste in food would be better, but one of my dark secrets is that I love Papa John's. Yes, I know the man, Papa John, is a horrible person. Yes, I know the pizza is not that great. But that stupid garlic sauce they serve with every pizza has me horribly addicted. There's something about Papa John's crust dipped into that glorious buttery oil that makes me lose my mind.
G/O Media may get a commission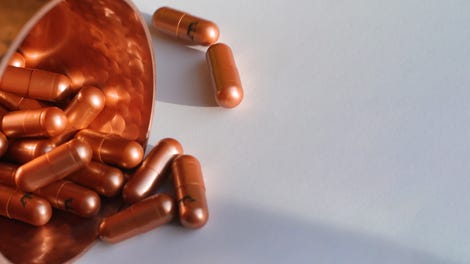 health
The Lyma Supplement
Notice that I didn't say Papa John's garlic butter. It's not butter. It's actually soybean oil-based, which makes it more of a margarine. This fact makes sullying the classic shrimp scampi dish even more blasphemous, since butter is a key ingredient. But you know me: I love blasphemy.
In order to get this piece written, of course, I needed sauce. So I ordered a cheap pizza online for pickup with 10 extra cups of garlic sauce—in case I royally screwed up the recipe, or to take shots of it during my weakest moments. I might lather my body with it and breakdance in the middle of the street.
Because I ordered 10 cups of garlic sauce, I was trying to minimize human contact. I assumed that I would only have to pick up my order and call it a day. But when the cashier gave me the order, she forgot the extra sauce. She saw the expression on my face and asked me if I needed something else.
I said, quietly: "I think you forgot the extra cups of garlic butter."
She said, "Oh, sorry! How many cups do you need?"
My face turned bright red and I said 10. Fortunately, she didn't bat an eye. But the guy standing next to me waiting for his order busted out laughing. I can't win.
I wanted to stick to a classic recipe, so I followed this one from The New York Times, except I would replace the garlic, butter, and oil with Papa John's garlic sauce. It's not a complicated recipe and if you're not peeling off shrimp shells, it only takes around 15 minutes. I started with raw shrimp, since pre-cooked shrimp would yield little rubber balls later.
Each little tub of garlic sauce yields approximately 1 1/2 tablespoons, so I ended up using just under three of the cups. In case you're doing the math, that leaves me seven for personal use. I overbought. Apparently I did not need to embarrass myself in public.
There's just a touch of white wine, chili flakes, black pepper, and salt—but since the garlic sauce already contains a good dose of salt, you won't even need more than a tiny pinch, if any. All you need to do is let the white wine reduce over medium heat for five minutes.
Welcome to your demise, shrimpies. Wait. You're already dead. If reincarnation is real, I'm going to be sent to Shrimp Hell in the next life. This is a massacre.
Existential crisis aside, once the liquid reduces, just toss the suckers in there and cook until they turn pink and curl up, around five minutes.
I usually turn off the heat once they start curling up to let the carryover heat finish them off. There was an unfortunate lack of garlic smell in the air, but I did definitely smell the margarine. The smell of flavored refined soybean oil is intoxicating and life-shortening. I'm friggin' Ina Garten.
All you need to finish the scampi off is a good dose of lemon juice and parsley, which is the most useless garnishing herb on the face of the planet. The only way you can taste parsley is if you eat a bunch of it at once and even then, it pretty much tastes like lawn clippings. I will concede that the tiny green bits do make food at least look a little nicer. Oh, and as a bonus, you can slice a lemon into a wheel, which renders it completely useless and impossible to squeeze.
I approached my first bite expecting disappointment, considering the miniscule garlic scent in the kitchen. I also expected the shrimp to taste like fast food. But this worked. Papa John's garlic sauce shrimp scampi actually worked. Holy shit. While the garlic notes are fairly muted, the shrimp scampi was delicious, still buttery, and didn't taste like fast food. I now know what miracles feel like.
While we happily plowed down through the shrimp, my fiancee Davida said, "This is just as good as, if not better, than Red Lobster." Those are mighty words.
So, next time your office has a pizza party for lunch and has leftover garlic sauce cups, squirrel them away in your pocket Napoleon Dynamite style. Take 10 of them, three for the shrimp scampi, and seven for yourself.