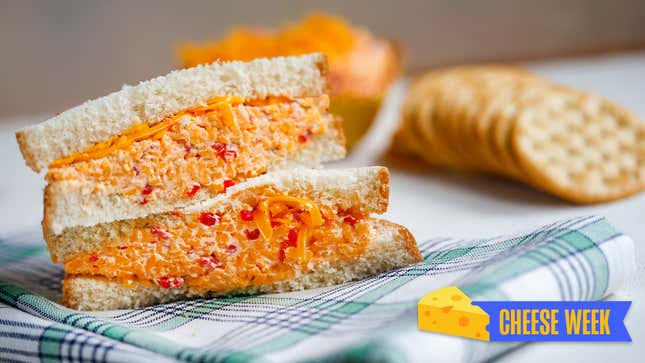 Welcome to Cheese Week, The Takeout's weeklong praise of cheeses.

---
The side of our refrigerator is reserved for special mementos. I'm staring at it right now as I type: There's a Polaroid of my now-wife and myself in our early days of dating, a photograph with our two-year-old at the beach last summer, there are food-themed novelty magnets from cities we traveled to over the years. Oh, I also see my health insurance card that I need to put back in my wallet. But, for the most part, important mile markers from our lives, memorable and flat enough to attach onto a fridge.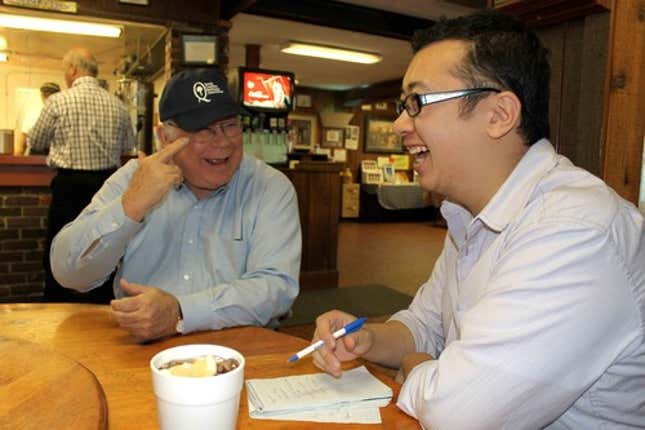 Curious enough, there's a 8 1/2-by-11 sheet of paper on our fridge since 2010. Looking at it conjures a warm memory—it comes from a man I met nine years ago for one afternoon. His name is Lake E. High, a wonderful name of a wonderful man who met up with me in Columbia, South Carolina. At that time, High was president of the South Carolina Barbecue Association (he stepped down from the position this past July and is now president emeritus), and he agreed to show this Chicago newspaper reporter and barbecue neophyte the delicious foods of his home state. 
I was young then, inexperienced in the food traditions of the American South. I told High I had tried pimento cheese for the first time only days earlier in Shelby, North Carolina at Bridges Barbecue Lodge. And with that cue, High launched into a 20-minute monologue about the particulars of pimento cheese. I sat listening to him, entranced that pimento cheese could yield 20 minutes of soliloquy.
Weeks later, I returned from my barbecue road trip week and discovered an e-mail in my inbox. It was from Lake High. It included a Microsoft Word attachment titled: Pimento Cheese. It read, in part:
I gave this recipe to a friend who thought mine was the best he had ever had so he took the recipe and went out and bought some Piggly Wiggly sharp cheddar used the Hellmann's mayonnaise his wife likes and had in the fridge. He was dumbfounded that it didn't taste anything like mine and he said it was awful. I gave him a short lecture and had him re-read the recipe.
High included a number of secrets. He insisted only Kraft Reserve Sharp cheddar cheese be used, and if not available, Kraft's Extra Sharp is also acceptable. He implored that only Duke's mayonnaise be used (it has a higher egg yolk ratio, which gives it a "homemade" richness—plus it's also the officially sanctioned mayo of the South). He add lots of black pepper. He mashes the jarred pimentos with a fork. And he adds a half teaspoon of sugar to "take the edge off the sharp cheese while leaving the flavor." High says: "If you can taste the sugar, you've added too much sugar."
I don't know if using a different mayonnaise, or withholding the sugar, would make a taste difference that my palate could discern. But I also haven't been consuming pimento cheese my entire life. And so I defer to the sage wisdom of Lake E. High, a gracious man who forever changed my worldview on pimento cheese. This is the only way I've made it, and the only way I'll make it going forward. It's absolutely delicious. That itself earns a place on our fridge forever.
---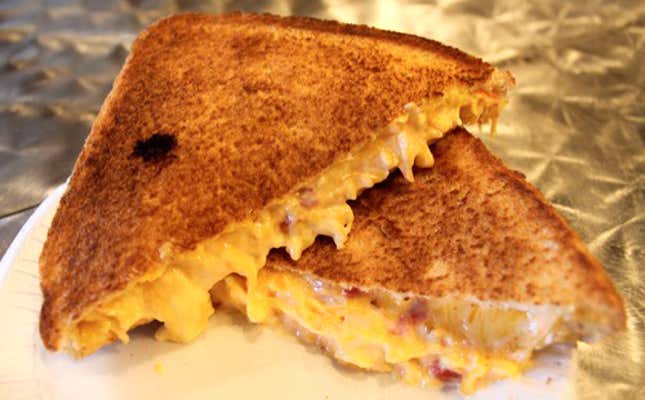 Lake E. High's Pimento Cheese
10 oz. Kraft Reserve Sharp cheddar cheese

1/2 tsp. sugar

1 small jar (4 oz.) chopped pimentos, mashed up with a fork

Lots of black pepper (and some red pepper flakes if you like it hot)

3-4 heaping Tbsp. Duke's mayonnaise

Grate cheese into a bowl. Drain one small jar of pimentos and place onto plate. Mash with a fork into tiny pieces. Add cheese and pimentos into bowl, then add Duke's mayonnaise to desired consistency. Add 1/2 teaspoon sugar and mix. Blacken the top of the cheese mixture with fresh ground black pepper, then stir it all up.
---
Postscript: I e-mailed Lake E. High while writing this, asking for permission to reprint his recipe here. He graciously said yes, and added, "I tell people about your comment, 'Pimento cheese has changed my life' to much enjoyment." He's right.