Pozole is a stew that leads two lives in Mexican culinary folklore. Like the angel on one shoulder, pozole can be an innocent winter warm-up to be enjoyed with family as a holiday meal. Or, like the devil on the other shoulder, a known hangover cure urging you to go out and drink all the drinks.
Growing up, pozole was a staple dish at my family's parties and various holidays. Historically, pozole was reserved for special occasions because maize (corn) was a sacred grain for the Aztecs, and one of pozole's major ingredients is hominy, essentially processed maize. Pork and chicken are the most common meats used in pozole.
General History Of The Things Of New Spain, a circa-16th century encyclopedic work about the people and culture of central Mexico by Franciscan missionary Fray Bernardino de Sahagún, speaks of a stew made with corn and human flesh. The meat was leftover from the human sacrifices that were offered up to the gods by the Aztecs. The Spanish conquistadores, who were—shall we say—okay with other atrocities, weren't too keen on cannibalism though, so they subsequently outlawed the practice. With the cannibal party over, human stew meat was switched out for pork because of how close to human flesh it tasted. (So now you know, if you were wondering.)
Pozole today is prepared in many various ways but always has to start with the hominy and a protein as the base. It comes in three broad types: red, white and green. Red pozole is a typically thinner broth that uses dried, red chiles. Green pozole broth is rich and calls for fresh, green peppers. White pozole is also a thinner broth and it doesn't call for any chiles at all.
It's easy to get carried away and turn your pozole process into a day-long adventure that would have Rick Bayless beaming. We're not going to do that here, which is not to say that making your own chicken stock or soaking dry hominy overnight and spending a couple of hours the following day finishing it isn't the best use of your time, but more so that canned hominy and store-bought stock will work just fine.
G/O Media may get a commission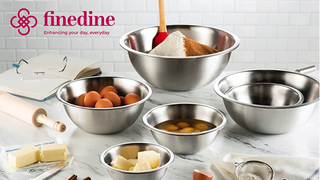 42% Off
Stainless Steel Mixing Bowls (Set of 6)
A few notes on ingredient substitutions: If you can't find the fresh herb epazote, you can omit it. If you can't find Cubanelle peppers (sometimes called Italian frying peppers), then poblano or Anaheim will work. If you don't have Mexican oregano, don't sub Italian oregano, as they're not even close. You're better off just skipping it.
Okay, now that you're ready, get your best friend to volunteer as your sous chef and you can whip up this recipe in a couple of hours. They'll fly by, especially if you have a cold case of Hamm's ready to accompany you throughout.
Pozole Mata Crudas (Hangover-Killer Pozole)
1/2 cup pumpkin seeds
2 1/2 pounds bone-in chicken breast or thigh
12 oz natural bacon, finely chopped
1 pound tomatillos, husked
1 large white onion, roughly chopped
1 each jalapeño, poblano, Cubanelle pepper, stems and seeds removed, roughly chopped
6 cups chicken stock
2 tablespoons dried Mexican oregano
2 sprigs epazote (optional)
Salt to taste
Handful fresh cilantro leaves and fine stems
1 can (28 oz.) white hominy, drained
Garnishes:
Diced avocado
Diced radishes
Chopped fresh cilantro leaves
Chopped white onion
Tortilla strips
Heat pumpkin seeds in the base of a large Dutch oven or stock pot over medium-high heat, stirring constantly, until they start to pop and smell nutty, about four minutes. Transfer pumpkin seeds to a bowl and set aside.

Add chicken, tomatillos, onion, peppers, chicken stock, oregano, epazote, and a large pinch of salt to the Dutch oven or stock pot. Bring to a boil over high heat, then reduce to a low simmer. Cook, stirring occasionally, until chicken and vegetables are completely tender, about 40 minutes.
Spoon out the chicken and set aside in a large bowl. Set a large fine mesh strainer over a second bowl and strain the broth through it. Transfer solids to a blender. Add pumpkin seeds and cilantro to the blender. Blend on high speed until smooth. Set aside.

In a separate pan, fry bacon until cooked through, making sure to keep it soft, about 5-8 minutes. Drain the bacon grease into a bowl. Set aside.

Add three tablespoons of the bacon grease to the Dutch oven. Heat over high heat, As soon as the bacon grease starts to smoke, pour in the contents of the blender all at once and cook, stirring, for about 15 seconds (watch out for splatter). Immediately pour in strained chicken stock and stir to combine. Bring to a low simmer, stir in hominy, season to taste with salt, and keep warm.

By this stage, the chicken should be cool enough to handle. Discard the skin and bones and shred the meat into bite-sized pieces with your fingertips. Stir the picked chicken back into the soup.

To serve, ladle the hot soup into bowls and garnish with diced avocado and radish, chopped cilantro, white onion, and tortilla strips. Serve immediately.