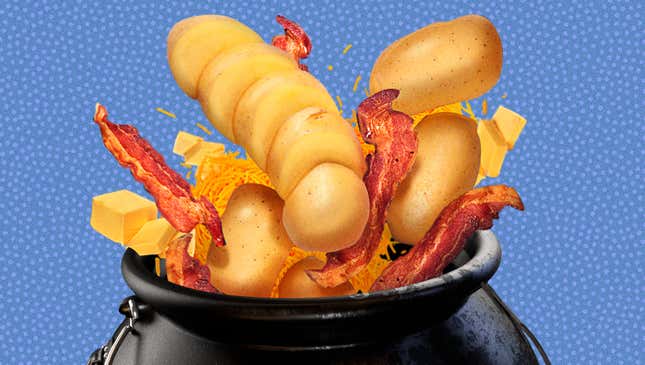 My family heads to Wisconsin every year for my dad and stepmother's Saturday-after-Thanksgiving dinner. Most of their stepchildren are between families Thursday and Friday, so the Saturday event gets a high turnout. The food's pretty good too, so that may be another reason.
All the Best Finds at the Sweets & Snacks Expo
Like REO Speedwagon at a casino auditorium, this dinner plays the hits: turkey, gravy, marshmallow-topped sweet potatoes, two kinds of stuffing, and a phalanx of dinner rolls. Occasionally a Jell-O salad or vegetable will make a cameo. For me, the star attraction is the unique spin on mashed potatoes.
To be sure: I love potatoes in all forms. They're easily my favorite food. Mashed, baked, roasted, chips, refried after mashing—bring them all to my plate in endless quantities, thank you.
Even to a potato-lover, these mashed potatoes still belong in a class to themselves. They are not a Wisconsin delicacy (I'm not aware of other families that do what my stepmom does) but I cannot imagine a recipe like this emanating from another state in the union.
What makes these different from standard turkey-day potatoes? Imagine a twice-baked potato without the shell. There are four varieties of dairy in the dish: cream cheese, sour cream, butter, and sharp cheddar cheese (amazingly, no milk!). There's a generous amount of bacon. When baked, the potatoes get a crispy, caramelized outer crust.
This is a departure from traditional mashed potatoes, and I understand any skepticism. But I contest that the dish embodies many traits of a great Thanksgiving side. These potatoes taste awesome with turkey, as well as with gravy, which offers a savory counterbalance to their cheesy tang. They're not ruined when the errant cranberry makes their way into the potato pile on your plate. For the leftover fiends among us, they hold up well to reheating the following day.
This recipe requires strength. One must have Lincoln Hawk-like forearms to fold in all the ingredients prior to baking. It yields a gallon of potatoes. My stepmom doubles the recipe (two gallons!), which is enough to serve two dozen people and allows for plenty of leftovers. At our Thanksgiving, the double batch of potatoes are served in a container the size of a porch planter.
These potatoes also take patience. If you're making these the day ahead, plan for at least 90 minutes of oven time for reheating. Separating into smaller dishes will speed up this process.
If you say "Thanksgiving in Wisconsin," nothing is probably more on-the-nose than a cheese-heavy side dish. Few things draw my ire like lazy mockery of Wisconsinites and their love of dairy. When it comes to this dish, I'll set the ire aside, and take another scoop of potatoes.
---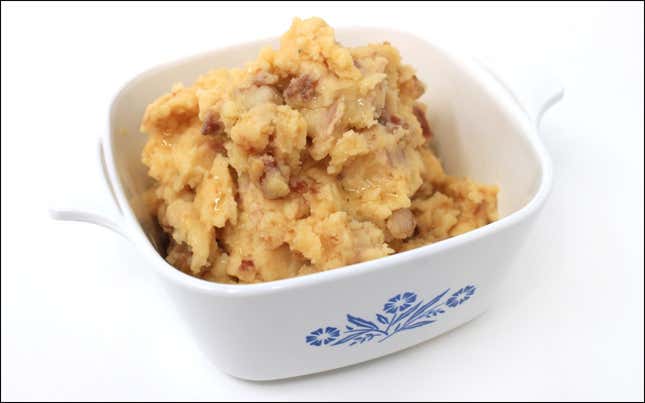 The Potato Cauldron (Cheesy Bacony Buttery Mash)
5 lbs. Yukon Gold potatoes, peeled
10 oz. bacon, sliced into small strips
8 oz. cream cheese
1 1/2 sticks of butter
1 cup sour cream
2 chives, chopped very fine
2 1/2 cups shredded cheddar cheese
2 tsp. kosher salt
1/2 tsp. fresh ground black pepper
Slice the bacon into 1/4-inch strips, and cook until slightly brown. Drain fat and set aside.
Peel the potatoes and cut into quarters. Boil until tender, then drain.
Using a ricer, mash potatoes into a thin layer back in a very large mixing bowl. Place about a third of the butter and cream cheese on top of the layer. Alternate layers of riced potatoes with the butter and cream cheese. Use the sturdiest wooden spoon you have to incorporate the cup of sour cream. Then fold in the in the cheddar cheese, bacon, and chives. Grimace occasionally while your hand cramps, then get right back to it.
Grease a large, oven-safe pot; I use a 7.5 quart Dutch oven. Pour the potatoes into the cooking vessel.
Preheat oven to 350 degrees Fahrenheit. About 30 minutes in, check to see if the sides started browning. You can scrape down the sides with a wooden spoon and stir the brown bits into the mix, to avoid burning and introduce more deliciousness. Bake for 30 more minutes.