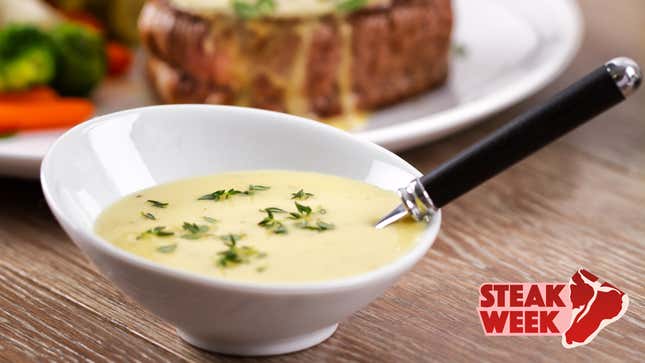 Béarnaise falls into the category alongside caviar, truffle oil, and creme fraiche: a rich accompaniment that takes your already rich food and makes it all the richer. Béarnaise is the sauce equivalent of the phrase "go big or go home." It is gout's favorite condiment.
All the Best Finds at the Sweets & Snacks Expo
Béarnaise is terrific with a filet mignon or sirloin, but where it curls toes is with well-marbled beef. My preferred steak is a ribeye charred to a medium-rare, and I've got this habit of saving the crescent-shaped ribeye cap until the end. Then, I slowly savor this last piece of beef, the experience augmented with a gentle dab into this most splendiferous of sauces.
What does it taste like? Well, it's a butter sauce. Then it gets thickened with egg yolks. And there's a sharpness from the shallots and white wine vinegar, and a sweet anise warmth from the chopped tarragon. It's herbaceous, vinegary butter, and it's a knockout.
There are two resources I turn to for béarnaise. First is the 2017 update to James Peterson's magnum opus Sauces, one of my favorite cookbooks from last year. It is, dare I say, the definitive recipe (14 steps!) of preparing proper béarnaise. The one problem is it's rather a pain to make—calling for clarified butter, liquid lecithin, and for best results, cooking the infusion sous vide for an extra hour. This recipe is really meant for professional kitchens or the very advanced home cook, but Peterson is the sauce authority. There are, however, easier methods.
The one I prefer comes from my favorite cookbook, Hugh Fearnley-Whittingstall's The River Cottage Meat Book. (Just buy the book sight unseen.)
Fearnley-Whittingstall's recipe clocks in at a pithy two paragraphs in length, but it's reliable and easy. I've adjusted the recipe to fit my needs (I'd rather not open a whole other stick of butter). This will be terrific on fatty cuts of steak, or over fish and lobster.
---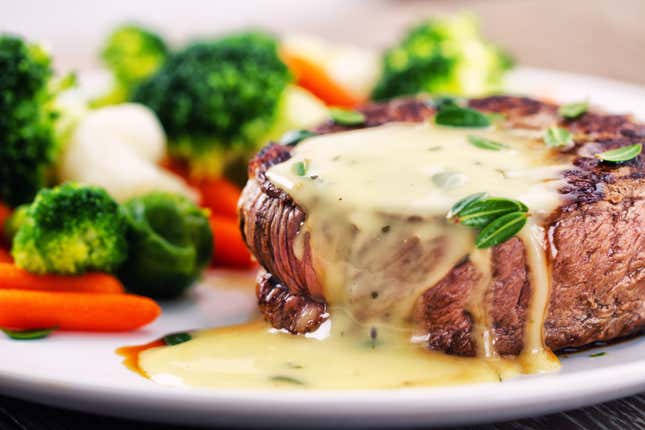 Béarnaise Sauce

Adapted from The River Cottage Meat Book
1 stick of salted butter

1 egg yolk

3 Tbsp. white wine vinegar

1/2 shallot, minced

1 bay leaf

1 sprig of tarragon, plus 1 Tbsp. chopped tarragon

Salt and pepper

In a saucepan, add vinegar, along with minced shallots, tarragon sprig, bay leaf, and a few cracks of pepper. Turn stove on over low heat and bring to boil. Stir the saucepan—you'll want to reduce the vinegar by a little over half. Turn off heat, and let the saucepan hang out while you add an egg yolk into a large bowl. Strain the vinegar from the saucepan (a little over a tablespoon) into the egg yolk.
Separately, take a stick of butter and cut in two, then place both halves into a microwave-safe measuring cup. Heat in microwave for 30 seconds, then 15 seconds at a time until the butter is melted. Slowly drip this warm butter into the egg-vinegar bowl, and start whisking. You're looking for a loose consistency, not too liquid-like, but also not mayonnaise. Then add chopped tarragon and mix well. The butter is already salted, so taste to see if it requires additional salt. Add a few cracks of pepper. Serve immediately. Doesn't really save in the fridge well, sadly.