You aren't sick of reading about my Oma yet, right? She of the red cabbage, the spaetzle, the stollen bread? Okay, good. Because Oma's baking superpowers are at their highest levels in the two weeks leading up to Christmas, and she brings them to full force in these unusual but simple-to-bake walnut crescent cookies.
For decades, Oma has mailed these cookies to me in a festive holiday tin—always a festive holiday tin—along with linzer cookies and spritzgeback and pfeffernusse and all manner of other treats. Ever since she turned 80-years-young, she's slowed down on her baking, but that's only made the arrival of her cookies that much more special.
They're unusual in that I can't compare them to another cookie. The ground walnuts in the recipe create a crumbly texture and subtly oily-nutty flavor, but the butter also gives a little bit of a shortbread-esque nod. So, if I had to sum this cookie up, it's like a nutty-crumbly-crunchy shortbread… dusted with confectioners sugar. That confectioners sugar actually melts slightly when it alights on the warm cookie's exterior, robing the crescents in a thin, sugar-slick shell.
Are you sold yet?
I baked the cookies last week and am thrilled to report they're simple and forgiving—no cookie cutter, no rolling pin. You'll need just six ingredients (plus water and salt), and if the trickiest part—forming the crescent shapes—proves too difficult, you can just roll the dough into small balls instead. One thing you should not do, per Oma's instructions, is substitute almonds or another nut for the walnuts. That throws off the moisture content of the dough and will leave you with dry cookies, she warns. As always, Oma knows best.
G/O Media may get a commission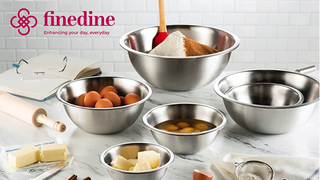 42% Off
Stainless Steel Mixing Bowls (Set of 6)
---
Oma's walnut crescent cookies
Makes 3 dozen cookies
1/2 lb. (two sticks) unsalted butter, softened

5 Tbsp. granulated sugar

2 tsp. vanilla

1 Tbsp. water

2 c. all-purpose flour

1/2 tsp. salt

2 cups ground walnuts

1 cup confectioners sugar

If you've purchased whole or chopped walnuts, pulverize them in a food processor or one of these mills until they're the size of coarse breadcrumbs. Set aside.

Preheat oven to 325 degrees Fahrenheit and line two baking sheets with parchment paper. Then, in a large mixing bowl, cream butter with granulated sugar, vanilla, and water until light and fluffy. Sift flour and salt into the bowl and stir to mix. Add walnuts, stirring until evenly distributed.

Mold dough into small walnut-sized portions (easy to remember), then roll them between your palms to form crescent shapes. Place crescents on the baking sheets; you can put them close together as the cookies don't expand very much.
Bake at 325 for 20 minutes or until cookies are just beginning to get golden on the top. Remove from the oven and let cookies cool for 3-5 minutes on the baking sheets. Then, carefully dunk each cookie in the confectioners sugar, coating all sides. Transfer to wire rack to cool completely.